Going on a trip to Wynyard and want to know all the best things to do in Wynyard, Tasmania? As well as where to stay and everything else you need to know about visiting here? We have you covered! Below you will find our guide to everything you need to know about Wynyard Tas to plan your ultimate trip.
Wynyard was somewhere we visited often when I was a kid and has a place close to my heart. I remember having tons of fun roaming the caravan park with my sisters and meeting other kids. Add in the beach and I was in kid heaven.
The town of Wynyard is a nice, seaside, relaxed place to hang out for a few days (or a few weeks). It's close to the awesome Table Cape and there's some great attractions in the area.
Below, you will find our guide to what to do in Wynyard with everything you need to know about the best places to visit in Wynyard as well as the best places to stay for your ultimate holiday. We also include information about the weather in Wynyard Tasmania, and there's a handy Wynyard map of everything mentioned in this guide.
An Introduction To Wynyard Tasmania
A rural town on the north-west coast of Tasmania, approximately 60 kilometres from Devonport, Wynyard's history stretches back to the mid 1800's. Three ex-convict brothers were the first to establish settlements, buying up large areas of farmland on Table Cape before commencing a ship building company. Two towns quickly sprung up – Alexandria to the west of the Inglis River and Wynyard to the east.
Thanks to its better wharfing, Wynyard eventually prospered and became the district's centre of commerce. Named after Major General Edward Wynyard, who served as Commander In Chief of British forces in Australasia around 1850, the village was romantically described at the time: "…one sees in every direction the homely cottage, the cultivated garden and the fields standing so thick with corn, the likes thereof seldom seen."
Today, Wynyard is a relaxed seaside town that is famous for Table Cape and Fossil Bluff, along with being an enjoyable holiday spot for beach activities. There's both ocean and river fishing, waterside walks, plus scenic drives through picturesque landscape: rolling hills, fields of opium poppies, onions and potatoes, acres of famed tulip displays, and dairy and sheep grazing.
The Wynyard Tasmania population is around 6000 people. Visitors can easily reach the town by the small airport – the Wynyard-Burnie – that has flights direct from Melbourne on mainland Australia.
Alternative ways to reach this beautiful coastal town include driving the stunning Bass Highway. The highway provides views of manicured gardens – a common theme in this lush part of Tasmania – mixed with dramatic coastal scenes.
Wynyard is your perfect base to explore Tasmania's beautiful north-west coast.
Things To Do In Wynyard Tasmania
If you are looking for what to do in Wynyard Tasmania, there are some great choices! From visiting the area's beaches to the amazing Table Cape, the best Wynyard Tasmania attractions are below.
Beach
East Wynyard Beach sits directly in front of the town and commences from the Inglis River, where the beach curves to the east for 1km. You'll find a small central swimming pool, a caravan park and three car parks.  Ideal for catching sunrise, the downside is that it's not so great at low tide when many rocks are exposed.
The best beach in the area is at Boat Harbour, the other side of Table Cape, approximately 15 minutes drive from Wynyard.
Wonders of Wynyard Tasmania
Voted as Tasmania's best Visitor Information Centre 2016 thru to 2019, and runners up in 2020's Australian Tourism Awards, you're in for a real treat here!
Operating seven days a week, the Wonders of Wynyard should be one of your first stopping points when visiting the town. Taking you through a nostalgic look at the region's industry and growth, you'll find stories of local heritage and maritime history, along with details on how locals faced the challenge of the region's unique geographical landmarks… ie. building a lighthouse on Table Cape back in 1888!
You'll also discover the Wonders of Wynyard's art gallery which exhibits local works, and a gift shop jam-packed with locally made produce.
However, perhaps the highlight for most visitors is the Ransley Veteran Car Collection. Including the equal-oldest Ford in the world – the 1903 Model A – the collection holds over 14 vehicles that have been lovingly restored as part of this outstanding showcase of Australian motoring history.
A rather odd combination of exhibits but a place that definitely shouldn't be missed, the Wonders of Wynyard is located in a $1.4M building in the centre of town. Run by 40 local volunteers, this is the best way to connect with the town and its people, whilst delving into stories from the past.
Discover more information here.
Address: 8 Exhibition Link, Wynyard
Inglis River Track
12 kilometres of easy walking path, the Inglis River Track takes you along the banks of the local river and offers scenic vistas of local native flora and fauna.
Accessible from many points within Wynyard, the full walk commences from Gutteridge Gardens and takes you down to Inglis River Bridge, at the Bass Highway. You can exit at various points along the route (Jenner Street, Gibbons Street, Hales Street or York Street) or complete the one-way walk before looping back to your starting point.
The walk takes you through gardens planted with Australian native plants and to the Cape Bridge Reserve – an ideal midway rest stop. Along the way, you'll see Eucalypts, Melaleuca thickets and a myriad of bird life that's so spectacular there are websites devoted to recording sightings!
Tasmanian Nativehen, Great Cormorant, White-faced Heron, Wedge-tailed Eagle, Laughing Kookaburra, Green Rosella and Little Wattlebird are just some of the many birds you can hope to spot.
There are also a couple of landmarks along the route including the original Cenotaph memorial to those that fought in the 1st and 2nd world wars, and Wynyard Cemetery – filled with tombs of some of the town's pioneers.
Finally, look out for a boardwalk that crosses a rather swampy area. Visit at low tide when you'll see thousands of crabs scampering around!
Wynyard Foreshore Market Tasmania
Check out this great Tassie market held on the first and third Sunday of every month. Wynyard market Tasmania opens at 8am until 2pm, and is located at the East Wynyard foreshore.
Browse for local produce and crafts, such as jams, cakes, second-hand goods, plants, bric-a-brac and much more. Or simply enjoy the buzz of the busy market place and mingling with locals.
If you're visiting during Summer you'll find sporadic Friday twilight markets – great for a fun end to your day – or if you're around at Christmas catch the Sunday special 'Xmas markets'.
Latest updates can be found here.
Address: 23, C240, Wynyard

Fossil Bluff Wynyard Tasmania
If you love fossils, geological history or fancy yourself as an explorer, this one's for you! At low tide head to Fossil Bluff – 3 kilometres west of town centre – and as the tide flows out cliffs reveal evidence of prehistoric fossils.
Here's the science… either side of the beach, to the east and west, you'll find a low flat gray rock. This is known as Wynyard Tillite and dates back a staggering 280 million years when Australia was part of the supercontinent Gondwana.
Glaciers, flowing from the south to the north, slowly melted and dropped the rocks they were carrying. Over millions of years, mud has covered the rocks which are now rich in fossils, including the remains of prehistoric whales and the oldest marsupial fossil found in Australia.
Fossil Bluff was beneath the sea 38 million years ago and lies on top of the tillite. If you walk around the Bluff (at low tide) you can see where the sandstone and the tillite meet. And you'll easily spot how some layers of sandstone are rich in fossils – often showing their original colours and many resembling shells we still find today.
To help enjoy the visit more, before heading to the Bluff drop by the Wynyard visitor centre and request their geological guide 'Looking For Fossils'. And if the tide allows, take a walk on the tillite where you'll find small pebbles of granites, cherts, quartz, jaspers and agates.
However, leave the site as you found it, taking home only photos…
Address: Fossil Bluff, 26/28 Freestone Cres, Wynyard

Table Cape Lighthouse
A stand out (no pun intended!) landmark in the region, Table Cape Lighthouse has stood proudly at the cliff edge since 1888. Surrounded by scenic farmlands full of colourful tulip and poppy fields on one side and the azure blue of the ocean on the other, this is a photographer's dream landscape!
The only operating lighthouse open for tours in Tasmania, Table Cape Lighthouse tours run from September until April. Listen-in as your guide relates stories of old, from times when the lighthouse was fully operational and a beacon for passing ships.
Inside the tower you'll climb the spiral staircase that takes you to just over 180 metres above sea level. Awesome 360-degree views of expansive coastline and tulip fields are presented from the viewing deck. The ocean glistens and roars as waves hit the cliffs below and sea birds play on the wind. And don't forget to keep an eye out for migrating whales or pods of playful dolphins!
It's not difficult to imagine the hardship that builders had constructing the lighthouse on top of Table Cape over 130 years ago. A region that didn't even have roads, workmen were left relying on bullock-wagons to pull the bricks painstakingly to the top of the Cape.
These days you can drive up the Cape – the remains of a 12-million year old volcano – either from Wynyard town centre via Table Cape Road or on the other side up from Bass Highway (between Boat Harbour and Wynyard).
Address: Lighthouse Rd, Table Cape

Table Cape Lookout
If you have time, make your visit to Table Cape a half day out. Drive to the top of Table Cape and find the parking for the Table Cape Lookout. A wonderful spot for a picnic brunch or lunch, on clear days you'll see George Town's Low Head and views out to mountain ranges over 175 kilometres away!
The starting point for a lovely walk to nearby Table Cape Lighthouse, Table Cape Lookout and the Lookout Walk are idyllic for nature lovers. Sea birds call out whilst playing in the sea breeze, and the ocean glistens as you eagerly scan for dolphins or whales. Waves pound the rocks far below and colourful flowering plants shimmer in adjacent fields. This is Tassie at her best!
This quiet and remote part of Tasmania should not be missed, not least because the rocks of the Cape are among the oldest in Tasmania and form a truly spectacular coastline.
Address: 424 Table Cape Rd, Table Cape

Table Cape Tulip Farm
Simply breathtaking in Spring, Wynyard Tulip Farm is a working farm that's open annually from 26th September until late October, 9am-5pm. For a small entrance fee you can stroll acres of patchwork fields that explode with colour, presenting one of the world's most epic flower-shows.
Grown for the Dutch market – to brighten cold Autumn European days – the tulips of Table Cape Tulip Farm are found along a narrow winding road across the top of the volcanic plug. It's almost impossible to miss the entrance to the farm; just keep an eye out for dazzling rows of multi-coloured flowers!
Planting over 4 million tulip bulbs each April, the farm operates throughout the year until the blooms come to life from late September until mid-late October. Introduced years ago by Dutch immigrants, the tulip is a particularly hardy plant that withstands the unpredictable Tassie weather conditions.
Enjoy wandering acres of flowers, taking stunning Insta-worthy photos, before relaxing with a Devonshire tea and admiring the small onsite art gallery. And perhaps you're now feeling inspired? If so, pick up some bulbs for home planting!
If you're visiting outside of Spring, give a call before arriving as the farm is often open for bulb sales. But if you can come in Spring, aim to visit across the Bloomin Tulip Festival. Running for over 25 years, the festival is a day of festivities in Wynyard when the town is buzzing with activities, food, music and artists with a few farm-based activities happening too.
More recently there's been another annual event, a family day known as Tunes in the Tulips. Based at the farm, this is a great day out surrounded by the flowers, dining on tasty Tassie produce, enjoying a glass or three of local wines… all whilst listening to live music.
Whatever time of year you visit, always remember this is a working farm so sensible shoes are a must.
Full details can be found here.
You can take a quick look at the Table Cape tulips below.
Address: Table Cape Tulip Farm Wynyard Tasmania is at 363 Table Cape Road, Table Cape.
Read our full guide to visiting Table Cape here.
Burnie Regional Museum
Burnie, Tasmania, is a port city just 20 minutes along the coast to the east of Wynward. Ideal for a day trip from Wynyard, Burnie is a beachside town that offers a downtown shopping area plus eateries specialising in seafood and other local produce.
The famed industrial history of Burnie and the surrounding north-west region can best be discovered at the Burnie Regional Museum. Open daily, the museum has captured a slice of history with a replica of Burnie's main thoroughfare – Federation Street. Dating back to the early 1900's, this indoor "village" is now the third largest collection of Tasmania treasures.
Shops in the replicated village portray businesses that existed in Burnie at the time – Inn, Dentist, Carpenter, Butter Factory, Printers, General Store, Post Office, Blacksmith, Wheelwright and Bootmaker.
Within the shops you'll also find rooms such as parlours, kitchens and wash-houses, all uniquely designed to recall the start of the 1900's.
Ensure to include a visit to their Gift Shop for unique present ideas such as Tasmanian history books or vintage inspired souvenirs.
Finally, if you have time whilst in Burnie, other places to visit include the Maker's Workshop (ideal for anyone with a creative streak!) and the Hellyers Road Distillery (Australia's largest boutique whisky distillery).
Address: Little Alexander St, Burnie TAS 7320
Boat Harbour Beach
This stunning quiet bay is edged with pure white sand, clear water and nestles between two rocky headlands.  Now we're talking!
Voted as one of Australia's top 10 beaches, you know you've found somewhere special!
Cameras at the ready as you arrive, along a winding road that descends to the water with mesmerizing harbour views. Boat Harbour, Tasmania, is idyllic… family-friendly gentle waves, rock pools begging to be explored, squawking pacific gulls keeping you company and the clean white sand to play or relax on! And if that's not enough, keep an eye out for dolphins, seals and whales. Surrounded by lush green rolling hills, fertile soil and a sleepy village, it's no wonder this is a prize-winning beach!
There's a cold glass of wine or beer available at the local Surf Club House, a delicious fish burger at the beachside cafe, and a small beach community at shore level to explore, with a larger town set in the hills. And make a day of it by checking out nearby Rocky Cape National Park with more rock pools, wildflowers and epic Tassie bush walks that take you past secluded beaches, sweeping views of Bass Strait and on to Aboriginal caves.
Rotary Park Playground
This playground located between the beach and the main highway through the town is amazing! If you have kids (of all ages), definitely stop by here. The slides and equipment are inventive, high and it's a great spot to stop for awhile.
Address: 32A Old Bass Hwy, Wynyard
Wynyard Tasmania Map
Best Place To Stay In Wynyard, Tasmania
When it comes to where to stay in Wynyard, there are some solid choices.
Below, I've listed a few different places to consider including a budget, mid-range and the best option.
Add a twist to your Wynyard adventure by staying at Coastal Pods accommodation, uniquely designed from old shipping containers!
Located right by the river near the Waterfront Wynyard, these fully self-contained revamped luxury "containers" offer a kitchen, laundry and two bedrooms with two bathrooms.
Featuring air-conditioning and heating, a DVD player and flat-screen TV, dishwasher, fridge, living room, dining area and tea-coffee facilities… there's no surprise that we rate Coastal Pods as the best accommodation in the town.
Relax in the evening on your own private terrace, cook up a steak at the BBQ area or enjoy some great sport fishing at nearby spots. Complimentary WiFi and private parking is the icing on top!
A totally unique experience – you honestly won't believe that you're staying in a shipping container – that has excellent views and an ideal location (only 2 minutes walk into town).
Click here to see the latest prices.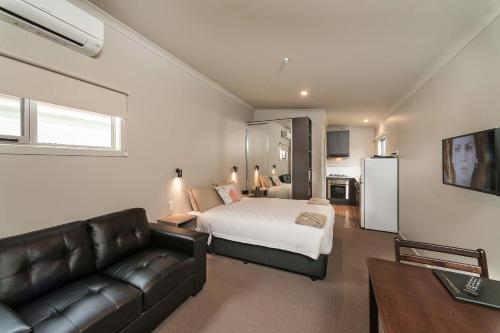 Stay on the Burnie side of Wynyard at this longtime established Holiday Centre. Recently upgraded with improved facilities and with the East Wynyard Beach at your doorstep, this is our recommendation for mid-range accommodation.
You'll find a variety of accommodation on offer, such as apartment-style villas, or cabins with studio, 1, 2 and 3-bedroom options.
Whatever unit you choose, they all come with a kitchenette or fully equipped kitchen with microwave and fridge, and free WiFi. Both villas and cabins also feature a lounge area with flat-screen tv and DVD player (apart from the Budget Cabin which is slightly more compact) and free parking. Villas also have laundry facilities or guests can make use of a coin-operated laundry area.
Feeling hungry? Head to Bruce's Cafe, selling modern Australian cuisine for both breakfast and lunch.
Feeling active? You'll enjoy a range of activities such as a playground, tennis courts, a games room or relax in the pretty gardens. And don't forget the heated indoor pool and spa, great for all age groups.
Leisure Ville Holiday Centre has everything covered and is a terrific mid-range option, and perhaps especially ideal if you're a family looking for Wynyard accommodation.
Click here to see the latest prices.
Only a kilometre from Burnie Airport, this laid-back hotel sits overlooking the Inglis River.
Low-key rooms – in line with its budget rates – include flat-screen TVs, mini-fridges and tea-coffee making facilities. If you're hoping for a river view, be sure to book a suite, whilst their two-bedroom apartments come with the added features of a balcony, spa bath, kitchenette and a spacious living area with a dining table. Ideal for larger groups or families.
The Wharf Hotel Wynyard has an in-house restaurant with a pleasant terrace facing the river. You can enjoy a wide menu that includes fresh seafood, Tasmanian steak and some vegetarian options. After dinner try your hand at billiards or update your Facebook courtesy of the free WiFi in the public areas.
Only 8-minutes drive from Table Cape, this hotel ticks all the boxes for visitors looking for a relaxed hotel stay.
Click here to see the latest prices.
Click here to see all our recommendations for the best Wynyard Tasmania accommodation.
How To Get To Wynyard, Tasmania
Where is Wynyard Tasmania? Wynyard is located on the north west coast of Tasmania close to Burnie. The Burnie Airport is actually located in Wynyard and it's possible to take flights from Melbourne to Wynyard Tasmania. More information below.
It's also possible to bus to Wynyard from Burnie and some other spots on the north west coast, but ideally, you need your own car.
To get here by car from anywhere in Tasmania is easy. The main A2 highway (Bass Highway) that runs along the north west coast skirts around the outskirts of Wynyard. Below are more specific details about getting to Wynyard from the main nearby destinations.
You can hire a car to get you there by clicking here.
Flights To Wynyard Tasmania From Melbourne
Rex flies between Wynyard and Melbourne generally daily, but services have been disrupted during the pandemic.
It can be cheaper to fly to Launceston and hire a car to drive to Wynyard if you have some flexibility.
Click here to check the latest flight prices.
Hobart To Wynyard Tas
When it comes to getting from Hobart to Wynyard or Wynyard to Hobart, you'll really want your own car. While it's possible to take buses between these places, you'll currently need to change in Launceston, Devonport and Burnie. Buses between cities and towns do not run often and you may find it takes you a couple of days to do this.
Renting a car is much easier. Click here for the latest prices.
Driving time between Hobart and Wynyard is about four hours taking the main 1 highway which then turns into the A2.
Wynyard to Devonport
To travel between Wynyard and Devonport on public transport requires two buses with a change in Burnie and will likely take a few hours.
To drive between the two takes about 50 minutes along the 1 and A2 highways. Click here for details about car hire.
Wynyard to Launceston
Launceston to Wynyard is about 165 kilometres and takes about two hours by car. I recommend you drive your own car (or hire one here). It's an easy drive on the 1 highway and then the A2.
It's possible to take public transport, but you'll need to change buses in Devonport and Burnie.
Wynyard to Cradle Mountain
Cradle Mountain to Wynyard takes around 1.5 hours by private car and is around 115 kilometres. Take the B26 to the A10 and then you'll find a well signposted turn off to the C132 which will take you most of the way to Cradle Mountain.
You will want your own car to make this journey. Click here to find details of hire cars.
Wynyard With Kids
Dramatic coastal beaches, fields full of cattle and flowers, a lighthouse, caves and fossils to be explored… just some of the great fun things to do in Wynyard with kids. And all these outdoor pursuits can be enjoyed in what is reputedly the world's cleanest air!
Wynyard – similar to most of Tasmania – is fantastic for families, with children enjoying fun days learning about nature by studying the local birdlife, running the rows of tulips on the Cape, or searching for dolphins and whales on the ocean waves.
Next up is geology, with the hunt for fossils at the Bluff. And history is well covered with stories of shipwrecks and maritime sagas at Table Cape Lighthouse, the splendid vintage cars at Wonders of Wynyard, and an almost Harry Potter style Diagon Alley at Burnie Regional Museum! But all this only if you can pull the kids away from world-class Boat Harbour Beach!
Perhaps you're travelling with younger children? No problem, as you can enjoy all the activities too – with friendly locals always happy to meet visitors and most attractions suitable for toddlers.
Wynyard Weather Tasmania
The weather Wynyard Tasmania is very seasonal, with rather short summers. The best time of year to visit Wynyard for warm-weather activities is from mid January to mid March, with February usually being the driest month of the year. In contrast, the winters are rather long and cold, sometimes wet and windy too with August the most dreary.
When travelling in this part of Australia, it's always best to plan ahead. Thus remember to check the weather forecast Wynyard Tasmania before setting out!
Final Words
Wynyard is a low key town on the north west coast which is well worth a visit. It's not just a lovely town with a good vibe but is well located to visit many of the surrounding attractions in the region.
It's a childhood favourite of mine and one I still like visiting today. It's worth a stop on your Tasmanian road trip.
I hope you enjoyed our full guide to Wynyard. Read more about nearby destinations in our full guide to north west Tasmania here including accommodations in nearby Boat Harbour here, Burnie here and historic Stanley here.