Going on a Stanley trip and want to know all the best things to do in Stanley, Tasmania? We have you covered! Below you will find our guide to all the best Stanley Tasmania attractions to plan your ultimate trip.
Stanley is one of our favourite towns in Tasmania. While just a small town, it is very picturesque with the huge ancient volcanic plug, The Nut, in the background and sea surrounding most of the town. It's also home to colourful heritage cottages, a pretty harbour and some great attractions.
It has a great atmosphere and is somewhere we like to just hang out – but it's also great for exploring with some top class things to see in Stanley Tasmania on offer.
Below, you will find our guide to what to do in Stanley, Tasmania blog with everything you need to know about the best things to do around Stanley, Tasmania as well as the best places to stay for your ultimate holiday in Stanley. There is also a handy map of the best things to see and do in Stanley, Tasmania.
Click here to download your free Tasmania Road Trip Planner checklist. We'll help you get ready for your trip!
An Introduction To Stanley, Tasmania
Stanley was first settled after the Van Diemen's Land Company was granted land in the north western part of Tasmania including the Stanley area in 1825. In 1826, company staff arrived and settled in the Stanley area. Originally called Circular Head, Stanley was given its name after Lord Stanley, the British Secretary of State for War and the Colonies who later served as the British Prime Minister.
In 1827, a port opened. In 1842, Stanley became an offical town. From this point Stanley grew and had its first coach service from Burnie in 1880. In 1936, the first submarine telephone cable from Apollo Bay in Victoria arrived in Stanley finally hooking up Tasmania to the mainland.
Today, Stanley is the main fishing port in this part of Tasmania and a tourist destination. It has a population around 550. It's best known for its distinctive landmark, The Nut. It had well-preserved colonial buildings and is a very pretty town.
Top 10 Things To Do In Stanley, Tasmania
Here are the best things to do in Stanley, Tas. Read through and select the ones that fit your interests and timeframe.
See The Amazing View From The Nut
The absolute top answer to what to see in Stanley Tasmania is the view from the top of The Nut. While you won't be able to miss seeing The Nut (you can see it from nearly everywhere in Stanley), the views from the top of this 143 metre high mass are amazing of Bass Strait, the town and surrounding countryside.
With two ways to reach the top – you can either hike up or take the more relaxing chairlift – once on top, I recommend walking the track around the circumference for great views and interesting trivia on information boards as you you hike. There are many viewing points, and some surprising variety in the terrain. It's a leisurely 45 minutes around. All our family enjoyed this hike.
The chairlift itself is a fun adventure going 95 metres high in just 250 metres. There are great views the whole way.
Calm, clear days are the best time to do this activity. High winds are common here which make it far less pleasant.
Make sure making your way to the top of The Nut is top of your list when visiting Stanley.
Click here to read my full review.
Address: Browns Road, Stanley
Explore Highfield Historic Site
Built in 1835, this homestead located two kilometres north of town was built for the Van Diemen's Land Company. It is a great example of architecture from the Regency period. It can be visited by self-guided tour of the house and grounds.
These buildings were the first in this part of the state and the tour round the house helps explain this part of the state's history. The house has two levels with the rooms set up similar to how they would have been with information about that part of the house and life there.
Around the grounds are the ruins from the farmyards, stables, chapel, cart shed, other cottages and more.
It's an interesting place to wander around and explore and it's worth visiting here while you are in Stanley.
This is also the best spot to get great views of The Nut on the side of the road coming up from Godfrey's Beach (the photo at the top is from here).
Address: 143 Green Hills Road, Stanley
Experience The Stanley Seal Cruise
One of the unique things to do in Stanley is a seal cruise. A Stanley seal cruise will take you to see Australian Fur Seal in Tasmania.
These 75 minute boat trips take passengers to Bull Rock, Calf Rock and Cow Rock which are named based on their size. On these isolated rocks in Bass Strait, you will very likely get to see a gathering of seals.
In addition to the seals, this cruise is also perfect for bird watchers. It's also not rare to see the Southern Right Whale which is an incredible experience – although also slightly daunting since their size could topple the boat!
The best time of year to take one of these cruises is November and December thanks to it being birthing season. Many baby seals can be visible at this time on the rocks which is very cute.
There are also great views of The Nut from this cruise.
When we last visited Stanley, the cruises were not running thanks to the boat being destroyed in a storm. Check with the operator to see if it's running again when you visit.
Address: 6 Wharf Road, Stanley
Visit The Stanley Discovery Museum
The Stanley Discovery Museum is a small, local museum on Church Street near the centre of town. It displays information about the history of Stanley and the families that have lived here. Of special interest is a photographic exhibition dating from 1858. It shows how the settlement developed.
There's also various other displays and memorabilia to bring the history of the area alive.
Address: 37-39 Church Street, Stanley
Check Out Joe Lyons Cottage
This cottage is the birthplace and childhood home of Joseph Lyons who was a former Premier of Tasmania and Prime Minister of Australia in the 1930s, winning three consecutive Federal elections.
This Victorian Georgian cottage has been restored externally to reflect its original appearance. Inside is memorabilia from Joe's childhood and insights into his path from Stanley boy to the top of Australian politics.
This cottage is generally open daily from September to May. However, because it is staffed by volunteers, it does not always open as expected.
Address: 14 Alexander Terrace, Stanley
Walk Around Town
Stanley is a beautiful place to wander. With beautifully restored heritage buildings seemingly everywhere, walking around this town, particularly near the base of The Nut, is a total pleasure. Along the way are small shops, cafes and restaurants so I recommend you take your time and enjoy a stroll.
Relax At The Beach
Stanley is home to two main beaches – Tatlows and Godfreys. Both located near the base of The Nut, they are in gorgeous locations. Both have clean sand and water and are picturesque.
Tatlows is very shallow and has crabs at low tide (I still have a strong memory from my sister running out to the water here when we were kids and then realising there were crabs everywhere and being scared half to death when we were kids 😀 ).
Godfreys is better for swimming, fishing and surfing and does have some strong currents. Next to the beach is a playground, BBQ and picnic facilities as well as a penguin rookery.
Watch Penguins
Fairy penguins return to Godfrey's Beach every evening after sunset. The best time of year to try to watch some is between September and March with fewer numbers in the winter months.
There is a good viewing platform with path from the nearby car park at the base of The Nut. There are also built-in nesting boxes in the platform to help you get up close. This is wheelchair (and pram) friendly and is free.
Address: 11 Harrison Terrace, Stanley
Have A Great Adventure At The Tarkine
One of the best things to do near Stanley Tasmania is to visit the Tarkine. This is an area nearby which includes the Savage River National Park, the largest area of Gondwanan cool-temperate rainforest in Australia. There's vast forests of leatherwood, myrtle and pine trees, ocean beaches, sand dunes and coastal heathland. There is also a high concentration of Aboriginal sites.
There is a scenic drive you can do through the Tarkine, many walks and an Arthur River cruise.
You may also have heard of Tarkine Forest Adventure's 110 metre slide down to Dismal Swamp but unfortunately this is currently closed indefinitely.
You can find a useful map for exploring this region and more information here. There are many hikes starting from ten minutes long.
Visit Table Cape
Located close to Wynyard and about 45 minutes drive from Stanley, this flat-topped promontory that juts into Bass Strait does resemble the table it is named after. An extinct volcano, it is a protected state reserve. It's worth driving to the lookout and lighthouse here for great views. It's also possible to take a tour of the ligthouse.
If at all possible, visit here in October when the Table Cape Tulip Farm is in bloom. It's stunningly beautiful.
Address: 424 Table Cape Road, Table Cape
Note many list of things to do in Stanley also mention the Stanley Seaquarium which is now shut.
Stanley, Tasmania Things To Do Map
Best Place To Stay In Stanley, Tasmania
When it comes to where to stay in Stanley, there is a great range for such a small town. There are some great properties right in the historic heart as well as in the surrounding area. No matter what your holiday style, your budget or who you are travelling with, you can find a great place to stay in Stanley.
Below, I've listed a few different places to consider including a budget, mid-range and the best option.
If you are looking for luxurious accommodation for a special break, Horizon Deluxe Apartments is where to head.
All apartments here are spacious and individually designed. They range from studio to one and two bedrooms and all have fully equipped kitchens with tea and coffee making facilities. They also have TVs, wifi, heating and air conditioning, laundry facilities, balconies and personal bars with snacks and ice creams. Breakfast supplies are included.
The real standout feature here though is the gorgeous, oval shaped spa baths set up to make the most of the coastal views available from this property.
Click here for the latest prices.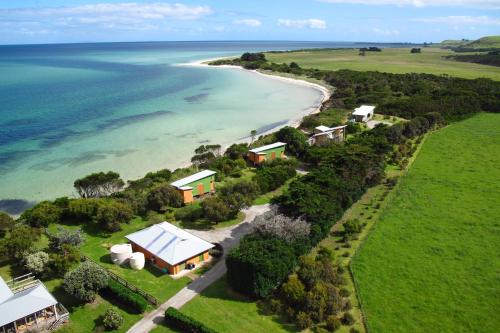 Nestled along a private beach, this retreat comprises quaint, contemporary accommodation a 6 minute drive from town.
There are four stunning beachfront villas with sea views and one with garden views. Each is self contained with a fully equipped kitchen, outdoor dining area and is stylishly decorated.
Click here for the latest prices.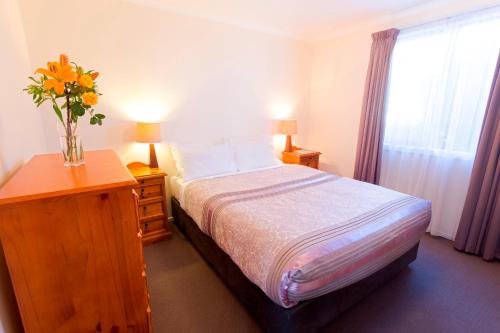 Built back in 1847, the Stanley Hotel is a population option in town which you should visit for a meal even if you decide not to stay here. It's in a central spot walking distance to most attractions.
There is a huge range of room types and cottages and apartments are available. Budget seekers will be most interested in the cosy hotel rooms which feature TVs, wifi, fridges and tea and coffee making facilities. Some have private ensuite bathrooms and some shared.
People who like more space will love the two, three and four bedroom cottages that are fully self contained, often very pretty and atmospheric.
Click here for the latest prices.
Click here to see all our recommendations for the best Stanley accommodation Tasmania offers.
How To Get To Stanley, Tasmania
You will want your own car to get to Stanley although it's possible to get here by bus from Burnie or Smithton. The closest airport is in Devonport.
To get here by car is easy – Stanley is just a short detour from the main A2 highway along the north west coast. It's about an hour and a half from Devonport, two and a half hours from Launceston or four and a half hours from Hobart.
You can hire a car to get you there by clicking here.
Stanley, Tasmania With Kids
Stanley is a great place to visit with kids. The attractions are mostly outdoors and easy with kids and there are many good places to stay for families. There are a few playgrounds around town. Our favourite is next to Godfreys beach near the platform for the penguins.
Our kids (aged between 4 and 10 last time we visited), had a great time here. They particularly liked the chairlift and the seal cruise.
Final Words
Stanley continues to be one of our favourite places in Tasmania. It's just so picturesque and lovely. The town itself is pretty and easy to enjoy. Add to that the views seemingly everywhere and The Nut, and Stanley becomes a top class destination worthy of your time.
If you are wondering how long to spend in Stanley, even in a day you could visit the main attractions here. However, Stanley's true charm is how nice it is to just hang out here so try to stay a few days if you can.
I hope you enjoyed our full guide to Stanley. Read more about nearby Smithton here, Wynyard here, Boat Harbour here and our top guides to north west Tasmania here.