Heading to Stanley, Tasmania? Lucky you! It's a beautiful part of the world. The next step after deciding to go is to find the best Stanley accommodation Tasmania options. And that's what we will help you with here!
Stanley is located on the coast in the north western part of the state. While a small town, it is pretty in a scenic location at the foot of the ancient volcano, The Nut. Filled with heritage buildings and a fishing harbour, Stanley is one of our absolute favourite spots in Tasmania to spend a few days. It's low key charms are going to hypnotise you!
Of course, before that can happen, you need to book some great accommodation and, in this article, I help you find the best Stanley, Tasmania accommodation no matter what your budget or what exactly you are looking for.
So whether you are looking for a Stanley spa accommodation, staying in a luxury accommodation Stanley, Tasmania offers or want a cheap accommodation Stanley, Tasmania option like a Stanley caravan park, we have you covered with only the best accommodation at Stanley, Tasmania for you.
Here is our list of the best Stanley, Tas accommodation!
Comparison Of The Best Accommodation Stanley, Tasmania
Stanley Accommodation Tasmania: Best Options For Your Best Stay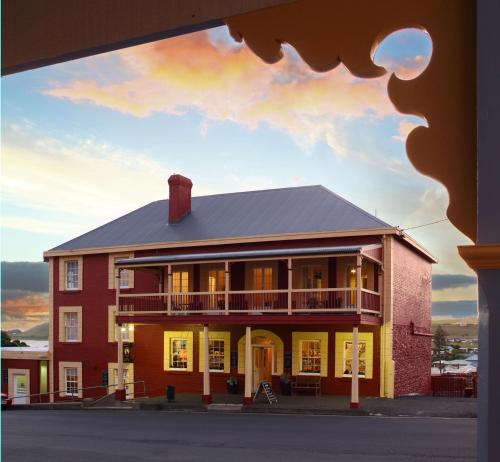 Built way back in 1847, the historic Stanley Hotel is found just off the B21 Highway. It's only a 5 minute walk to The Nut Chair Lift, which eventually leads to The Nut State Reserve. It's also just 10-minutes away by foot to Godfreys Beach and the penguin viewing platform.
There is a huge range of room types available. You can stay onsite in the hotel rooms or around town with a variety of cottages and apartments on offer depending on your needs.
Its cosy hotel rooms feature TVs, WiFi access, fridges and tea/coffee making facilities. Some rooms feature a verandah while bathrooms are either shared or ensuite depending on the room type. They are single, twin and double rooms.
Also on offer are two, three and four bedroom cottages that guests can stay in. These are fully self contained, often very pretty and atmospheric, and perfect for groups or families. They often have laundry facilities.
Click here for more information.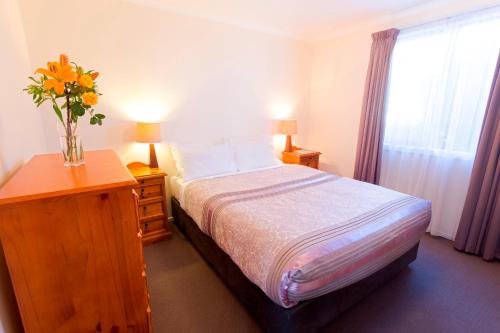 The Stanley Hotel Stanley Tasmania features a great restaurant that serves fresh and mouth watering seafood among other options. There's also a bar, a wine cellar and bottle shop. Parking for guests is also complimentary.
Best Parts?
The hotel rooms are clean and comfy. Add in the huge range of cottages and apartments and there is something for everyone.
Worst Parts?
The car park at the hotel is quite small.
Summary
This is one of the top accommodation options in Stanley thanks to solid hotel rooms and fantastic apartment and cottage options. They also serve delicious meals at their onsite restaurant which is a popular go-to spot in the area for both locals and visitors. We eat here every time we are in Stanley.
Click here for more information and the latest prices.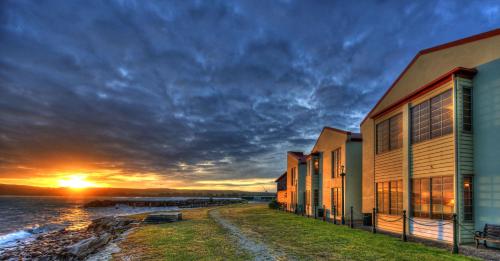 Overlooking Sawyer Bay and nestled along the harbour precinct, this waterfront complex is a short walk from the centre of town and also features coastal views.
The options at this Stanley Village accommodation Tasmania are made up of a stylish mix of comfy, spacious suites and self catering apartments. All come with air conditioning, flat screen TVs, minibar and tea/coffee making facilities. Some have spa baths. The apartments also have kitchens with some options having washing machines.
Room types include king, queen and triple suites. Apartments range in size up to three bedrooms.
Guests can sit back and relax at the property's garden, enjoy the sea views or go fishing. It's also possible to see penguins wandering through the property as they settle in under the Nut for the night. Free onsite parking is available as well.
Click here for more information.
Best Parts?
The property is right on the waterfront and the views here are stunning.
Worst Parts?
Some of the room facilities need updating, but overall they are good quality.
Summary
The property is clean and quiet, the views are great and the wide range of accommodation options is handy. It's almost within walking distance to everything as well.
Click here for more information and the latest prices.
Renovated back in 2008, this woodsy-chic accommodation features stunning views over the Stanley, The Nut and the coastline. It's also just a short drive from the chair lift and centre of town or a longer walk.
There is a huge range of room options from budget hotel style to two bedroom apartments with sea views. All accommodation includes electric blankets, heating, fridge, toaster and tea/coffee making facilities. Meanwhile, apartments are fully equipped with a kitchen, lounge area and balcony. Guests can either stay in one of the budget queen rooms, standard queen rooms, double room with spa and sea views or suites.
Other facilities of this Stanley Seaview Inn accommodation include a bar, lounge, outdoor dining area, BBQ facilities, tour desk, guest laundry and two children's playgrounds. There's also a stunning outdoor garden that guests can relax in. Free private parking is also available.
Click here for more information.
Best Parts?
The stunning views. Wow.
Worst Parts?
While close to the centre of town, it's just that bit far to walk in regularly so this is better suited for people who are happy to drive around.
Summary
The rooms are exceptionally clean, there are great views and it's overall great value for money. The staff are also friendly and ready to help out with the needs of the guests.
Click here for more information and the latest prices.
Located right next to Tatlows Beach on Bass Strait, this well-appointed cabin and tourist park is just a quick 10-minute walk to The Nut Chair Lift.
You can choose to stay in a cabin or bring your own gear and camp on one of the powered or unpowered sites which are grassed or paved.
Pick between a standard or waterfront deluxe cabin. They both feature flat screen TVs, private bathrooms, heating and electric blankets. They have one or two bedrooms, kitchenettes (or full kitchens in the deluxe category) and dining areas with linen and towels supplied. Meanwhile, upgraded cabins feature stunning water views.
Amenities of this caravan park include beach access, coin operated laundry facilities, a children's playground, BBQ area and parking. The camper's kitchen onsite has excellent cooking facilities, fridge, BBQs and TV and there are two amenity blocks with free showers. You can also hire golf clubs to play at the golf course next door.
Click here for more information.
Best Parts?
The park is in a convenient location close to everything. If you have pets, this is a pet friendly accommodation Stanley Tasmania as well if you are camping (and you need approval beforehand).
Worst Parts?
The cabins aren't well insulated from noise.
Summary
Overall, a great place to stay especially for families and campers. The property is set in a convenient location as well.
Click here for more information and the latest prices.
Next up on our list is the Horizon Deluxe Apartments. If you're looking for accommodation Stanley Tasmania self contained in the luxury category, this is definitely highly recommended.
Featuring spacious apartments all individually designed, they range from studio to one and two bedrooms. All options are home to a fully equipped kitchen with tea/coffee making facilities. They also come with flat screen TVs with satellite channels, wifi, air conditioning, heating, laundry facilities, balconies and a comprehensive personal bar with snacks and even ice cream. Bathrooms have double headed showers, toiletries and robes and the beds are incredibly comfortable.
The best part, however, is the large oval shaped spa baths which are set up to make the most of the coastal views available from the rooms.
Breakfast supplies come with the room so you can prepare your own breakfast in privacy in the morning.
Click here for more information.
Best Parts?
Beautiful modern apartments, with stunning views. Outstanding room facilities as well especially the spa bath and views.
Worst Parts?
The rates are expensive compared to other accommodation, but you get what you pay for.
Summary
This premier Stanley luxury accommodation option is perfect for anyone who wants a treat or is looking for a romantic break. The apartments and facilities can't be beat and the views are amazing.
Click here for more information and the latest prices.
This Stanley b&b accommodation Tasmania is by Sawyer Bay directly opposite Tatlows Beach, about a 10 minute walk from the chair lift up The Nut. It's a restored period residence home to suite-only accommodation with five spacious queen suites.
The suites feature free WiFi, flat screen TVs, DVD players, reverse cycle air conditioning/heating, electric blankets, tea/coffee making facilities including coffee pod machines, toasters and ensuite bathrooms. A table and chairs are also provided.
The bathrooms are home to oversized showers with massage spray. Extras like heated towel racks and hair straighteners are also provided. Guests receive a welcome pack of tim tams and lindt chocolates and everything is well presented with quality fixtures, linen and towels. Each suite has its own feel and own extras provided.
A continental breakfast is provided and guests can use the laundry facilities in the main house for a small fee. There is a guest lounge and a great verandah for taking in the views.
Click here for more information.
Best Parts?
The property is located in a lovely setting overlooking the bay. There are spectacular views especially during sunset.
Worst Parts?
The parking here can be a bit tight.
Summary
This beautiful building has beautiful suites that are well presented and well equipped. This is a great place to stay especially for couples looking for a romantic getaway.
Click here for more information and the latest prices.
Touchwood Cottages is just moments away from everything in the centre of Strahan. It offers guests self-contained accommodation with views over stanley and out to the water.
All three cottages are comfortable and charming and come with breakfast supplies and a fresh fruit bowl, chocolates and port. The main Touchwood Cottage has two bedrooms, two bathrooms, a laundry and can sleep up to four. All cottages have fully equipped kitchens as well as most having wood heating and are equipped with TVs. There is also a well equipped twin studio room.
Touchwood Cottages is also home to a fully licensed cafe that specialises in seafood and homemade cakes. There is a craft gallery and gift shop offering a variety of local pottery as well as local timber products.
The property also offers free parking for guests as well as a coin operated laundry.
Click here for more information.
Best Parts?
Touchwood Cottages is in an excellent location, close to shops and restaurants in the area. The cottages are well equipped and comfortable.
Worst Parts?
The WiFi connection here can be a bit spotty.
Summary
These lovely, well-furnished cottages are a great choice. There are some nice views as well.
Click here for more information and the latest prices.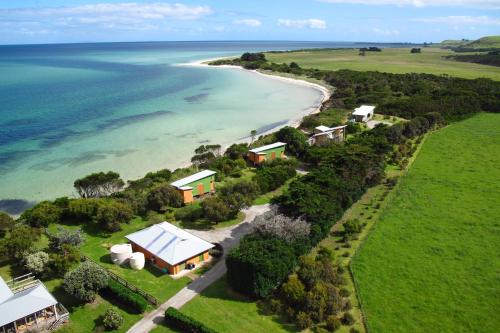 Nestled along the stretch of a private beach, this beach retreat provides guests with quaint, contemporary accommodation. It's located a 6 minute drive to the centre of town.
It also offers guests four stunning beachfront villas with views of the sea, as well as one garden view cabin. Each self contained villa features stylish decor and designer furniture, a fully equipped kitchen, an outdoor dining area, flat screen TVs and DVD players.
There's beach access perfect for long walks or you can enjoy fun, outdoor activities such as fishing and bird watching.
Click here for more information.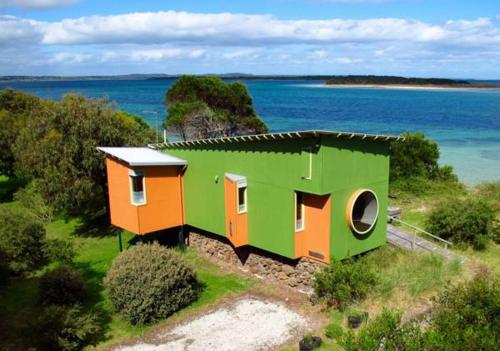 Best Parts?
This place is quiet and secluded along pretty coastline with great views.
Worst Parts?
Some of the facilities need a facelift and the gardens could be better maintained. It's not walking distance into the main attractions in town.
Summary
You'll have everything that you could possibly need in these self-contained units perfect for nature lovers who like to be in private locations.
Click here for more information and the latest prices.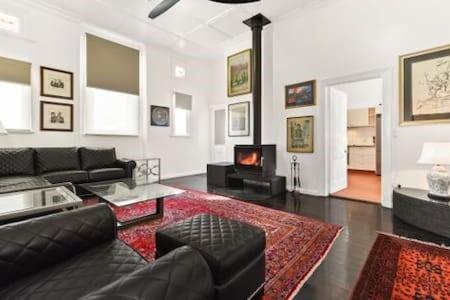 Our personal favourite, this beautifully renovated home features four large bedrooms, two ensuite bathrooms, a fully equipped kitchen, dining area, huge smart TVs in every room and the lounge and spacious living room in a very central location.
This huge house also features tea/coffee making facilities and fireplaces. The kitchen features microwaves, cookware, utensils, dishes and dishwashers.
The property is also equipped with heating, air conditioning and good WiFi. Apart from that, it features an extensive garden where guests can relax, a herb garden, BBQ area, deck and sauna.
It's one of the nicest places we have stayed anywhere in Tasmania and I highly recommend it.
Click here for more information.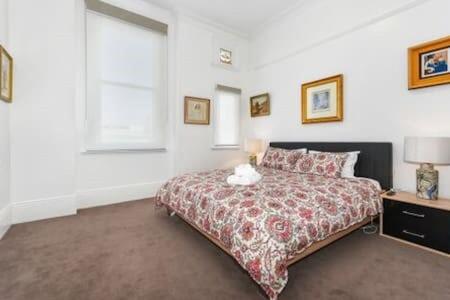 Best Parts?
This is a great location. Eateries, cafes and other notable attractions are an easy walk. The house is very spacious, perfect for groups and larger families.
Worst Parts?
It doesn't offer laundry services.
Summary
If you love staying in your own private home, this is a top pick. This spacious and well appointed house has everything you need for an enjoyable and comfortable stay. The place is located right at the heart of Stanley in a landmark home. We simply love it.
Click here for more information and the latest prices.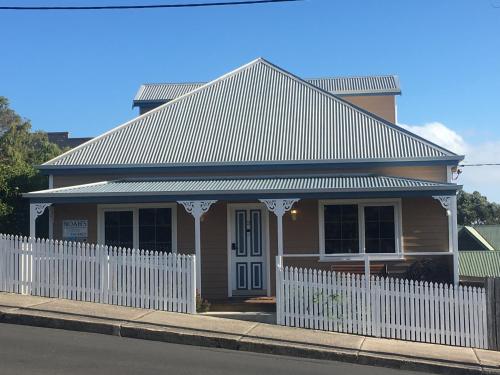 Noah's Stanley Luxury Bed and Breakfast is a sister property to the Ark Stanley. Set in the town centre, it's surrounded by everything you need.
This guest house was recently restored and is beautifully presented. There are two king suites available which each feature a luxurious king bed, reverse cycle air conditioning/heating, electric blanket, TV, DVD player, tea/coffee making facilities (including a coffee pod machine), leather couch and fridge.
They also have luxurious ensuite bathrooms with heated pebble flooring, large double massage showers and heated towel rails among other things.
Wifi and continental breakfast is included. There is also a shared lounge/dining area with DVDs, magazines, games and books and a guest BBQ area.
Click here for more information.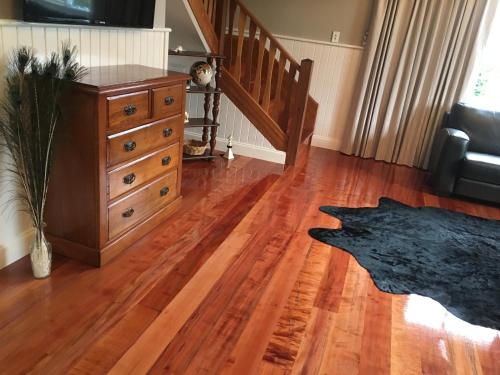 Best Parts?
The property is tastefully decorated with clean, spacious rooms and is walking distance to the main attractions in the area.
Worst Parts?
It would be great if there were wider breakfast choices.
Summary
The hosts are friendly and attentive to guests' needs. There are superb facilities and it's in a very convenient location. Overall, a perfect base to explore Stanley's attractions.
Click here for more information and the latest prices.
Map Of The Best Accommodation In Stanley, Tasmania
I hope you found this guide to the top Stanley hotel Tasmania accommodation options useful. You can find our full guide to Stanley here all our North West coast travel guides here.
Sharon grew up in Tasmania, moved away and then came back with her family twenty years later. She loves re-discovering her home state and sharing it with you here.