Going on a Tasmanian trip and want to know all the best things to do in Southport, Tasmania? We have you covered! Below you will find our guide to all the best Southport Tasmania attractions to plan your ultimate trip whether you plan to spend a week in Southport, a few days or are just stopping for a few hours while exploring southern Tasmania.
A 1.5 hour drive south of Hobart, Southport is often referred to as Australia's southernmost town – and a small one at that. While it's rarely included on lists of must see spots around Tasmania, it is actually quite a pretty town with its own interesting history.
Southport is an interesting place to arrive into. After driving past farm properties and thick forests, you suddenly end up by the sea! A quiet oasis for beachgoers, the best part of visiting this town is its proximity to other interesting attractions nearby.
Below, you will find our full guide to Southport including what to do in Southport, Tasmania, how to get from Hobart to Southport Tasmania, the best Southport accommodation options, information about Southport camping Tasmania, a map of all the top places and more. Let's start!
Click here to download your free Tasmania Road Trip Planner checklist. We'll help you get ready for your trip!
An Introduction To Southport, Tasmania
Southport is small and very pretty. A 2016 census recorded a population of just 135 people, but there's quiet a few properties around for a population that small. It's clear that many people have holiday homes (locally known as shacks) here and simply visit during the holidays.
Today, Southport is a relaxed and quiet town with just one shop, but it has richer history than its small size might suggest. It was once the largest town south of Hobart, and was even proposed to be Tasmania's capital! This town was an important shipping port, and the centre of industries like timber and whaling.
Now it's main attraction is a bit different. While there are plenty of farms around, its clear that this is a place for relaxation and a key spot for fishing. It offers a beautiful landscape with much of the beaches and forests having a tranquil and untouched feel.
It also benefits from its close proximity to attractions like Hastings Caves and the thermal springs, Lune River, Cockle Creek and more.
Top 9 Thing To Do In Southport, Tasmania
Here are the best places to visit in Southport, Tasmania…
Southport Beach Tasmania
Upon entering Southport one of the first things you'll see is Southport Beach.
This pretty white sand beach hugs the coast and sits close to Kingfish Beach Road, and is known locally as Kingfish Beach.
There's about 800 metres of beach to walk on with properties lining the road. It's not a very big beach, but it is relatively calm and great for paddling, walking and relaxing.
Fishing
Southport is a popular local spot for fishing, and you'll find many people fishing here from the jetty in town. The jetty is located on Southport Beach.
Just some of the fish that can be caught here include flathead, salmon, calamari, cod and more. Of course some of these require a boat to go further out to sea. However, the calm clear water makes it a great spot to do so.
Roaring Beach
If you're looking for Southport Tasmania surfing spots, head to the aptly named Roaring Beach.
This is the premier surfing Southport Tasmania spot as it receives moderate swells with waves averaging 1 metre. It's also just a pretty beach to see like much of the rest.
It's worth noting that there are rips and rocks present at this beach and there aren't any lifeguards on duty.
Lune River Gem Fossicking
Just a 5 minute drive from Southport is Lune River – the most popular fossicking area in Tasmania! This is thanks to its early Jurassic forest, famous for its rare silicified fern fossils and petrified wood.
We attempted to visit this area but couldn't really figure it out! It's not very clear where the specific area is for fossicking, but it appears to be further south of Ida Bay just off S Cape Road. The area isn't huge but apparently you can walk around and check things out from previous digs. It may be an interesting place to visit especially for younger kids who might be more interested in this stuff.
If you want to purchase something more significant I recommend visiting the shop Lunaris Gemstones in Lune River.
Hastings Cave
Hastings Cave is Australia's largest dolomite cave system and one that formed over 40 million years ago. It is located just a 10 minute drive from Southport.
Here, you can take a guided tour through the cave which departs every hour. Knowledgeable guides point out the unique formations, like the impressive stalagmites, and explain how long everything has taken to develop.
This is an impressive tour and there are quite a few steps down into the cave system, but the pace is easy going and there are hand rails. The light level inside is low but it is quite spacious. It's also quite cool inside the cave – wear something warm!
The cave itself is located 5km from the tourist centre where you collect your tickets so plan to arrive early. You need to pre-book. Snacks and coffee are available for purchase at the visitors centre and there's also a good gift shop.
Hastings Thermal Springs
Located near the visitors centre to Hastings Cave is the Hastings Thermal Springs – a mineral rich, naturally heated pool!
The pool is heated to 28 degrees Celsius year round which might be a bit cool for some, but warm enough for a paddle and kids seem to love it!
There's also BBQ facilities and picnic tables dotted around, as well as two short walks where you can spot some fish and platypus if you're lucky!
Southport Lagoon Conservation Area
The Southport Lagoon Tasmania is a shallow expanse of water about 40 minutes south of Southport which hosts a range of marine diversity and birdlife.
There are several unique species are found here including plants and endangered birds.
It's also a popular spot for fishing, four wheel driving, boating and kayaking. Plus there's a nearby campground which makes a popular camping spot with locals.
Mystery Creek Cave
Another unique place to visit around Southport is Mystery Creek Cave. This is a 4km return track which is mostly flat and easy to explore with a family.
What makes this an interesting track is that is holds some history – limestone was once mined here and you can see some remnants from Tasmania's mining past as see well as the quarry and some of Tasmania's protected land.
The track follows an old tramway and is dotted with relics like old bottles from the 1800s.
Upon entry to the cave you can see the famous glow worms which sparkle like stars in the dark cave, although it's not not recommended to descend further into the cave without experience. Weather can change quickly here, and the track can be slippery and muddy in wet weather – adequate footwear is a must
It is certainly one of the areas most unique and interesting walks.
Cockle Creek
About 45 minutes south of Southport, Cockle Creek is famous for being the southern most drivable area in Tasmania/Australia!
It's hard to believe this area once had over 2000 residents. It's now just a campground and known for it's tranquil beaches and a couple of short walks like the Whale Sculpture – a bronze sculpture at Adams Point and just a 5 minute return walk.
This is also a popular spot for camping, fishing and even snorkelling too.
Southport Tasmania Map
The following Tasmania Southport map shows the location of all the things to do in Southport and surrounds as well as the best accommodation Southport Tasmania offers.
Southport Tasmania Accommodation
Southport is the perfect place to go to really get away from everything and there are some good Southport accommodation Tasmania options.
However, this is a tiny, low-key town so don't expect big Southport Tasmania hotels or flash Southport holiday units Tasmania. Accommodation in Southport Tasmania is mostly holiday home rental.
Below are some top accommodation options.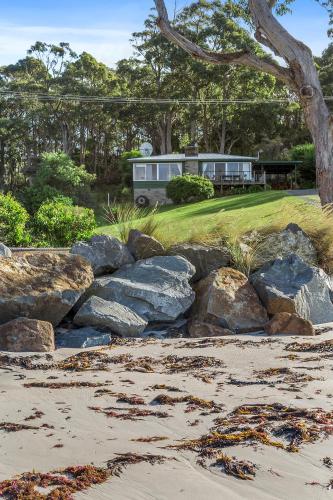 The Summertime Cottage offers relaxing accommodation and makes for an ideal home away from home.
This 3 bedroom cottage offers self contained accommodation on a beachfront setting. It benefits from a large deck with a stunning view of the coast, a woodfire heater, free Wi-Fi and a flat screen TV with a DVD library.
It is spacious too with it's 3 rooms offering a queen bed, double bed and 2 bunk beds with plenty of space for a large group.
Click here to see the latest prices.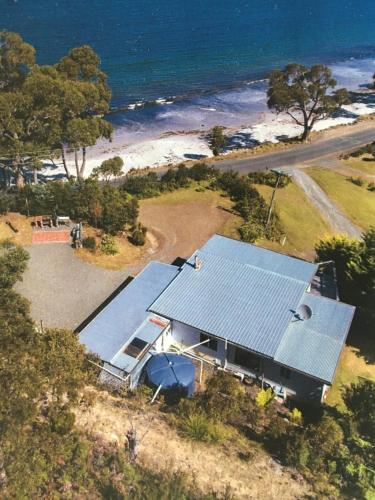 Another 3 bedroom house for peaceful holiday accommodation is The Shack.
This house offers privacy and convenience with 2 double rooms and 1 room with bunk beds, as well as an outside BBQ, woodfire heater, free Wi-Fi and all the essentials you need for self contained living.
Comfortable beds, clean towels and a lovely view make for a relaxing stay.
Click here to see the latest prices.
The Southport Tasmania caravan park offers a range of convenient accommodation options, including self contained motels with one/two bedrooms, TVs, kitchens and bathrooms.
Other options include cabins without TVs but with outdoor verandas and shared bathroom, affordable bunk rooms and powered/unpowered campsites.
The site is home to Australia's southernmost pub! Their Southport hotel Tasmania restaurant is also open for lunch and dinner daily, and there's also a general store and petrol station here.
Tourist information can be found in the reception area, and facilities include a camp kitchen and laundry facilities.
Click here to see the latest prices.
Southport Tasmania Camping
If you're looking to camp, the Southport caravan park Tasmania mentioned above offers both powered and unpowered camping sites at a fee.
Free camping Southport Tasmania options include the Southport Lagoon Campground which has 10 campsites with good facilities like clean public toilets but you do need a 4WD to access it.
If you're prepared to drive further south there are several good free campgrounds at Recherche Bay (30 minutes south of Southport) and Cockle Creek (45 minutes south of Southport).
Hobart To Southport Tas
Southport is 96km south of Hobart and it takes about 1.5 hours to reach by car.
It's a pretty drive through towns like Huonville, Geeveston and Dover, with many apple orchards along the way – you'll see why Tasmania is also known as the Apple Isle!
Southport With Kids
Southport is quiet and relaxed which makes it a nice place to visit with kids. The main beach is small and calm so you can feel safe with them having a paddle in the water.
A short visit here is probably enough for my kids. There aren't any playgrounds around and very few things to actually do in the town itself, and while the surrounding area has lots of stuff to see, there are still few things to actually do.
Still, it's doubtless a pretty place to visit.
Final Words
Rest and rejuvenation are what comes to mind when I think of Southport. As Australia's southern-most town it really does feel far away from it all. The town itself offers a tranquil getaway with much of the surrounding area feeling untouched. For some people this makes it a paradise.
For us, a short stop here offers a good mix of rest and excitement to get us ready for our next destination!
I hope you enjoyed this guide to Southport. You can find all our guides to southern Tasmania here. You can also find our guide to fabulous Bruny Island here which is also worth a visit while exploring this part of the state.