Heading to Sheffield, Tasmania? Lucky you! It's a beautiful part of the world. The next step after deciding to go is to find the best Sheffield, Tasmania accommodation. And that's what we will help you with here!
Located near Mt Roland just 30 minutes drive south of Devonport, Sheffield is a rural hub famous for its murals. These murals depict the area's rich history and natural scenery and it's fun to walk around discovering them. The town can feel surprisingly busy for a population of around 1500 and there is a choice of places to eat and stay.
The surrounding area is full of attractions, like the Mole Creek Caves and Tasmazia so there is plenty to do once you have found all the murals.
In this article, I help you find the best Sheffield hotel Tasmania accommodation no matter what your budget or what exactly you are looking for.
So whether you are looking for a Sheffield beach accommodation, feel like staying in a Sheffield bed and breakfast accommodation or want a cheap accommodation in Sheffield, we have you covered with the best accommodation in Sheffield, Tasmania for you.
Here is our list of the best Sheffield TAS accommodation and a handy Sheffield accommodation map.
Comparison Of The Best Accommodation Sheffield, Tasmania, Australia
Top 5 Best Sheffield Tasmania Accommodation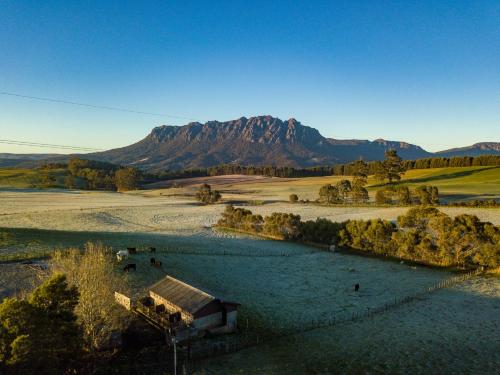 Carinya Farm Holiday Retreat is located a short, 8-minute drive from the centre of Sheffield. Each bungalow has a fully equipped kitchen, microwave, seating area, flat screen TV, fridge and private bathroom with shower.
Guests can either stay at the family bungalow or bungalow with patio. The family bungalow has bedding for four.
Amenities include a spacious garden, a picnic area and a sun terrace. Guests in this farm stay can also enjoy a continental breakfast (for extra charge) and use the free on-site parking as well.  You can also view the farm animals.
Click here for more information.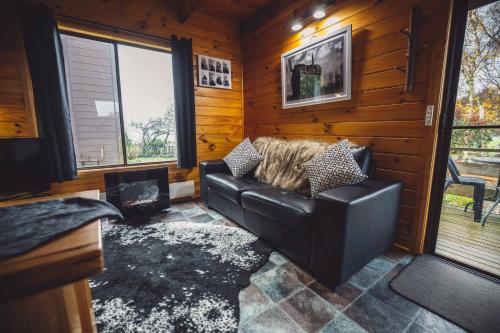 Best Parts?
This homey property features stunning views of Mount Roland as well as close up views of farm animals.
Worst Parts?
There is no WiFi connection available.
Summary
The bungalows are cosy and warm, the hosts are accommodating and there is the option of breakfast in a farm environment. Overall, great value to your money.
Click here for more information and the latest prices.
This inn is an ideal point of departure for exploring Sheffield and its surrounds. It's located right in the heart of town. It's walking distance to shops, cafes, restaurants and the famous murals in the area.
This Sheffield cheap accommodation offers guest services and amenities such as WiFi in public areas, laundry services, a family room option and car park (complete with murals). Guests can also just enjoy the garden's relaxing atmosphere.
Guests can stay in one of their studio, studio twin, studio double, family rooms or 1 to 3 bedroom apartments.
Each unit has a toaster, a microwave and ensuite bathroom. Breakfast is available at an extra charge.
There's also a picnic area in the property, BBQ facilities, outdoor furniture, and a relaxing garden as well as an Italian restaurant and deli.
Click here for more information.
Best Parts?
Convenient location. A great place to stay at the centre of Sheffield. There's also an on-site restaurant.
Worst Parts?
Since this is your standard motel accommodation, it lacks facilities that high-end hotels have.
Summary
Set in a central location, the staff are friendly and helpful with the needs of their guests. Overall, great value for money especially for people who want to stay centrally.
Click here for more information and the latest prices.
If you're looking for Sheffield accommodation prices, Kentish Hills Retreat is a great base to explore the vibrant city, and what it has to offer. It is near popular attractions like The Working Art Space and Gallery, World Of Marbles, Tasmanian Regional Arts Kentish, and The Emporium.
It features 12 well-appointed rooms which include a TV, heating, mini bar  and en-suite bathroom. Guests can stay in their standard, deluxe, twin, queen, studio, and family rooms. There's also a one bedroom apartment and a spa suite.
Amenities include BBQ facilities, a family room option, a car park, a garden and a fishing area that helps one relax after a tiring day.
Click here for more information.
Best Parts?
If you want to stay at an accommodation option that offers spectacular views of Mount Roland and the green rolling hills then this is perfect.
Worst Parts?
Their mattress may be too soft for other people's preferences.
Summary
The rooms are clean and spotless, and everything is immaculately maintained. Overall, a clean cosy place to stay near town.
Click here for more information and the latest prices.
Grace Cottage is nestled in the heart of Sheffield town. From the accommodation, Cradle Mountain is 45 minutes away while Devonport is a quick, 20-minute drive.
This home accommodation Sheffield features two cosy bedrooms, flat screen TV equipped with cable channels, fully equipped kitchen, a microwave, fridge, washing machine and an ensuite bath with shower.
Outside, it also features a small patio with garden views. There's also free WiFi and private parking for guests.
Click here for more information.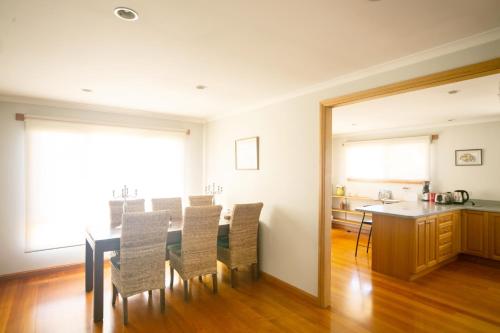 Best Parts?
This house is clean and well-equipped with comfortable beds. It's in a central location in town.
Worst Parts?
The internet can be spotty.
Summary
Overall, this is like your home away from home. It's set is an ideal location, set in town. Hosts are also very considerate with the needs of their guests.
Click here for more information and the latest prices.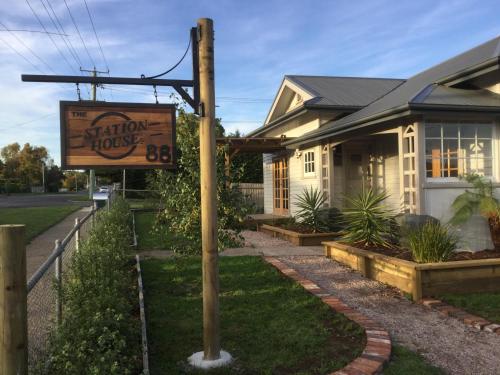 The Station House is a charming 1930s villa that has been renovated. This self catering accommodation in Sheffield features three independent apartments equipped with hand crafted furniture.
This place is a quick 5-minute walk to shops, restaurants, cafes, and to the famous murals in the area.
The studio apartments at this Sheffield self catering accommodation include a kitchenette, seating area, flat screen TVs and private bathroom with shower. There's also a microwave, toaster, and kettle available for use as well as complimentary WiFi.
It also features a sun terrace, and guests can relax in the garden of the property.
Click here for more information.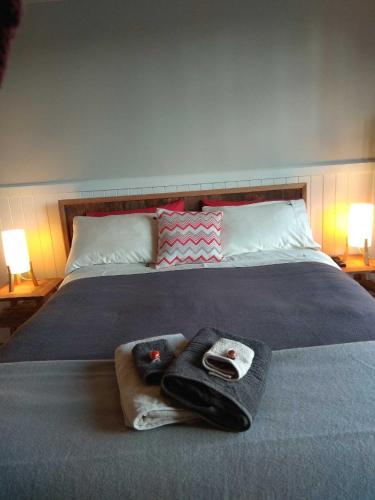 Best Parts?
The rooms are spacious and comfortable. The place is tastefully decorated. It's set in a quiet location as well, so if you like privacy, then this place is perfect. Thoughtful extras of this self catering accommodation Sheffield are also provided, like the complimentary bottle of wine, and chocolate.
Worst Parts?
Not in the centre of Sheffield, but still quite relatively close.
Summary
This comfortable, and tastefully decorated apartment is set in a great location- you can walk to the town centre, and the views of the mountains are stunning as well.
Click here for more information and the latest prices.
Map Of The Best Sheffield Accommodation, Tasmania
I hope you found this guide to the top Sheffield Tasmania accommodation useful. You can find all our guides to North West Tasmania here or more information about visiting the Sheffield murals here.
Sharon grew up in Tasmania, moved away and then came back with her family twenty years later. She loves re-discovering her home state and sharing it with you here.