Heading to Richmond, Tasmania? Lucky you! It's a beautiful part of the world. The next step after deciding to go is to find the best Richmond accommodation Tasmania offers. And that's what we will help you with here!
Located just outside Hobart, Richmond is a picturesque town filled with 19th-century buildings on the banks of the Coal River. Once a military post and convict station on the way to Port Arthur, you can also learn about this history during your stay in Richmond.
Richmond is a beautiful little town that's a great place to base yourself. There's plenty to enjoy in Richmond for a couple of days or you could explore other Hobart area attractions from here too since Richmond is only a 30 minute drive from the centre of Hobart.
In this article, I help you find the best Richmond Tasmania accommodation no matter what your budget or what exactly you are looking for.
So whether you are looking for cottage accommodation Richmond Tasmania, staying in self contained accommodation Richmond Tasmania or would love to stay in luxury accommodation Richmond, Tasmania, we have you covered with the best places to stay in Richmond, Tasmania below.
Here is our list of the top accommodation in Richmond, Tasmania!
Comparison Of The Best Accommodation In Richmond, Tasmania
Best Richmond Accommodation Tasmania: Your Best Place To Stay
This cottage accommodation is located at the centre of Richmond a short stroll from everything.
This Richmond Tasmania accommodation luxury has two options both fully self contained with two bedrooms. You can stay in an old style cottage or a modern villa unit.
Both have full kitchens, air conditioning, dining and living areas, spa baths and washing machines. They also have their own garden areas with the modern villa also having BBQ facilities.
There's free WiFi available on the property and free on-site parking for guests. Breakfast provisions are supplied. Just decide if you want antiques and old world charm or modern luxury.
Click here for more information.
Best Parts?
Spacious cottages in a handy location.
Worst Parts?
The older cottage could do with more equipment in the kitchen and is on the darker side.
Summary
Overall, the place is lovely and is in a beautiful setting.  It's a great location, and the accommodation itself is nice and comfortable.
Click here for more information and the latest prices.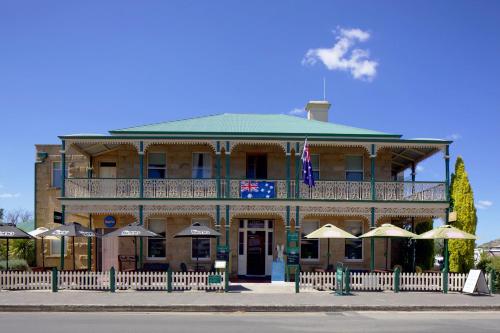 Right in the centre of Richmond, the location doesn't get better than this. The property was originally built in 1827 and you can easily walk to nearby art, craft,and antique shops, admire historical churches, taste local produce and wines from the restaurants and cafes along the village street.
This accommodation Richmond Tasmania cheap features budget twin and double rooms with shared bathrooms. They are simple and small. There are one-bedroom apartments which I would call bigger hotel rooms rather than apartments which have a lounge in the bedroom area.
There is also a two bedroom apartment option available with a kitchen, dining and living area as well as a private bathroom. The apartment also has the facilities you would expect like a TV and toiletries.
On-site is a popular bar and restaurant. There's also free wifi and parking.
Click here for more information.
Best Parts?
Staying at Richmond Arms Hotel Tasmania gives you the convenience of exploring Richmond on foot as it is very well located.
Worst Parts?
The property is a little bit dated, and some of the facilities need upgrading.
Summary
Friendly staff, excellent location, rooms are warm and cosy. Overall, excellent value for money.
Click here for more information and the latest prices.
Nestled in a 100-acre farm, Hatchers Richmond provides guests with self-contained accommodations with stunning views of the Coal River, and the Tasmanian countryside.
Located just outside town, Hatchers Richmond Manor is just a short drive or a long walk from the centre of Richmond. The property offers a wide range of suites, apartments and cottages perfect for all types of travellers. All options have private bathrooms, self-contained kitchenettes, flat screen TVs, free wifi and king or queen beds.
Most room types also have reverse cycle air conditioning and views. Premium room types also have spa baths and four poster king beds.
There are suites focused on couples and honeymooners or family/group options with two and three bedroom apartments and cottages.
Guests at the manor can stroll through apricot orchards or feed farm animals. It also features a cafe with a menu based on local produce including homemade jams and fresh ice cream. There's also a bar that serves a wide range of Tasmanian wines.
Other facilities include a BBQ area, garden, tour desk and laundry facilities.
Click here for more information.
Best Parts?
The area is quiet and peaceful and rooms are lovely as well. Perfect for that quaint countryside retreat.
Worst Parts?
There can be noise between the rooms.
Summary
Beautiful property, the meals served here from the restaurant are great, and friendly and helpful staff. Overall, a great place to stay when you're in Richmond.
Click here for more information and the latest prices.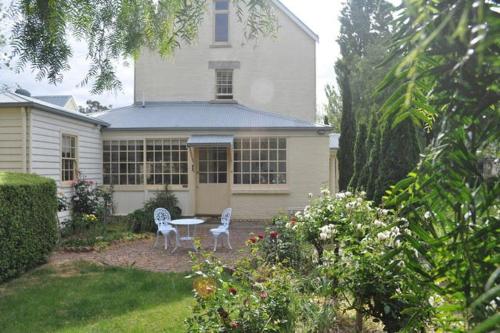 Located in a central spot in Richmond, this quaint cottage is located right beside the historic Richmond Bridge and the Coal River. Just a short walk across the bridge to the centre of town.
This renovated, Richmond Tasmania accommodation self contained is supplied with all modern conveniences. Guests stay in the Mill House Cottage behind the owner's house which has a deluxe queen room with a living area, flat screen TV, a kitchenette and a dishwasher. This bed and breakfast offers full breakfast provisions.
Amenities include a great garden area where you could have a picnic or you can use the BBQ area and patio. Books, DVDs, board games and puzzles are also available.There is a washing machine and free-onsite parking as well.
Click here for more information.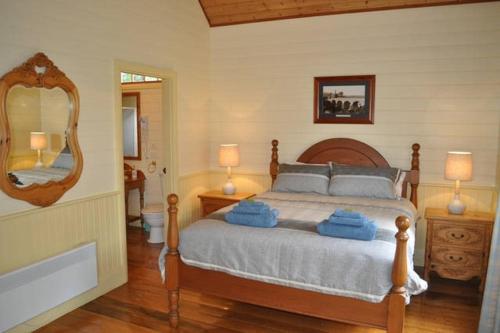 Best Parts?
A quaint, homey cottage with lovely hosts right by the famous bridge.
Worst Parts?
Breakfast isn't served, guests need to cook their own breakfast.
Summary
The cottage has everything that you need – a kitchenette, living and dining area and a great bedroom. It's also in the perfect location to enjoy everything Richmond offers.
Click here for more information and the latest prices.
Just a quick 5-minute walk from Richmond Bridge, this self-catering accommodation is on the main road in Richmond in a convenient location to access everything.
This beautiful accommodation was refurbished in 2013 and is home to two studio units and a two-storey, self-contained, two-bedroom apartment. All options feature modern decor, TV, tea and coffee making facilities and heating.
The apartment is home to two bedrooms with queen sized beds. One also has a single bed making this accommodation suitable for up to five people. There is also an open plan living/dining/kitchen area and your own private courtyard.
The studio units have one queen sized bed with one also offering a single bed. They are well presented with a small table and chairs and kitchen. They also have private courtyards.
Click here for more information.
Best Parts?
If you are looking for privacy and peace, this is a great choice in a convenient location
Worst Parts?
There's no internet access.
Summary
The Richmond Coachmans Rest features lovely accommodation, the rooms are private, clean and comfy with their own courtyards and the place is within walking distance to everything.
Click here for more information and the latest prices.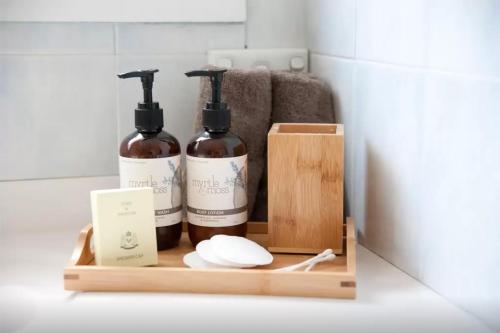 Located just two kilometres out of town, wine lovers will love this small, boutique vineyard in the Coal River Valley.
Offering a queen suite, you will have a living area, flat screen TV, a kitchenette and tea/coffee making facilities. There's also a private ensuite bathroom with toiletries. A fabulous breakfast is included.
You can enjoy the great winery views and, of course, wine tasting is on offer.
Click here for more information.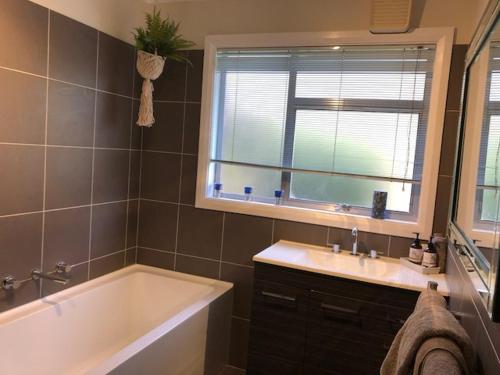 Best Parts?
Beautiful accommodation in a beautiful winery environment.
Worst Parts?
A little out of town although you may think this is a plus.
Summary
Every Man And His Dog Vineyard has welcoming and friendly hosts, the accommodation is clean and comfortable, the breakfast is delicious and there are wines to enjoy. A great choice.
Click here for more information and the latest prices.
Located a short drive from the centre of town, Taras Richmond Farmstay is a great choice for people who would like to do something different and stay on a working farm which emphasises eco-friendly practices.
There are four self-contained accommodation on offer here including a studio, a two bedroom apartment and two cottages featuring garden views. All options have flat-screen TVs and kitchen with microwave.
The cosy cottages have two bedrooms – one with a queen sized bed and one with three single beds meaning they can sleep up to five people. They also have a living room, washing machine and their own patio area complete with BBQs and views.
The two bedroom apartment can also house up to five people and has a large lounge area with a kitchen at one end as well as a washing machine. This apartment is also great for families with a selection of adult and children DVDs as well as some kids' toys. There are views over farmland and a private patio with BBQ and seating.
The studio is perfect for couples with a queen sized bed, armchairs, dining area, washing machine and a kitchen. There is also an outdoor area for guests to use. The studio and apartment can be combined to create a three bedroom apartment for up to five people.
Free wifi and on-site parking is also available in the property and continental breakfast is included.
While here you can also enjoy the farm which has a variety of animals and crops. You can join animal feeding or egg collecting or fruit picking depending on the season.
Click here for more information.
Best Parts?
There's a great breakfast, the hosts are friendly and the fun farm environment.
Worst Parts?
You need to drive into town.
Summary
The accommodation is warm and cosy with their own outdoor areas. The farm is fun to explore and kids are welcome. Overall, a great farm stay just outside of Richmond.
Click here for more information and the latest prices.
Map Of The Best Accommodation Richmond, Tasmania Options
I hope you found this guide to the top Richmond, Tasmania accommodation useful. You can also find all our Hobart travel guides here. Or read our guides to Richmond Gaol here or Old Hobart Town Model Village here (also in Richmond).
Sharon grew up in Tasmania, moved away and then came back with her family twenty years later. She loves re-discovering her home state and sharing it with you here.