Going on a Queenstown trip and want to know all the best things to do in Queenstown, Tasmania? We have you covered! Below you will find our guide to everything Queenstown from the best Queenstown, Tasmania attractions to everything else you need to know about this town to plan your ultimate trip.
I only went to Queenstown once when I was growing up in Tasmania but it's an image I have not forgotten. This is because driving into Queenstown is not like any other part of Tasmania. Driving from the lush forests of the west coast region of Tasmania to the desolate moonscape of Queenstown is quite a surprise.
Once a mining town, Queenstown is now firmly focused on tourism. Thankfully, the impact of mining is not as bleak as it once was – vegetation has started growing again on what were completely dusty, bare hills and eroded valleys where rainforests used to be found. Pollution is now closely monitored but this has still led to a town which is quite unique in Tasmania and deserves your holiday time.
Below, you will find our what to do in Queenstown, Tasmania blog with everything you need to know about the best things to see in Queenstown, Tasmania, where to go in Queenstown surrounds as well as the best places to stay for your ultimate holiday in Queenstown!! There is also a handy map of the best things to see and do in Queenstown, Tasmania.
Click here to download your free Tasmania Road Trip Planner checklist. We'll help you get ready for your trip!
Introduction To Queenstown, Tasmania
Built on the western slopes of Mount Owen, part of the West Coast Range, Queenstown has a rich mining history that has left behind a damaged landscape. 'Rocky-moonscape' and 'lunar-like' are terms often used to describe the town's dramatic hills, left almost for dead by the brutal mining and logging industries of the early 1900s.
Often snow-capped in winter, Mount Lyell and Mount Owen are in spring and summer stark reminders of the heavy logging industry – that ripped trees by their roots from the mountain sides, to be used as fuel for the mines.
These days mother nature is hard at work trying to repair the human damage. Vegetation is slowly creeping back, yet you'll still find the arrival – along a spiraling road with more than 90 bends – eerily spectacular as Tasmania's mining past sprawls in front of you.
Originally inhabited by people from Peerapper and Tommeginne Aboriginal groups, Europeans arrived around 1860. Gold, silver and copper were quickly discovered near the Queen River, and by the 1900s Queenstown had sprung up and was the centre of the Mount Lyell mining district.
Smelting works, brick-works and sawmills filled the town, alongside hotels, churches, schools and even a stock exchange and railway! The town's famous gravel football ground was home to 12 football teams, and there were once 14 pubs and over 5000 residents. However smelting ceased in 1969, leaving behind the raw soil that is only now starting to recover.
Today the town is full of well-maintained cottages with blooming gardens adjacent to run-down derelict properties ripe for investment. Historic buildings include the Empire Hotel, opened in 1901, the Galley Museum and the Gravel Football Oval.
One of the wettest locations in Tasmania, summers here are mild with temperatures rarely rising above 30C. Winters are cool and across the year the weather is almost always cloudy, with low-lying fog/clouds adding to the dramatic valley scenery.
The population of just under 2000 locals are proud and friendly, bringing life and character to what remains of a rather stark-looking mining town. An eclectic community of artists and makers is springing up, creating unique museums, showcases, and even plays for visitors to enjoy.
Close to the edge of Tasmania's World Heritage Wilderness Area and the home of the historic West Coast Wilderness Railway, plus the starting point for walks to disused mines, tunnels, scenic lookouts, waterfalls and relics from the old industries… There's plenty to keep you busy!
Top 11 Things To Do In Queenstown, Tasmania
Here are the best things to do Queenstown, Tasmania options. Read through and select the ones that fit your interests and timeframe.
Enjoy A Train Ride In West Coast Wilderness Railway
In the hope of impressing investors in London, back in 1893 the Mount Lyell Mining Company changed names to become the Mount Lyell Mining and Railway Company. They then formed a rather crazy idea of building a railtrack through thick rainforest and hard rugged terrain from Queenstown to the coast.
Once in place, the track followed the King River for over 7km, before climbing and dropping ridiculously steep inclines, all with the help of a German-engineered cog-and-teeth rack design that allowed mining trains to haul their heavy loads.
In all, 48 wooden trestle bridges were built and the railway operated until 1963. More recently, in 2002, the track reopened after a $20 million refit that honoured this slice of western Tasmania history. Today, this tourist attraction is one of the top pulls in the region and steam trains run a couple of routes departing from Queenstown, including to Regatta Point, Strahan.
We recommend upgrading to the Wilderness Carriage – where you'll enjoy access to an open-air section of the train that offers epic views and photo opportunities. You can also enjoy a glass of bubbly or a chilled beer!
Along your chosen route you'll stop off at historic stations where there are some fun activities for all the family, such as panhandling gold or rainforest walks. And build in time to check out the West Coast Wilderness Railway Museum at Queenstown Station. Recently refurbished, it reflects the history of the railway with authentic artefacts and informative displays. With free entry and open daily, it's definitely one to include!
Address: 1 Driffield St, Queenstown TAS 7467
See The Amazing View In Iron Blow Lookout
If you are driving in or out of town on the Hobart side, make sure you stop at the Iron Blow Lookout on a sealed road just off the A10. This one of the things to do in Queenstown Tas is a spectacular lookout over the decommissioned open-cut mine, the Iron Blow.
The place where Queenstown's mining began is deep and filled with blue water. There is a walkway out into the air to give you a great view into the mine pit.
It's quite spectacular especially with the surrounding nearly-bare mountains.
There are also some interesting information boards at the site with information about the area's mining past as well as about the geological formations that form what you are seeing in front of you.
Address: Gormanston TAS 7466
Walk To Horsetail Falls
Around the same place as the exit for the Iron Blow Lookout is a small car park for the walk to Horsetail Falls. I highly recommend you get out of the car and take this short walk for some spectacular scenery.
At only about a kilometre return, this easy walk to the falls takes you around the side of the bare hills of Queenstown. The amount of water falling depends on the season and the amount of rain (usually the most in winter), but it makes for quite a sight and an interesting walk even when it's just a trickle.
It's the perfect way to see more of the landscapes and scenery around Queenstown.
Address: Gormanston TAS 7466
Visit The Q Bank Gallery
An artists-in-residence space and gallery, the Q Bank Gallery is located on the ground floor of an old bank building. Run by a group of friends that fell in love with Queenstown and this particular building, they also manage an AirBnB on the first floor.
Quoting Virgina Woolf, who said that 'artists need a room of their own to create art', the Q Bank usually allows artists to stay for a month. Then, at the end of their short residency, the artist produces a show of their works.
The Gallery also aims to provide a space for open-dialogue between artists and the local Queenstown community.
You'll find all the latest details here or on their website: www.qbankgallery.com.au/.
Address: 37 Orr St, Queenstown TAS 7467
Enjoy A Great Show At The Paragon Theatre
Built in 1933 – in fabulous art-deco style – the Paragon Theatre is still in use today. Originally one of the first "talkie theatres" in the region, crowds flocked for decades to see Mae West in "She Done Him Wrong", and similar classics.
Sadly, similar to The Buggles classic, Video Killed The Radio Star… the theatre died in the 1980s as video took over and it finally closed its doors in 1985. Strangely for the next few years an indoor cricket stadium took root in the gutted interior but finally, in 2003, a restoration project commenced and the building reopened as a 60-seater luxury cinema. Since then the Paragon has changed hands a number of times, and today operates as an evening venue for dining and movie nights.
Check out the online calendar to see what's coming on soon and book yourself a date night, dining on pasta, ice-cream and – of course – popcorn! …and enjoy classics such as Breakfast At Tiffany's, Psycho or Bullitt.
If you don't have an evening spare, still drop by as you can experience a self-guided tour behind the scenes of this beautiful historic theatre, filled with classic movie posters and other memorabilia. And catch three short video presentations taking you back through the years to the theatre's heyday. Tours run daily.
Take time out to appreciate the golden age of this wonderful talkie theatre!
Address: 11 McNamara St, Queenstown TAS 7467
Climb And Enjoy Fantastic 360 Degree Views Of Queenstown At Spion Kop Lookout
Named by soldiers after a battle in the Boer War, the 360-degree panoramic views from this lookout are splendid. You'll also find some mining and heritage exhibits along the way, plus signage helping to identify the names of key landmarks visible from the top.
Time your visit to arrive at sunset, when the barren hills flame orange and pink in the evening's last glow.
Follow Hunter Street uphill, turning left onto Bowes Street and then do a sharp left onto Latrobe Street where you'll find a small car park. From here, it's a quick 5-10 minute walk to the summit up a very steep track.  Note this is unsuitable for prams, pushchairs or those with mobility issues. Sturdy footwear is recommended.
Address: Latrobe St, Queenstown, TAS 7467
Check Out The Eric Thomas Galley Museum
Located in what was Queenstown's first brick hotel, the original Imperial Hotel, the Eric Thomas Galley Museum showcases an astonishing collection of more than 1000 photographs that take you through the history of the West Coast.
Each photograph is accompanied by a detailed caption recording the history of the image and there are also 30 rooms of historical items to discover. These include personal effects from the mining days, documents, cameras, theatre projectors, gems, minerals, and military and mining artifacts. You'll also be able to catch a short film about Mount Lyell and listen to recorded memories from local people.
It's a great add-on to your railway trip as it is located near to the station.
Address: 1-7 Driffield St, Queenstown TAS 7467

See Tasmania's Favourite Football Ground: Gravel Football Oval
Back in the heyday of the mining industry, the Gravel Football Oval was home to 12 burly Aussie rules teams. Supposedly created in place of a standard grass oval due to the town's high rainfall – meaning it would have been nothing but a mud pit – the gravel idea instead just rips to shreds anyone who dares to play on it!
As far back as 1895, strong men (or foolhardy, depending on your point of view) played out their matches on the oval's gravel, ending with grazes, cuts and bleeding limbs. A siren was borrowed from the Mt Lyell Mines to signal the start and end of each quarter.
For almost a century, the ground was the venue for the grand final of the now defunct Western Tasmania Football Association. Unsurprisingly, the pitch has struck fear into the heart of all visiting teams, making it one of the most legendary and infamous sports grounds in Australia!
Today, thanks to the help of a 10-tonne roller that flattens out the surface and 6-10 fresh truckloads of gravel per year, the ground is home to the local Queenstown Crows.
Address: Wilsdon St, Queenstown TAS 7467
Hop On A Scenic Gordon River Cruise
Sure to be a highlight of your stay in Queenstown, a trip along the Gordon River should be high on your things-to-do list.
Award-winning cruises take you deep into the Tasmanian Wilderness World Heritage Area, one of the largest conservation areas in all of Australia. Home to one of the last expanses of temperate wilderness in the world, you'll cruise the Gordon River deep into the Franklin-Gordon Wild Rivers national park, in the heart of the Heritage Area.
Olegas Truchanas – a conservationist and nature photographer – was the first explorer to navigate the River by kayak in 1958. He passed through a series of gorges which are now the base for scenic river cruises, one of the most popular things to do in Tasmania.
Departing from the lower Gordon River from Macquarie Harbour in Strahan, various cruises depart morning and afternoon. There are usually two stops, at Heritage Landing and Sarah Island. The first offers a walk through rainforest to view huon pines, trees that live up to 3,000 years making them the second oldest in the world.
Sarah Island offers a different experience, having been used as a penal settlement back in the 1820s. Visitors today can check out chilling ruins and gain an insight into the cruelties of convict life.
Famed for the magical reflections of the rainforests, it's no surprise the cruise boats offer ceiling-to-floor glass windows or upper-class style open-decks.
Cruises include a buffet lunch and take approximately six hours for the roundtrip. We highly recommend making a day of this by enjoying Strahan before or after the cruise.
Click here to get your ticket.
Address: 24 Esplanade, Strahan TAS 7468
Visit Strahan
Less than an hours drive from Queenstown, Strahan is a pretty coastal town that has rather a lot of attractions for such an out-the-way destination!
The stand out attraction is without a doubt the epic Gordon River cruise, with the picturesque harbour the jumping off spot. Taking visitors out on the calm river, usually with a luxury lunch or afternoon tea to enjoy, the cruises are one of the top tourist attractions in Tasmania.
However, stick around as Strahan has much more to offer. Sitting on the edge of the Tasmanian Wilderness World Heritage Area, the town has a lovely yellow-sand beach that is ideal for a picnic lunch or bbq. There's also an adjacent playground that's ideal if you have youngsters in tow.
But without a doubt, the best beach in the area is Ocean Beach – actually the longest beach in Tasmania!  Stretching 40 kilometres, the pounding surf surrounded by wild wilderness is quite a sight. You can have a blast by renting a 4-wheel drive and zooming along this wide expanse of shoreline.
Back at the harbour area, the waterfront is a good spot to people-watch, enjoy a spot of lunch or dinner, and take in 'The Ship That Never Was', Australia's longest running theatre show. You'll also find a couple of museums, stunning sand dunes at Henty Dunes ideal for sledging and great short hikes through the rainforest and to waterfalls.
Add a day or two to Strahan to your itinerary!
Click here to read our full guide to Strahan.
Explore The West Coast Heritage Centre in Zeehan
A 30-minute drive north takes you to Zeehan, another great mining town deep in a valley surrounded by hills and rainforest. Nicknamed Silver City, after its tin and silver discoveries marked the largest mining boom in the west, Zeehan still attracts geologists today for its unusual geological structures.
The highlight of the town is the West Coast Heritage Centre and Pioneers Museum, with an excellent display of the area's indigenous, pioneering and mining past, and what's said to be one of the finest collections of minerals in the world.
Relating the development of the West Coast, along with its pioneering past, the centre brings together all parts of the region's history with a display of photographs, mining memorabilia and machinery.
Classic locomotives, mining machinery, an authentic blacksmith and wheelwright shop, a marine display and a pioneer women's gallery are more of what's on offer. Making this far from your usual idea of a museum-style heritage centre, with buildings and grounds to explore.
And alongside you'll find the historic Gaiety Theatre. Built in 1898, it was once considered one of the grandest buildings along the West Coast and one of the best theatres in Australia.
All together, it is a terrific venue to learn more about the region – the boom and bust of the mining industry and how it affected the local population. It's also a great place to visit if the weather isn't playing ball.
Read more about visiting Zeehan in our full guide here.
Address: 114 Main St, Zeehan TAS 7469
Queenstown, Tasmania Things To Do Map
Best Place To Stay In Queenstown, Tasmania
When it comes to where to stay in Queenstown Tasmania, there is not a huge amount of options but there are some solid picks within the town. Below, I've listed a few different ones based on your budget and needs.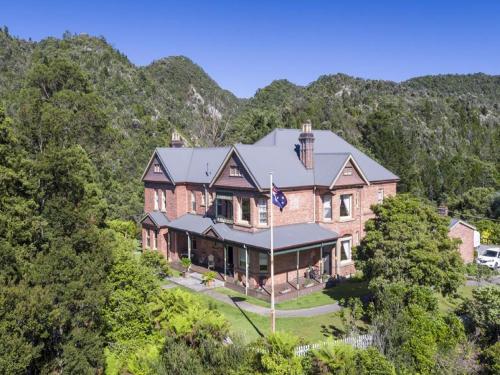 A stunning National Trust property, Penghana Bed & Breakfast is centrally located in the middle of Queenstown at the top of a hilltop. Close to the start of the West Coast Wilderness Railway, the B&B is noted for its friendly and professional staff.
Four rooms are available, with queen-beds, in this self-contained accommodation. There are two guest lounges offering books and board games for those rainy days, and a full DVD library. Or, if you're looking for a little privacy, check out their two-bedroom self-contained apartment.
There's no restaurant on site but there's plenty of outdoor dining and picnic areas with BBQ facilities, and you can dine on the terrace or in the gardens. There's free on-site parking and a helpful tour desk to assist with arranging local culture tours.
Our top pick for Queenstown accommodation, especially as there are many activities (hiking and canoeing, etc) on your doorstep.
Click here for the latest prices.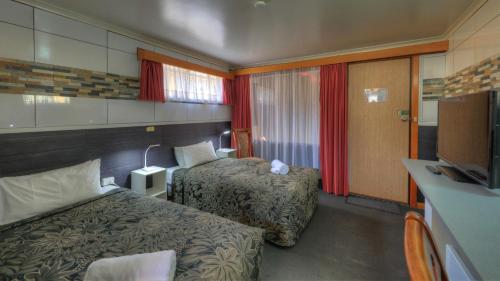 Similarly located, the Queenstown Motor Lodge is just a 5-minute stroll from the West Coast Wilderness Railway and is an ideal mid-budget accommodation option.
Basic guest rooms come in various setups: standard, twin, queen and family rooms. Most come with mini-fridges, heaters, TV's and toasters, and ensuite bathrooms include showers and hair dryers.
Dine at Maloney's Restaurant, the onsite option that serves a broad menu including seafood, vegetarian dishes and its best seller – chicken and sundried tomatoes.
Guests enjoy complimentary WiFi, parking and luggage storage. There's a chargeable laundry service offered too.
Click here for the latest prices.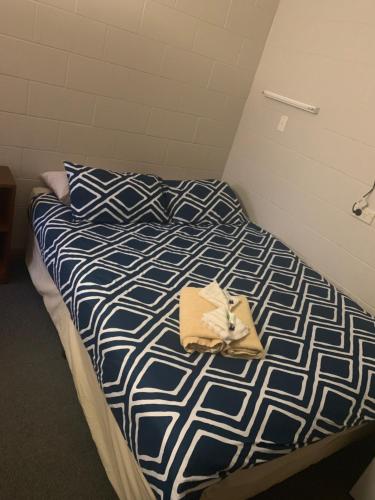 Great value for money and our pick for best-budget option in Queenstown, the Railway Hotel, Tasmania is a 3-star level accommodation right in the centre of town.
Basic guest rooms come with flat screen TVs and tea-and-coffee making facilities. You'll find twin-rooms with a shared bathroom or budget-style single and double rooms with ensuite bathrooms.
There's a hotel bar to unwind at after your busy day of exploring, parking is available and communal laundry facilities. …and a great little restaurant with Sky TV.
Click here to see all our recommendations for the best Queenstown, Tasmania accommodation.
Click here for the latest prices.
How To Get To Queenstown, Tasmania
It's easy to get to Queenstown, Tasmania by bus or car. If you have your own car, great! You are good to go.
You can also hire a car to get you there by clicking here.
Queenstown, Tasmania With Kids
Queenstown is an easy place to visit with kids. It has attractions that kids will enjoy as well – our sons love the West Coast Wilderness Railway and the different landscape and learning about the boom and bust nature of mining in the area also captivated their interest.
Final Words
Queenstown is a very different slice of Tasmania that is worth some of your precious holiday time. While not as immediately endearing as nearby Strahan, it has its own appeals and is worth at least a couple of hours to explore.
Find our full guides to neighbouring Zeehan here and Strahan here. Find all our top guides to the western part of Tasmania here.