North Tasmania's North West region is a great area to explore. It has all the things you should be looking for in a Tasmanian trip including wild nature, amazing scenery, beautiful coastline, top attractions and many great north west Tasmania towns to explore. This area was made for road trips, and you could easily spend weeks enjoying everything north west Tasmania tourism has to offer.
There's a great variety of things to do on the north west coast of Tasmania from exploring the ancient wilderness of the Tarkine to getting lost in Tasmazia to exploring under-the-ground in a cave tour or walking around an historic town. Add in some top food and accommodation and you'll never want to leave the north west region, Tasmania.
It's also the perfect region for a Tasmanian road trip with generally good roads, great views from many of them and many areas that feel untouched by tourists.
Below, we give you full information about everything  North West Tasmania has to offer including the top things to do in north west Tasmania,  north west coast Tasmania accommodation, a north west coast Tasmania map and more.
Click here to download your free Tasmania Road Trip Planner checklist. We'll help you get ready for your trip! 
North West Tasmania Map
The north west region of Tasmania covers the coastal areas from the Tamar around to the Pieman River as well as inland areas out towards Cradle Mountain.
Below is our map of north west Tasmania which shows everything covered in this guide.
 Top North West Towns To Visit
There are some great places to visit in the north west region. Here are full guides to the top options.
Things To Do In North West Tasmania
There are some great things to do north west Tasmania while visiting this region. Below, we describe our top picks of the north west Tasmania attractions.
The Edge of the World
The Edge of the World, North west coast Tasmania, is around two and a half hours from Devonport.  Located at Arthur River, Gardiner Point is dubbed the Edge of the World as it's the starting point of the longest uninterrupted stretch of ocean in the world.  Sail west across wild seas, and you'll find nothing until you reach the opposite side of the globe and the distant shores of Argentina!
The scenery here is rugged and beautiful, in a weather-beaten way.  Mother nature puts on a full display with powerful waves endlessly battering the coastline, leaving piles of salt-bleached, white skeletons that were once trees.  Winds, known as the "Roaring Forties" sweep in from the Indian Ocean, fierce and unforgiving.  And, strangely, cutting through the middle of this chaos is the Arthur River, calmly winding its way down to meet the ocean.
Take a stroll along a wooden boardwalk, commencing at the car park, towards Gardiner Point, before coming to a split. Straight on, the boardwalk continues to a rocky outcrop where the ocean meets the Arthur River.  However, swing left and the boardwalk takes you down a short flight of stairs to reach a lookout.  
From the lookout, enjoy the panoramic views over the mouth of the Arthur River and all the way down the western coastline of Tasmania.  The lookout also highlights the history of the area with information boards, including some amazing facts and insights about the Tasmanian Aboriginal people who once inhabited the area.
Open 24 hours, there is no entrance fee.  Wrap up warm as weather can be rough and windy!
Arthur River Cruise
A true Tassie experience, an Arthur River cruise is an unforgettable wilderness adventure.  
Join an organised cruise along almost 14 kilometres of Arthur River where you'll commence first at the river mouth, then travel upstream past the Arthur and Frankland river junction.  
Arthur River is regarded as one of the last truly wild rivers of Australia and the local Tarkine area recognised as a wilderness region.  This means you'll enjoy views of rainforests that are home to myrtles, sassafras, celery-top pine, laurels, blackwoods and stunning giant tree ferns.  
The lush vegetation is often reflected in the calm waters, making an altogether beautiful scene.  And those riverbanks are alive, so keep a keen eye out for white-bellied sea-eagles – usually perched high in the trees – or azure-kingfishers that flash their bright plumage against the green backdrop.  You might even be lucky enough to spot a playful platypus!
Continue on until you reach Warra Landing, your idyllic lunch spot, where you'll also enjoy a guided rainforest walk to Warra Waterfalls.  Enjoy a gourmet BBQ lunch, whilst appreciating the peaceful sound of the surrounding rainforest and imagining how beautiful Tasmania would be without humans!
On the return, settle back on your vessel – that offers a full fly bridge deck with 360 degree viewing – and keep cameras at the ready to capture some of nature's best work.  
Taking approximately six hours for the roundtrip, this wonderful Tasmanian cruise is a must-do experience whilst holidaying in Tasmania.  Remember to take warm clothing and suitable footwear, and note the service is closed in the winter months of June, July and August.  Bookings are essential and more details can be found here.
The Tarkine
Covering the area between the Arthur River in the North and the Pieman River in the south, the ocean to the west and the Murchison Highway in the east, The Tarkine name does not appear in maps.  Named after one of the Aboriginal tribes who inhabited the western Tasmanian coastline (before European invasion and colonisation) the Tarkine contains extensive wilderness, and largely undisturbed tracts of extremely rare cool temperate rainforest.  
Altogether, the Tarkine contains around 1,800 km2 of rainforest, around 400 km2 of eucalypt forest and is home to an array of mammals, and over 100 species of land and freshwater birds.  Reptiles, frogs and freshwater fish can also be found, and the Tarkine altogether contains over 60 endangered species of flora and fauna.  
In a nutshell, the Tarkine is nature at her best work, home to astounding beauty.  Diverse landscapes such as rivers, sand dunes, mountains, globally unique minerals such as magnesite, and a dolomite cave system… plus the largest basalt (volcanic) plateau in Tasmania!
Early mining activity can still be seen here, with over 600 areas that were mined for gold and tin.  But in the 60's a campaign commenced to protect the area, and since the early 21st century it has been well protected.  In addition, the area's high number of Aboriginal sites has led it to be called "one of the world's great archeological regions".
Eco-tourists, looking to partake in sustainable tourism are welcomed here.  Visitors can self-drive, or take beach or forest journeys from the town of Arthur River – which includes a visit to the End of the World at Gardiner Point.  Waterways can be explored by canoe, kayak or riverboat cruises. 
Numerous walking trails from Arthur River span off into the rainforest, with another well known route further south being the Western Explorer touring route – winding its way to the tiny settlement of Corinna (offering accommodation) on the Pieman River.  Take a river cruise here to a wild West Coast beach that's covered in huge logs tossed up by the angry Southern Ocean.
There are numerous camping facilities around Arthur River, and some less formal sites along the Tarkine coast.  Picnic and bbq areas can also be found scattered around the region.
Drive from north to south of the Tarkine or vice versa via the Western Explorer Highway.  An unsealed road, the Western Explorer takes visitors from Arthur River through to Corinna and then to cross the Pieman River using the Fatman Barge. Due to the road conditions, this 100 kilometre journey can take longer than 2.5 hours.
Alternatively, drive on sealed roads to Corinna using the Murchison Highway and turn off on the B23 through to Corinna.  Less remote and shorter travel time is the plus side for using sealed roads.
One of the world's great wild places, the Tarkine contains remarkable natural and cultural values.  Drive, hike, cruise… and see platypus, echidna, wombat, bandicoot, giant freshwater lobster and even the famed Tasmanian devil.  An amazing natural treasure, you can often find you're the only people for miles around!
The Nut, Stanley
If there's one of the Tasmania north west coast attractions you won't be able to miss when driving in this part of the coast, it is The Nut.
Visible from many kilometres around, The Nut is the remains of an ancient volcanic plug that rises 143 metres from Bass Strait over the historic town of Stanley.
It's not just a pretty sight that you will want to see but one that deserves to be explored. You can hike or take a chairlift to the top for fabulous views over Stanley, the surrounding countryside and Bass Strait. 
Once on top, I highly recommend the circular hike around the top for the best views. Taking a leisurely 45 minutes with stops to read information boards and see the views along the way, this is definitely one of the top fun things to do in north west Tasmania.
You can read our full review of visiting The Nut here.
Boat Harbour Beach
Boat Harbour should come with a warning – it's that beautiful!  A sprawling quiet bay with white sands and clear water, the wide beach is sure to be the main focus of your visit.  
Explore rock pools and swim in family-friendly waves, or simply enjoy the clean white sand.  And the icing on the cake… keep an eye out for dolphins and seals, with even whales are known to enter the bay!
A great beach community, that's nestled between rocky headlands, you can enjoy a cold beer at the surf clubhouse.  And it's just a stone's throw from Rocky Cape National Park with rock pools, wildflowers and bushwalks to Aboriginal caves set in vast cliffs.
Voted one of Australia's top 10 beaches, you know Boat Harbour Beach must be special!
Read more about Boat Harbour here.
Table Cape
A flat-topped promontory that juts into Bass Strait, Table Cape does strangely resemble the "table" it's named after!  
An extinct volcano, the area is a protected nature reserve and is located near Wynyard on the North West of Tasmania.  Its northern and eastern faces rise steeply, around 170 metres, up from the Bass Strait, forming a dramatic coastline!
Table Cape's top area is widely known for its annual flowering of tulips during spring – and even has an accompanying Tulip Festival.  Thanks to the fertile volcanic soil, the whole area is heavily used for agriculture and there are spectacular views of Tasmania's coast and farmlands.  Search out the viewing platform where, on a clear day, you can see George Town's Low Head and mountain ranges 175 kilometres away.
Follow the cliff-top walking track to the old Table Cape Lighthouse which dates back to 1888.  Standing 25 metres high, it was originally powered by oil but today – of course – is operated by electricity, sending out a beacon with a range of around 16 nautical miles (30 kilometres).  A short tour of the lighthouse is available.
If possible, schedule your visit for October when the Table Cape Tulip Farm is in full bloom – stunningly beautiful.
Read more about Table Cape here.
The Big Penguin
There are several 'Big' Tasmania north west attractions – the Big Cherry and the Big Platypus – but surely the best is the Big Penguin!
Located in a town called… wait for it… Penguin!  Proud of its unusual name, the town is covered in images of penguins – even on the litter bins. 
And the Big Penguin has been charming visitors since 1975.  Located in the town's centre, opposite the Post Office, it was erected to commemorate the centenary of the naming of the town, and stands 3.15 metres tall.
Though perhaps the real stars of the show are the real fairy (little) penguins that can be seen arriving each evening between November and March!
Wings Wildlife Park
One of the most fun answers to what to do in north west Tasmania is to visit Wings Wildlife Park.
This wildlife park has over 150 different species in the park and the largest display of Tasmanian wildlife which is perfect for anyone who loves animals or wants the opportunity to get close to Tasmanian wildlife like Tasmanian devils, quolls and kangaroos.
This is a great park with an indoor area with fish, reptiles, guinea pigs and more and two different outdoor areas. One with Australian and international wildlife and one area more focused on farm animals. There's the opportunity to feed kangaroos and fish which is highly recommended.
We very much enjoyed visiting this wildlife park and highly recommend it to others.
There's also a café and accommodation and camping facilities on site.
You can read our full review of visiting Wings Wildlife Park here.
Leven Canyon
I had no idea there even was a canyon in Tasmania to visit until I started exploring this section of the state in depth. However, not only is there a great canyon to visit with Leven Canyon but there is a whole driving route you can take called "coast to canyon" which takes you there as well as Wings Wildlife Park, Preston Falls and more.
It's easy to drive here on sealed, scenic roads and there are a variety of short walks north west Tasmania to explore and view Leven Canyon.
The easiest one is just a ten minute walk from the car park and our family (including our four year old) did it with ease. Called Cruickshanks Lookout, from here there is an overhanging platform to get great views into the canyon as pictured here.
This definitely deserves to be on your list of north west Tasmania things to do.
Preston Falls
There are quite a few waterfalls north west Tasmania offers so you should try to visit at least one! Preston Falls is a nice easy choice especially if you are also visiting Leven Canyon or Wings Wildlife Park.
Located between these two attractions, this one of the north west Tasmania waterfalls is only a couple of minutes walk from a sealed road and has a great viewing platform. It's 25 metres tall.
Tasmazia
Take a break from all the touring and have some fun at Tasmazia & the Village of Lower Crackpot.  A maze complex, there's a lot that's unusual here!  
Altogether you have eight maze options to get lost in, and then there's a model village, model embassy area, lavender farm, cafe and more!  Designed to ensure maximum fun – with tons of silly jokes along the way – visitors have to complete the mazes and explore the villages.  
Commence your fun at the Great Maze, the largest you'll face and probably the best.  You can easily spend an hour here – unsurprising as this was once the largest maze in the world!  And you'll find within the Great Maze there are some of the smaller mazes that you also need to tackle, along with Cubby Town – small units full of surprisingly cool things to do.
You'll also find some great jokes along the way:
This is Bob.  Bob has no arms. Knock-knock.  Who's there?  It isn't Bob…
And there are some weird things too, such as the Crackpot Correctional Facility – with strange imprisonment and death devices – an Irish Maze, Secret Passageway, and even a Pot of Gold at the end of the Rainbow to find!  
After the maze area you'll discover the Village of Lower Crackpot.  Hilariously built on a ⅕ scale, you feel transported to Munchkinland!  Quirky, with lots of things to amuse, leave time to visit the Embassy Gardens too, with over 40 humorous embassies on display (with a few made up countries thrown in for fun!).
A lot of thought has gone into the design of Tasmazia and it's definitely a unique stopover for the family – in fact, great fun for all age groups.
There's a massive car park on site, a cafe with some yummy pancakes to enjoy and so much to explore, so ensure to pencil out a few hours to really do the place justice!
You can read our full review of visiting Tasmazia here.
Sheffield Murals
Another quite unusual side-trip can be enjoyed with a visit to the Sheffield Murals.  Around 40 years old, the murals were painted as a way to save the town from economic decline. Similar to an idea in Canada, the popularity of the murals led to great public recognition and a reversal of the town's fortunes!
Today, this bustling little town has over 200 murals, and even hosts an annual Mural Fest at Easter.  Located all across town, the logical place to start exploring is Mural Park.  Here you'll find some of the latest additions from Mural Fest, murals on a variety of topics including town life, the region's heritage and some… well, you'll have to make your own mind up!
Walk on down main street to discover more, and dive into side streets seeking out those that are hidden away.
Only a 30 minute drive south of Devonport (and great for combining with a stopover at Tasmazia), Sheffield is well worth discovering.
You can read our full review of visiting the Sheffield Murals here.
Mole Creek Caves
Located in the Mole Creek Karst National Park, Mole Creek Caves are roughly an hour's drive south of Devonport.  Visitors have two choices of caves to visit, both with guided tours – Marakoopa Cave or King Solomon's Cave.
King Solomon's Cave is smaller, more compact and known for its lavish colours and an abundance of formations.  Whereas Marakoopa Cave is noted for being the home of the largest public glow worm encounter in Australia!
A limestone cave, Marakoopa was first discovered in 1906.  Opened to the public in 1912 – initially with tours by handheld lanterns – today the cave is part of the World Heritage area.  
Two underground streams run within the cave. There's dramatic stalagmites and some vast open passages. The Tasmanian cave spider calls it home, along with all the glow worms!
Tours depart with a maximum of ten guests. Thus, it's recommended to call ahead and book in your slot.  On the tour you can hope to see crystals, reflection pools, stalactites and stalagmites.  And you can choose from a couple of tours depending on your fitness level/age.
Don't forget to take a jacket as temperatures run around 9 degrees inside the cave system year round.
You can read our full review of visiting Marakoopa Cave here.
House of Anvers
Just outside of Devonport, in the village of Latrobe, you'll find a sweet delight!  
House of Anvers, home of a small chocolate factory, makes for a great breakfast or lunch option. "Factory" might be stretching it a little, but it's still great to see the staff making Anvers chocolates through the big window. And, more importantly, there are lots to taste!  
A great spot, especially for families as there's lots of green space to run around on and a pretend chocolate truck to play on too.  The cafe is fabulous – especially their Belgium waffles and, of course, their chocolate platters.  
Go on… be naughty!
Christmas Hills Raspberry Farm
If you are looking for more delicious Tasmania north west attractions, look no further!
Our family is all crazy about raspberries so we can't get enough of the Christmas Hills Raspberry Farm.
Located next to the main highway between Devonport and Launceston, this farm is easy to visit with an absolutely delicious café. Here you can have regular food, like hamburgers or eggs and bacon, or (recommended) raspberry dishes like raspberry pancakes, waffles or crepes.
We always stick to the raspberry dishes and they are always oh-so-good.
There is also a big outdoor area with a small lake to relax and play including sporting gear and a cubby and play area for younger kids.
You can read our full review here.
Don River Railway
A volunteer-run vintage railway and museum, Don River Railway runs a return passenger train service from Don (a suburb of Devonport) to Coles Beach, along the historic Melrose Line.  
Usually run as a daily service, except Mondays and Tuesdays, customers ride in a 1940s ex-Tasmanian Government Railways rail car and trailer on Wednesdays through to Saturdays.  However, on Sundays a heritage carriage set is hauled by either a steam locomotive or a vintage diesel locomotive.
Tasmania passenger trains ceased running a while back, except for along this route, making it quite the novel ride.  After departing from Don Village the train winds its way along the Eastern banks of the pretty Don River. It passes alongside Restoration Siding where numerous locomotives and rolling stock are in the process of being restored.  The 30-minute return ride passes through a nature reserve and you'll pass by many places of historical interest.  
A collection of steam and diesel locomotives is open for viewing at the Don Village Station, and there's a small souvenir and model shop.  Excellent for train enthusiasts!
Learn more and buy tickets here.
Cradle Mountain
One of the must-visit places in North West Tasmania, Cradle Mountain National Park is famed for its Overland Track and iconic Cradle Mountain.  However, the Dove Lake area is perhaps the most scenic of all regions within the Cradle Mountain-Lake St Clair National Park, part of the 1.4 million hectare Tasmanian Wilderness World Heritage Area.
Magnificent alpine landscape stretches as far as the eye can see, with peaks, glacial lakes and deep gorges covered in ancient forests. Home to the elusive Tasmanian devil, quolls, platypus, echidna and many bird species, the region is a rich habitat for wildlife.
Tasmania's most visited park, it's easy to see why.  Filled with the best of north west Tasmania walks, they criss-cross the varied landscape.  The region is particularly well set up for hikers, whether you're just looking for an easy stroll (perhaps with children in tow) or looking to complete the awesome Overland Track – a 65 kilometre hike from Cradle Mountain to Lake St Clair.
A detailed handy brochure can be picked up upon arrival to the area which lists all the main hikes and the best bush walks north west Tasmania has to offer.
The Park is protected from over-tourism, with the numbers of cars allowed entry each day kept at quite a low number.  If you arrive too late, park the car and join a shuttle bus to tour around.  These run from the visitor centre, a couple of kilometres outside of the park, to Dove Lake and make a few stops along the route. Departing every 20 minutes or so, it's well organised and makes reaching Dove Lake a simple process, and wow, is it worth the effort!   Shown in most adverts for the Park, Dove Lake is simply stunning.  
Ensure to also check out The Interpretation Centre, with interesting displays about the Park and its history, plus a theatre that runs an informational video highlighting the different walks.  There's a small waterfall just a minute's walk away from the centre.
If you only have a short time, check out the Enchanted Walk.  Only 20 minutes long, there are a few areas along the way to walk inside and view murals.  An ideal walk for families with young children, there's a myriad of other walks for those looking for a more invigorating or challenging options.  
Do take into consideration the climate with even Summer visits being chilly! I've been there in summer when it's snowing. Temperatures can sometimes drop down to -20 degrees in winter, and weather can be unpredictable throughout the year.  Just be sensible, ensure you're ready for anything and follow the forecasts that are posted throughout the Park.
Lookouts
There are many roadside lookouts as you drive around north west Tasmania. Keep a look out (:D) and stop when you can. Pictured above is George Woodhouse lookout near Wings Wildlife Park.
North West Tasmania Itinerary
There are many worthwhile places to visit in north west Tasmania so it is hard to come up with one itinerary! Here is our top option for a 3 day adventure. It assumes starting in Devonport and you'll finish in the Tarkine. It's for people who want to make the most of every moment.
Day 1
Head straight to Christmas Hills Raspberry Farm for an excellent breakfast
Drive on to Mole Creek Caves and take a tour of Marakoopa Cave
Continue on to Cradle Mountain and walk around Dove Lake
Overnight at Cradle Mountain Lodge
Day 2
Start the day with some fun at Tasmazia
Meet Tasmanian wildlife at Wings Wildlife Park
Drive on to Stanley and take the chairlift up The Nut. Walk around the top
Overnight at Horizon Deluxe Apartments
Day 3
Drive to Arthur River and take the cruise
Stop by Edge of the World
Drive on to your next stop
You can also find more suggestions for north west Tasmania itineraries in our 14 day itinerary here.
Accommodation North West Tasmania
There are some great north west Tasmania accommodation options from luxury accommodation north west Tasmania to pet friendly accommodation Tasmania north west to north west Tasmania caravan parks.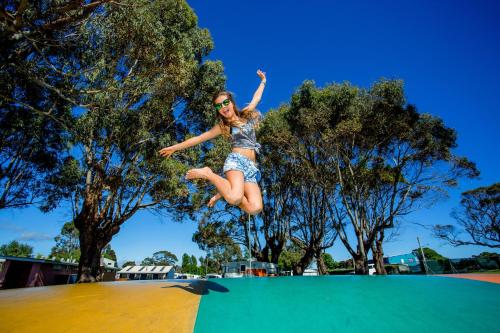 With campsites starting from around $25 per night and with different accommodation options priced up from there, BIG4 Ulverstone Holiday Park offers a terrific choice of accommodation north west coast Tasmania.
With both cabins and a camping site, all located directly across from a beach – and with parklands alongside – there is ample room for kids and adults to enjoy.  Big4 has powered sites, unpowered sites, quality family accommodation in the shape of two-bedroom Family Cottages which sleep 6 or 4, and a smaller Double Cabin with two double beds that also sleeps 4. 
Plus, for anyone travelling on a budget, the holiday park has some of the best cheap accommodation north west Tasmania, in the form of their Ensuite Cabins – with a shared living/kitchen area and private bedroom with double bed and bunk beds in an adjoining area.
Facilities across Big4 include free WiFi, barbeque area, a camp kitchen and games room.  There's a communal kitchen, lounge, fridge and shower area.  A 24-hour reception is available, a playground, outdoor dining area and a laundry room.
Centrally located, Ulverstone is ideal for exploring Sheffield, Stanley and many attractions along the north west coast.  The site is also within easy walking distance of the town centre and numerous other parks and scenic sites making this a top choice of holiday accommodation north west coast Tasmania.
Click here for the latest prices and find all the best Ulverstone accommodation here.
In our opinion, Horizon Deluxe Apartments offer the best place to stay in Stanley – a small but picturesque town with a huge ancient volcanic plug and a pretty harbour.  Their modern apartments provide some of the best luxury accommodation Tasmania north west coast has to offer.  
Spacious and individually designed, apartments range from studio to one or two-bedrooms, all coming with fully equipped kitchens with tea and coffee making facilities.  Breakfast packs are also provided.
Apartments also come with TV, WiFi, heating and air-conditioning, laundry facilities, balconies and – a nice touch – personal bars with snacks and ice-cream!  
Stunning panoramic coastal views can be enjoyed from the decadent luxury of your free-standing oval spa bath, and relax after in the plush robes on your deck.  Truly a great spa accommodation north west coast Tasmania!
Treat yourself with a stay here…
Click here for the latest prices.
Fairly new, Seascape Beach House is just a 2 minutes walk from beautiful Boat Harbour Beach.  
A bed-and-breakfast, your accommodation comes with breathtaking panoramic views of Boat Harbour's aqua waters and stunning beach.  With two accommodation options – one studio apartment and one big one-bedroom apartment (pictured above), you can't go wrong.
With one queen bed, a stay here is ideal for couples or solo travellers. In the studio apartment, the large bedroom is self-contained with a fridge, microwave, toaster and kettle. The one bedroom apartment also has a huge kitchen/dining/lounge area and a big deck. Heating, WiFi and free parking are included.  
Your hosts will provide a simple breakfast – cereal, toast – and tea or coffee.
For anyone looking for a quintessential house-on-the-beach Aussie-style north west accommodation Tasmania, you'll fall head-over-heels with Seascape Beach House.
Click here for the latest prices.
Read more about some the best options below.
Camping North West Tasmania
The North West coast of Tasmania is ripe for camping and exploring by motorhome, caravan or tent.  You'll find many camping grounds – especially informal free camping north west Tasmania sites.
Pitching a tent is welcome across most forest and park regions with the obvious rules of being extra careful to remove litter or place it in the provided bins.  Protecting the region's unique wildlife and flora is paramount.
Tasmania is similar to the UK with four distinctive seasons and a general temperature that is much cooler than mainland Australia.  If you are considering camping north west coast Tasmania in winter or in the cooler weeks of Autumn or Spring, ensure to choose a sleeping bag rated to suit such conditions. 
Always, regardless of season, carry extra clothing and choose a strong tent, again suitable for maritime climates that can stand high winds.  Waterproof boots, pants and a jacket are also essential items to carry.  Pack sufficient food and water – with a few extra as back-up – and a lighter or matches for the campfire.  Note, though, that in many areas open fires are strictly forbidden thus you will need to carry a small fuel stove.
Here we list some of the more known camping spots north west Tasmania, but do keep an eye out for free camping north west coast Tasmania sites along your travels.
Arthur-Pieman Conservation Area
A massive conservation area of 100,000 hectares, the Arthur-Pieman region covers everything between the Arthur River and Corinna.  A myriad of activities can be arranged here, such as fishing, boating, kayaking, surfing and cruises.
There are various camping grounds, including:
Manuka Campground – Signposted access along Arthur River Road, 200m before the Rangers Station.  You'll need to bring your own firewood and must boil water first, but can enjoy flushing toilets!
Peppermint Campground – Found right in the township of Arthur River, next to the Rangers Station.  Best suited for tent-based campers, you'll again need to boil your water first and bring firewood.  Flushing toilets and cold showers are available.
Prickly Wattles Campground – Again access is along the Arthur River Road, 2 kilometres south of the Rangers Station.  As above, boil water, enjoy flushing toilets and bring your own firewood.
Nelson Bay Campground – Approximately 10.5 kilometres along the Arthur River Road, south of the Rangers Station.  Best suited for tent-based campers. Bring your own firewood and drinking water.  Carry own firepot and portable toilet.
Sandy Cape Camping Area – Further south of Arthur River, approximately 50 kilometres, access is by 4WD only.  Contact the Rangers Station for more details, to check track conditions and to arrange an off-road permit.  Definitely one of the top adventure-camping grounds north west Tasmania has to offer!
Montagu Park Recreation Reserve
This camping area is open all year round and is a wonderful coastal location, popular for swimming, boating and canoeing.  Approximately 4 kilometres north of Montagu township, the site is suitable for motorhomes, campervans and tents. Bring your own drinking water and firewood.
Marrawah Green Point Beach Camping Area
Located 51 kilometres west of Smithton, visitors feel the full force of the coastline's "Roaring Forties" winds and rugged headlands await your exploration.  The campsite has cold outdoor showers, and visitors must bring their own drinking water and firewood.
Peggs Beach Conservation Area
Extremely popular with family groups, many of whom have been visiting the reserve for generations, facilities are rather basic. However, due to being near to the Bass Highway it makes four-wheel-drive boat-launching easy, thus attractive to local visitors. The area has two designated camping areas:
Peggs Beach Campground  – Sites are nestled amongst coastal vegetation. Flushing toilets, no drinking water.  Shower cubicle available for campers to hang solar showers.
Black River Campground, Peggs Beach – Secluded site amongst trees, next to the Black River estuary.  Ideal for big rigs, campervans and tents, visitors must bring their own firewood.  Summer spots are very limited with locals enjoying staying here.  
Cowrie Park Wilderness Village 
Experience Tasmania's wilderness at its best… Only 10 minutes from Sheffield, accommodation is offered for all budgets, including camping and backpackers' bunkhouses for groups.  A truly stunning area for bushwalking adventures with paths that lead to Mt Roland, Mt Claude and Mt Van Dyke.
Stanley Cabin & Tourist Park 
Set by the shore in garden surroundings, close to the fishing village of Stanley, this tourist park is clean and modern with many convenient facilities – children's playground, free electric barbecues, free showers (for guests) and a laundry area.  Only a few steps from the wharves to catch a fish or buy fresh seafood, or a great location from which to climb the Nut for panoramic coastal views. It's also only a short drive to the Tarkine Wilderness and the Arthur River Cruises.
Cradle Mountain 
This famed region attracts bushwalkers of all levels, along with wildlife fanatics.  Some of the best views can be had by setting up a tent on the mountain's peaks.  If you're walking the famous Overland Track, campsites and huts can be found throughout the track.  And there are some real gems along the route!   
But, quite honestly, you'll be spoilt for choice on where to pitch a tent whilst travelling throughout the entire Cradle Mountain region.  There are a dozen hike-in camping areas and two car-accessible campgrounds.  Most notable include:
Discovery Holiday Parks Cradle Mountain
Featuring dozens of tent and campervan sites, with amenity blocks and camp kitchens.  Highly recommended for families.
Scott-Kilvert Hut
Has lakeside platforms for 10 tents and is ideally placed for day hikes around and up Cradle Mountain.  We recommend this for overnight hikers.
Tasmania North West With Kids
The north west part of Tasmania is fantastic to explore with kids. There are many fun things to do which are perfect for families like Tasmazia, Wings Wildlife Park and taking the chairlift up The Nut.
We have taken our own three kids to all the places mentioned above and had a good time.
There's also plenty of family friendly accommodation options from caravan parks to holiday homes which make an adventure here easy. Add in the generally short journey times and north west Tasmania is a total win for families.
Getting Around North West Tasmania
A car is required to explore the North West. The roads are generally in good condition and the main ones are sealed. Just be aware that if Google maps sends you off random side roads, there's a good chance they will be unsealed. Sticking to the main roads will get you moving on roads in better condition.
Click here for more information on car rental.
There are some great views while driving around this region so add some extra time to soak it all in!
We hope you love exploring Tasmania's north west as much as we did. Find more places to discover and explore in Tasmania here.