Working out whether to add North East Tasmania to your road trip schedule?
This part of the state is gorgeous with plenty of beautiful landscapes, world class mountain biking, tiny towns, forests, lavender fields and more. The North East region is definitely not an area to just be driven through when travelling from Launceston to the east coast but a region worth exploring and discovering.
Below, we share everything you need to know about this region including the top North East Tasmania attractions, best accommodation North East Tasmania, the weather you can expect and more so you can plan your perfect North East Tasmania road trip.
Click here to download your free Tasmania Road Trip Planner checklist. We'll help you get ready for your trip! Want help with your itinerary? Find our full Tasmanian Road Trip Planner here.
North East Tasmania Map
The following is a map of north east Tasmania which displays all the places mentioned in this guide.
Top 11 Things To Do In North East Tasmania
There are some great things to do north east Tasmania which will help you fully enjoy exploring this region of the state.
Hollybank Wilderness Adventures
Only a short drive from Launceston, Hollybank Wilderness Adventures (previously named Hollybank Treetop Adventures) is fun for all the family. Adventure activities are set within the Hollybank Forest Reserve, making this a perfect half-day or full-day location for adrenaline-fueled fun whilst immersing yourself in nature.
Try your hand at a "tree ropes" obstacle course that is divided into 5 areas based on difficulty and age groups. Climb, tightrope-walk, scale rickety ladders… it's challenging – but achievable – fun that is targeted at anyone aged 4 years and upwards.
Take a breather before moving on to your next challenge – the Hollybank Zipline Tour. Fly across the valley, above the treetops of the blue gum forest sprawled below, stopping at 6 stations along the route. With a total of almost a kilometre of zipline to enjoy, this is a terrific family activity, with children under 8 able to ride tandem with adults in a double-harness.
And now it's time for a more gentle activity, but one that always brings a smile… Hollybank Segway Tour. Glide your way around Hollybank forest on a top-of-the-range off-road segway that takes you deep into the forest.
However, if a Segway seems a little slow for you, how about swapping in a few hours exploring rough bike trails? There are three forest trails and mountain bikes can be rented onsite – standard or premium with dual suspension – or alternatively bring along your own.
A well run centre, there's an onsite car park conveniently located next to the main building. There's also a small cafe area and gift shop, plus onsite lockers for your possessions.
We recommend booking in advance, thus once you arrive everything is pretty much ready to go. Just complete the necessary registration forms, listen to the safety briefings and you're ready to step into your harness. Oh, and don't forget to wear sensible clothing (no skirts or dresses), and wear shoes that can't easily slide off. The weather in this region can change quickly, so try to prepare with layers of warmer clothing. You don't want to be shivering in the treetops!
With something for everyone, regardless of age or fitness level, this is one of our top rated family activities. A day at Hollybank Wilderness Adventure is not cheap, but this is down to how many activities you decide to enjoy. Look out for family discount packages and you can sometimes get a Hollybank Wilderness Adventures discount by booking here.
However you book, just remember to book in advance to avoid disappointment as it's a popular place to visit.
Address: 66 Hollybank Rd, Underwood
Click here to read the full review or here to buy tickets.
Bridestowe Lavender Estate
One of Tasmania's premier tourist destinations, Bridestowe Lavender Estate is approximately 50 minutes outside of Launceston. The largest lavender farm in the Southern Hemisphere, the Estate is famous for its spectacular annual blooms in December and January.
Growing, harvesting and distilling over 120 acres of lavender – set out in picturesque rows – the Estate offers visitors a chance to enjoy guided farm tours during peak months. Keep cameras at the ready as the acres of lavender are simply stunning.
Open all year round, visitors dropping by outside of the flowering months can enjoy the change in seasons that are beautifully reflected in the ornamental gardens, manicured fields and native bushland. And all is dramatically set against a stunning backdrop of Mount Arthur.
Once you've explored the Estate, take a walk through the visitor centre that's stocked high with unique products containing Bridestowe's famous lavender oil and dried flowers. Great for gifts, you can pick up fragrant bath, body and homewares.
Finally, relax at the onsite Woodcroft Cafe, where you simply have to taste their signature range of lavender ice-creams!
Under 16s are free of charge and a minimal fee applies to adults only during the flowering season.
Address: 296 Gilliespies Rd, Nabowla
Read about all the lavender farms in Tasmania here.
Trail Of The Tin Dragon Tourist Route
The Trail of the Tin Dragon is so named because of its links to the tin mining boom in the 1870s. Alluvial tin was found in the mountains and foothills of Tasmania's northeast and soon after both Australian and Chinese miners flooded the region in search of rewards. By 1891, over 1000 Chinese miners lived in the area.
Today, relics from that era are everywhere along the trail, some overgrown and forgotten, whilst others are highlighted as tourist attractions.
The trail is a famed driving route between Launceston and St Helens on the east coast, commencing at Launceston's Queen Victoria Museum and Art Gallery. At the ground floor you'll discover a still working temple, Guan Di Temple. This temple holds the contents of a number of Chinese temples from north-eastern Tasmanian mining towns, offering a unique window on Chinese religious practice in Tasmania back in the 1880s, with decorated plaques, incense burners and other ceremonial items.
Before departing from Launceston continue your Chinese-themed exploration of the town by stopping at Cataract Gorge Reserve, a unique natural formation that's only a few minutes from the centre of town. The Chinese community raised much of the money for the walkway to the First Basin.
And perhaps, before leaving, take lunch at Me Wa restaurant – one of Launceston's top dining experiences, established over 40 years ago.
Heading east, your next stop on the Trail Of The Tin Dragon is an unmissable red bridge at Branxholm. Spanning the Ringarooma River, the bridge is painted with Chinese symbols and characters, and commemorates the rich Chinese mining history of the town.
A pretty town, keep an eye out for hop fields, and if you have time turn right just past the town's boundary for a 15 minute drive towards Mt Paris Dam. Water was needed for hydraulic tin-mining and this legacy dam is well worth exploring.
Park up, and stretch your legs on a 10 minute walk from the carpark for an up-close look at the abandoned dam. Rainforest vegetation covers the scenic area and, as large chunks were cut away from the dam in order to drain it, visitors are able to walk right into and through it. A surreal experience!
If you fancy a longer stroll, head to the Briseis Race Walking track. Built in 1901 to transport water from Ringarooma to the Briseis Tin Mine at neighbouring Derby, it was an enormous engineering project for its time, flowing over 48 kms. Today, an unused section of the Race has been set aside for a walking track, with a couple of sign boards explaining the historical importance of the project. You'll discover a dry forest, full of eucalypts and smaller shrubs, giant man ferns and some knee-high hard water ferns, and many trees covered in moss, lichen and fungi.
Drive on to nearby Derby, a small town with a famous story. Once home to the richest tin mine in the world, disaster struck in April 1929 when 5 days of heavy rain caused the local dam to overflow. What followed was Tasmania's most devastating flood. The Tin Dragon Interpretation Centre and Cafe in Derby tells the story of the area's tin mines and the people who worked there.
After, pay respects at the nearby Moorina Cemetery, a memorial to Chinese miners that fell whilst in Tasmania.
Last stop on your route, the St Helens History Room. A regional museum, it provides a snapshot of the region's history, from the mountains to the seas, with interesting tales of the Chinese tin miners.
Blue Derby Mountain Bike Trails
Derby, once a thriving mining town with the world's richest tin mine, is now possibly the world's premier mountain bike destination! With a total of 125 km of purpose-built mountain bike trails – with options to suit all skill levels – riders are taken through some of Tasmania's wilderness areas which are some of the most stunning landscapes in the state. This is one not to miss!
Open 365 days a year, and maintained daily to ensure a fantastic ride whatever the season, April-to-mid-June and September-to-mid-November are the peak riding conditions. And the best news yet is that it's free to ride here all year round!
You'll find multiple bike hire providers in Derby, suitable for youngsters, beginners or experts. There are tracks especially targeted for children, and some of the more spectacular trails include a tunnel trail and the newly opened Lake Derby trail.
Before you ride, ensure to download the Blue Derby App which features an interactive map, local tips and emergency information. And then, it's off you go, zipping and zooming alongside enormous granite slabs and dense tree fern forests with epic scenery spread out before you at every twist and turn.
Address: Derby TAS 7264
Little Blue Lake
For a quick stop for some great photos and instagram posts, stop at Little Blue Lake!
Blue no matter what the weather, this lake is the result of alluvial tin mining. After the mines shut in the area, the pit that was left was filled with water to become a recreational area. However, it's not safe to swim here thanks to the heavy metals that are in the water thanks to the previous mining activity.
This little, blue lake is located right by the B82, Gladstone Road between Gladstone and the main A3 highway between Scottsdale and St Helens near Derby. The road is fully sealed.
There is a look out point to take photos next to the car park.
Address: 1753 Gladstone Rd, South Mount Cameron TAS 7264
Weldborough Hotel
Located in the tiny village of Weldborough, this exceptional pub is renowned for serving MicroBru beers including, on tap, Diemen White Hills, Van Diemen Pale Ale, Iron Horse Pale, Morrison Saison and Boags Draft.
177 km north-east of Launceston, Weldborough was named after Sir Frederick Aloysius Weld – Governor of Tasmania from 1875-1880. The town thrived in the 1880s, with pubs, general stores, butcher shops, a hotel and racecourse, due to more than 1200 Chinese people calling it home.
Unfortunately the hotel burnt down in the 1920s, with the current building dating from 1928. Nestled at the bottom of the iconic Blue Tier mountain bike trail, the pub is the heart of the town. For those looking to stay overnight, there are 7 rooms noted as "classic pub accommodation", and a free campground.
Ideally positioned, the local attractions include walking tracks, the world's widest tree, the fabled biking trails and thrilling 4WD tracks.
A great place for lunch, most visitors choose to check-in for a lively overnight stay that usually entails dining on delicious local produce, enjoying great beers, a roaring open fire and live music.
Address: 29722 Tasman Hwy, Weldborough TAS 7264
St Columba Falls
Reachable via a sealed road from Pyengana, the St Columba Falls are said to be the highest in all of Tasmania. Standing approx 90 metres tall, they are definitely quite a sight!  And time your visit right, after a heavy downpour, to see the Falls at their most active.
Regardless of when you visit, there's a terrific roar from the falls which increases the nearer you get, making your way on foot 10-15 minutes from the carpark. Pass through cool and shady rainforest, with some of the tallest treeferns you'll see anywhere. At the lookout, at the base of the falls, crane your neck up and watch the South George River tumbling down in sweeping, steep cascades.
Click here for our full guide to Pyengana.
Pub In The Paddock
Well here's a cute traditional pub to spend a few hours at, while you sip your beer and share it with the resident pig. …yes, that's correct!  Introducing Priscilla II, the Pyengana Pub In The Paddock's pet pig that's famous for drinking a special pig-beer. Oh, and there's a second pig too, Peppa, who you can also meet!
Strange as it may be, the pub is a popular stop-over for tourists discovering the beautiful valleys of the region. Thus sometimes crowded, this traditional pub – that refers to itself as a Tassie Icon – is still well worth a visit.
One of the oldest pubs in Tasmania, licensed since 1880, the Paddock offers cosy accommodation, delicious lunch and dinners, plus morning and afternoon tea servings. Drink with the locals, share a bevvie with a pig and breathe in the refreshing countryside air.
Address: Pub In The Paddock Pyengana Tasmania is at 250 St Columba Falls Road. It's on the way to the Falls.
Pyengana Dairy
The village of Pyengana, just 25 minutes from St Helens, is a cheese-lover's paradise! Surrounded by lush and fertile valleys, the rural village of Pyengana features some of Tasmania's most beautiful dairy country.
Head to the Pyengana Dairy Company to taste award-winning Pyengana cheese that's been crafted here for over 130 years. Relax on their scenic deck with a gourmet platter, watch the cows come and go, or join a tour to learn how the cheese is crafted and watch the experts at work (usually available 9am-2pm weekdays, Sept-May).
And don't forget to pick up some gifts, in the form of gourmet Tasmanian food that comes handily packed in cooler bags, helping to retain freshness as you continue on with your travels.
Address: St Columba Falls Rd, Pyengana TAS 7216
Bay of Fires
One of Tasmania's most popular conservation reserves, the Bay of Fires conservation area stretches from Binalong Bay in the south to Eddystone Point in the north.
Containing splendid landscape that includes rocky gullies and many secluded small beaches and inlets (all ripe for exploring!), the piece de resistance is perhaps Binalong Bay's famed stretch of white-sand and clear water that's ideal for swimming, snorkelling or even surfing.
One of the most photogenic regions of Tasmania, the uniqueness of the area is enhanced by the brilliant orange lichens that grow across the granite boulders that line the bays and disappear into the azure sea. Rich in colour, but rich in wildlife too, the region is home to many sea birds that are waiting to be discovered on self-guided or guided walks. And, under the waves, the marine life is abundant too with divers and deep-sea fisherman equally enthralled.
Campsites can be found at the southern and middle sections, with toilet facilities in the southern beach sites.
An utterly spectacular stretch of coastline, Bay of Fires is a must-visit when staying near to St Helens.
St Helens
A charming coastal town in the eastern part of the state, St Helens is ideal for a weekend escape or as part of a bigger exploration of beautiful Tasmania.
Just a few kilometres away from Binalong Bay and the southern end of the beautiful beaches of the Bay of Fires (one of Lonely Planet's Top 10 regions in the world), St Helens is a thriving fishing port. Second largest in Tasmania, it's famed for fishing charters hoping for marlin, yellowfin tuna and more, plus diving tours to underwater caves and impressive kelp forests.
Start your exploration with a 1 hour round trip walk to St Helens Point, taking you past the spectacular Peron Dunes (ideal for sandboarding or four-wheel drive fun) and wild, surfer-beaches.
If birdwatching is your thing, consider camping at Humbug Point Nature Recreation Area – tents and caravans welcome. Here you'll find great walks and fishing opportunities too. Alternatively, if you're travelling with children, spend a morning at the Serpentarium Wildlife Park. Kids adore the reptiles on display here, including a Green Anaconda and Reticulated Python. There are also impressive indigenous artefacts to check out too.
With an eye to the tin-mining history of the region and the ongoing maritime adventures, St Helens History Room makes for an interesting stop. Located inside the Services Tasmania Building in the middle of town, here you'll delve into stories of old St Helens.
Need to work off unspent energy? Grab a mountain bike and hit St Helens' trails. Ride from the mountains to the sea, ending at the Bay of Fires, or spend a slower day biking with family. Whatever the desire, within this world-class mountain bike region there's something for everyone.
And don't forget that Pyengana is on your doorstep, with waterfalls and some of the best cheese in the country. You'll also find beaches that surround St George Bay have surfing swells, so grab a board and try to catch a wave. …or take meandering, scenic walks immersed in nature…
We say it often, but St Helens really does have something for everyone! One of our favourite places to visit, this charming coastal village leaves you feeling in awe of nature, healthy, and alive!
Click here for our full guide to St Helens.
North East Coast Tasmania Itinerary
This itinerary assumes you are driving from Launceston to St Helens. You could also do it in reverse or take more time.
If its summer time, head straight to Bridestowe Estate to enjoy the glorious lavender fields. Otherwise, spend the first part of the morning enjoying the tree rope courses at Hollybank Wilderness Adventures
Drive on to the Weldborough Hotel for lunch
Head to St Columba Falls and take the short walk to view these falls up close
Stop at Pyengana Dairy for a cheese break
FInish up at the stunning Bay of Fires
North East Tasmania Accommodation
There can be a lack of quality accommodation options in this region with many people driving through.
Below, we have some options for you at the most popular places to stop for the night.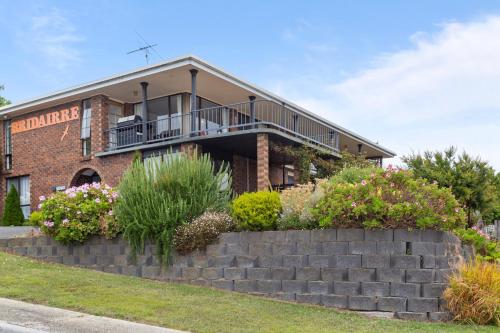 Bridport is a small coastal town and where you can find some accommodation north east coast Tasmania.
Our top choice here is the Bridairre Holiday Apartments. There are a variety of room types including an apartment and its in a good location near the centre of town and beaches.
Click here for the latest prices or find all the best Bridport Tasmania accommodation here.
Scottsdale is the largest town between Launceston and the east coast and a great place to break the journey. There are heritage buildings and lovely surrounds which give the town a great feel.
Our top accommodation option here is Anabel's of Scottsdale. There are rooms and apartments on offer in just gorgeous surrounds of a National Trust classified garden.
Click here for the latest prices.
St Helens is a lovely small coastal town where north east Tasmania hits the east coast of Tasmania. There are a range of facilities and accommodation options. You can read more in our full guide to things to do in St Helens here.
Our top pick of where to stay is the NRMA St Helens Waterfront Holiday Park. As a family, we particularly enjoyed the two bedroom cabins but there are a range of options here as well as a restaurant and shop on site and a bay across the road. It's an easy place to stay.
Read our full review here or click here for the latest prices.
Camping
If you are looking for free camping north east Tasmania, there are options at the Bay of Fires or Lilydale Falls Reserve.
Weather North East Tasmania
This part of the state has a cool temperate climate with four distinct seasons. The amount of rainfall depends on the location with Bridport on the north coast receiving and annual rainfall of 732mm whereas inland Scottsdale gets 983mm.
The mean monthly summer maximum is 21.8 degrees in February and the mean monthly minimum is 3.6 degrees in July. It is warmer on the coast. You can find more information on the Bureau of Meteorology site here.
You can visit here at any time of year and have a great experience.
FInd more information about exploring nearby regions with our full guide to the East Coast here and the Tamar Valley here. You can also buy our full Tasmanian Road Trip Planner here.