Looking for a great place to stop on your Tassie road trip? Longford could be your answer!
Located just outside Launceston, Longford is not far from the Midlands Highway which makes it an excellent stopping point between Hobart and Devonport or Launceston, or even your first place of call after driving off the Spirit of Tasmania. Longford has some big attractions and is worth some of your time.
Founded in 1807, Longford is unique as being one of the few towns not established by convicts after farmers moved from Norfolk Island to Tasmania. What's great is that it's really easy to learn about this history and what life was like back then thanks to the two huge attractions in Longford, UNESCO listed Woolmers Estate and Brickendon (more about them below).
Longford is also a great place to stop and stay longer with many attractions and great places to visit in the surrounding areas.
Make sure you keep reading this guide because below you will find lots of information about Longford Tasmania including a Longford map, Longford Tas weather, Longford accommodation and the top Longford Tasmania attractions while you are here!
An Introduction To Longford Tas
Full of colonial charm and with an impressive park at the centre of town, Longford is classified as a historic country town. Overflowing with convict-built buildings, grand estates and fine houses, mostly dating back to the early 1800s, here you'll find some of Tasmania's best bed-and-breakfasts in quaint old homes and preserved colonial buildings. 
Settlers started to arrive in 1807, as farmers were moved from Norfolk Island to Van Diemen's Land (the original name used by Europeans for Tasmania). Renowned for a strong agricultural tradition, this is best showcased today at the World Heritage listed sites of Woolmers Estate and Brickendon Colonial Farm Village, or the equally stunning Panshanger Estate. Sprawling Australian properties and grounds, that hark back to pioneering days – days when English aristocracy settled as farmers and used free convict labour to create grand reminders of their homeland, with architecture mimicking the castles of old England.
The town is also noted for its beautifully historic Longford Christ Church along with the adjacent spooky settlers-cemetery. And a unique slant to the town comes in the form of its strong motor racing history. Back in the 50s and 60s a temporary motor racing course was laid out on public roads and hosted many races, including two Australian Grand Prix. For 15 years, races pulled in massive crowds and they were the biggest events on the island.  
Longford is also home to many horse studs and training facilities with the Longford races held annually on New Year's Day. The annual Longford Show, first held in 1858, is one of the longest running rural shows in Australia. Held in October it attracts around 8000 people, with equestrian events, poultry and dog shows, chopping and tree felling, sheep and fleeces, rides and games.
The Longford Tasmania population of around 4,000 puts on quite a tourist welcome… snug pubs, hearty food, romantic accommodation, an immaculate and well-preserved town, and terrific antique shops. You'll feel transported back to the early 1800s!
Longford Weather
Longford has a temperate climate and the weather averages around 10-25 degrees in summer and 2-12 degrees in winter. 
If you are looking for the Longford weather forecast, click here. This is for Evandale which is close by as Longford isn't covered by the Bureau of Meteorology site. The weather in Longford Tasmania is very similar.
Longford Postcode
The Longford Tasmania postcode is 7301.
Longford Tasmania Accommodation
Longford is a small town so there isn't a huge amount of accommodation Longford Tasmania options. However there are some solid choices and we very much enjoyed our time staying in our accommodation in Longford Tasmania.
If you are looking for the best Longford accommodation Tasmania then surprisingly we recommend trying out this caravan park! With the Macquarie River running alongside, it's a relaxing and peaceful location for spending a few nights at.
The caravans come in a couple of categories depending on whether you are looking for accommodation for a couple or a family.
These are modern times with the caravans reflecting this. Coming with a small covered outdoor area – with wooden decking, table and chairs – and an interior with dining/lounge/kitchen area, an electric blanket for the chilly nights, fridge, stove, grill, microwave and equipped kitchen… many comforts have been considered.
Heating and air-conditioning are also provided, and the bathroom comes with shower. And there's an all important 100MB of WiFi included with your rental. These caravans are surprisingly spacious, a lot of fun and a great price.
Click here for more information.
Just in case you have your own caravan, Longford Riverside Caravan Park also has 78 powered sites with sullage and water, and 50 unpowered that are in a lovely location right on the riverbank.
On site, there's a small shower block and toilets for communal use. Washing machines, dryers and irons are also available. Within the park are a couple of BBQ areas and picnic tables, and the site is centrally located within walking distance to the shops and restaurants of Longford.
Click here for the latest prices.
You can also read our full review of this option here.
One of the standout Longford accommodation northern Tasmania options, the Racecourse Inn is a heritage listed Georgian former coaching inn that dates back to 1860. Today, the building is a luxury bed and breakfast that exudes historic ambience.  
Climbing roses cover the convict-made bricks of this two-storey country-house, with five spacious en-suite guest rooms that feature double glazing. Three rooms upstairs come with reverse-cycle air conditioning (including a Queen Suite), and all have sloped ceilings and large windows. Downstairs you'll find a Standard Queen and Deluxe Spa room (with open fireplace and 2-person spa bath), both featuring 12-foot ceilings.  Free WiFi is provided throughout.
Click here for more information.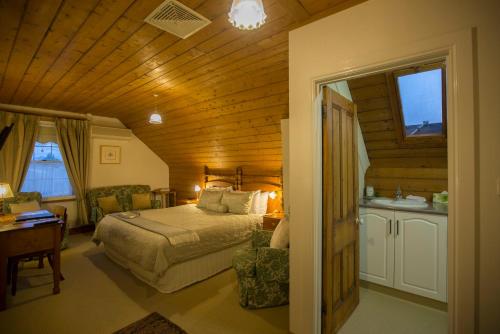 Your stay comes with a cooked Tasmanian gourmet breakfast – where you can enjoy dining on produce such as fresh vegetables and fruit from the Inn's orchard and kitchen gardens, and artisan wood-fired bread.   
Fully licensed, enjoy a glass of wine over dinner in their cosy dining room that features a wood fire and one of only two barrel-vaulted ceilings in Tasmania.
Just a five minute drive from the UNESCO World Heritage sites of Woolmers Estate and Brickendon Farm, the Inn has a relaxing atmosphere and is known for exceptional hospitality from the hosts.
Click here for the latest prices.
Aggie's B&B Longford Tasmania offers two beautiful rooms, both complete with ensuite bathroom and laundry facilities. Along with off-street parking, free wifi and a private courtyard to relax at, Aggie's is a top bed and breakfast Tasmania choice.
Guests enjoy a delicious breakfast – cooked to order – with fresh eggs, homemade conserves and stewed fruits. Dine in the privacy of the pretty courtyard or cook up your own dinner at the BBQ area.
Click here for more information.
The rooms come as a Studio – with a Queen bed and single roll-away – and the Garden room also with a Queen bed and a large ensuite room. Both are fitted with an equipped kitchenette with a microwave, seating area, flat-screen TV, washing machine and fridge.
In a quiet neighbourhood – yet walkable distance to restaurants and shops – and decorated in country-style decor, the cottage is a pleasing location from which to explore Longford and the surrounding towns.
Click here for the latest prices.
Things To Do In Longford Tasmania
You can find the following Longford things to do around town. Launceston is also close by and you may want to read our list of things to do there here.
The Path Of History Walking Tour
The Georgian village of Longford is ripe for exploring on foot. With an almost insurmountable number of heritage buildings to discover, a useful guide has thankfully been published that will help you find your way around or easily select your favourite locations to visit. Download your copy here.
Thirty-four locations have been noted as places of interest, including our personal favourites The Library, the Iron Horse Trough and Lamp Standard, the Uniting Church, Druid's Hall and the elegant Heritage Corner at the centre of town. St Augustine's Church is another small historic building worth a view, dating back to 1864.
Commencing at the Village Green, follow the brochure's route, digesting the detail and history of each building, before viewing for yourself the splendid architecture.
Woolmers Estate
Eleven places make up the Australian Convict Sites World Heritage listings, that together tell a story of exile from one side of the world to the other – how a nation was formed from hardship, inequality and adversity.  Woolmers Estate is one of the eleven; a homestead with a history.
Established in 1817, on the banks of the Macquarie River, this picturesque estate is today a museum and one of the best examples of a 19th century rural homestead in Australia.
Until 1994, six generations of the Archer family had called the estate home and their personal collections and possessions still fill the house. Guided tours are offered through the rooms and gardens, or visitors can explore the grounds under their own steam.
With many buildings to explore – workers' cottages, stables, bakehouse, blacksmith's shop, former chapel, pump house and more – visitors gain an understanding of the history and social structure of the Estate which was sometimes home to around 100 people.
Upon arrival at the Estate, purchase your ticket and self-guided tour book from the new building, the Nigel Peck Centre. Also home to two galleries, gift shop and cafe, take your time to explore before moving on to the first attraction…
The magnificent Woolmers Estate Rose Garden awaits, and is simply gorgeous!  Inspired by French formal gardens of the 1600s it's beautiful and serene.
Moving on to the historic part of the estate, buildings are grouped into three areas – Domestic, Service and Farm Precincts. These include the main house – Woolmers House – associated buildings, kitchen, coach house and stables. A chapel, apple-packing shed, store, golf-club house, pump house, windmill and bakehouse cottage are more of the sites you can also explore.
We recommend joining the tour of the House, as the Archer family's collections are well worth viewing.
And just in case you want to stay overnight, there's a quaint collection of six cottages where you can check-in. Historic buildings, renovated with modern amenities, these 1840s cottages look out over the Macquarie River. There are also four free-settlers cottages that have upstairs loft-style bedrooms, located in groups of two semi-attached cottages, that are ideal for larger groups.
Open 10am-3.30pm Tuesday to Sunday, with last entry at 2.30pm, the guided tour duration is approx 50 minutes.
If combining a visit to both Woolmers and Brickendon, consider taking the 2.8 km (45 mins) Convict Trail Walk between the two.
Address: 658 Woolmers Ln, Longford TAS 7301
Click here to read our full review.
Brickendon Estate Longford
Similar to Woolmers, Brickendon Colonial Farm Village – dating back to 1824 – was originally owned by the Archer family and was named after William Archer's birthplace in Hertfordshire, England.  Established as a mixed enterprise, raising sheep and cattle for both wool and meat, and with crops grown along the Macquarie River, 180 years later the estate has remained under William Archer's direct descendents. Currently three generations are involved with the property, living in the beautiful Georgian homestead.
Visitors can explore more than 20 heritage buildings – including the Brickendon Farm Village with a Blacksmith's shop that is untouched since the 1930s, and the cookhouse where it's easy to imagine the skilled convicts sitting around the blazing fire, sharing fresh bread!
The hub of Brickendon, the Farm Village is littered with evidence of years gone by, of times when draught horses ploughed the fields and sheep were shorn by hand, and you'll find more than a few friendly farm animals here. This adds a nice side attraction for families with young children.
One of the most interesting places on site is the Convict Interpretation Centre, that offers visitors a chance to learn about the Assignment convict system – how it impacted the development of Van Diemen's Land (Tasmania).
The Estate's gardens are noted as having one of the most unusual collections of trees in a private garden in all of Australia with many species found nowhere else in Tasmania, apart from the Royal Botanical Gardens. The gardens include many sections, featuring an array of annuals, perennials, flowering shrubs and cool climate speciality plants. Visit November to April, the peak months, for an ongoing show of colour and perfume.
End your visit with a river walk or try your hand at river fishing.
Open 10am-4pm Tuesday to Sunday, with last entry at 3.30pm. Animal feeding starts at 10.15am daily.
Address: 236 Wellington St, Longford TAS 7301
Longford Berries
A quintessential summer thing to do… Longford Berries is a pick-your-own Longford berry farm, located right in the middle of town.
Available to pick throughout Summer, berries are grown free from pesticides, fungicides and harmful chemicals. And what's on the menu… well, that depends on the season!
Strawberries are ready for picking from November to April. Silvan berries can be enjoyed from late December/January. Jostaberries in December, Mario berries in January and currants late Dec-Jan, including red, white and black!
And there's more… Boysenberries late December to January, gooseberries are available from early January and there are blackberries, blueberries and raspberries from late January to March!
Planted in pleasant garden-like surroundings, Longford Berries makes for a great half day visit and is a particular highlight for children who enjoy tasting the goods! 
Open every Wednesday, Saturday and Sunday, there are also frozen berries and fresh jams for sale. Don't forget sunscreen, a hat and strong shoes. Get picking!
Address: The Hawthorns, 119 Bulwer St, Longford TAS 7301
Country Club Hotel Longford
Synonymous with Longford's racing history and its F1 street-racing track, the Country Club Hotel Longford is located along the 7.2 kilometre Longford Circuit and dates back to 1850.
The closest the racing circuit got to the actual town of Longford was the corner known as Pub Corner – a hard right turn – and that being where the Country Club Hotel is.  Being right on the circuit, the pub was a popular drinking venue amongst spectators and has a lively history.
In the 1950s and 60s, the most famous stretch of the track was the Flying Mile where competitors reached astonishing speeds of up to 288km/h!  Brabham, McLaren, Hill, Clark… all the racing greats were here at some point.  And today it's Australia's oldest continuously operated motor car race course.
The Country Club is home to the Chequered Flag Bistro Restaurant which displays an enormous amount of memorabilia from back in the day, recreating a feel from the last great race days of 1968. And there's even a spectacular old-style F1 car!   
An absolute treat for any motor sport enthusiast (learn more here), there's also some great pub food too!
Address: 19 Wellington St, Longford TAS 7301
Restaurants In Longford Tasmania
You'll find numerous Longford restaurants, with most housed in historic buildings.  There's perhaps an unexpected amount of Chinese food in Longford, as well as great hearty pub-style food at the inns and hotels.  Whether you're looking for romantic or family casual dining, or perhaps just a light snack, Longford has it all.
Here are some of our personal favourite Longford Tasmania restaurants:
JJ's Bakery & Old Mill Cafe – a top lunch cafe, with both indoor and outdoor seating. Salads, pastries, pies, cakes, burgers and paninis.
Sticky Beaks Cafe – another cafe – with retro decor – that's great for a more filling meal – with yummy lasagna, lamb shank and chicken schnitzel on the menu!
Blenheim Inn Hotel – reserve your spot for dinner here, with great country service and quality pub-style food (try the Fisherman's Basket) or book in for their Sunday roast.
Choi's Kitchen –  one of the best Chinese Longford restaurants, Tasmania, with delicious cuisine and noted for its super service.
Woolmers Estate: Homage Restaurant –  housed at the picturesque Woolmers Estate, this modern Australian cuisine restaurant is a unique dining experience amongst restaurants Longford, Tasmania. With views across the estate's Rose Garden and of the Western Tiers, it is open for lunch Thursday-Sunday, midday-2.30pm. Reservations required.
Longford Town Map
The following is a map of Longford Tasmania with everything mentioned in this guide.
Where Is Longford Tasmania?
A town in the northern midlands of Tasmania, Longford is just 20 minutes southwest of Launceston and is an ideal stopover when travelling between there and Hobert or straight up to Devonport.
Take the Midland Highway 24 kilometres south of Launceston, and it will take approximately 2 hours from the capital or an hour from Devonport.
Nestled in the foothills of the Great Western Tiers, and at the convergence of the Macquarie and the South Esk Rivers, the region is mainly agricultural and especially noted for wool, dairy produce and stock breeding.
Launceston To Longford
If you're staying in Launceston and only visiting Longford for the day, the easiest connection is by bus if you don't have a car. A little over 20km, the journey takes approximately 30-35 minutes, traffic and route dependent.
The main operator is Tassielink Transit, who operate a regular service throughout the day.  From Launceston, catch any bus heading direct to Longford or showing Cressy, when you should jump off at the Marlborough St/Bulwer Street Longford bus station stop just before Cressy. And remember to check timings of the Longford to Launceston bus for your return trip!
Note that Woolmers Estate and Brickendon are out of town.
We hope you make it to Longford and have a great time just like we did! You can read more about travelling around the Midlands part of Tasmania and things to do in the region here or more about nearby Evandale here or Ross here.