Heading to Lake St Clair? Lucky you! It's a beautiful part of the world. The next step after deciding to go is to find the best Lake St Clair accommodation Tasmania offers. And that's what we will help you with here!
Part of the UNESCO World Heritage listed Tasmanian Wilderness area, Lake St Clair is an outdoor lover's paradise, rich in history. Carved out by glaciers some two million years ago, it is Australia's deepest freshwater lake at 167 metres. 
The end point of the famous Overland Track running from Cradle Mountain to Cynthia Bay, Lake St Clair abounds with beautiful walking tracks and overnight bushwalks for all abilities. For those wishing to explore the area more thoroughly on foot, you'll find yourself exploring deep into the surrounding rainforest or climbing upwards to mountain summits.
For the water sport folks, Lake St Clair offers relaxing boat trips or exciting fishing excursions… And cold dips if you dare! Lake St Clair is an easily reached reserve that feels worlds away, and certainly earns its spot within this Tasmania Wilderness World Heritage Site.
In this article, I help you find the best Lake St Clair hotels no matter what your budget or what exactly you are looking for.
So whether you are looking for the top accommodation at Lake St Clair Tasmania, the best Lake St Clair resorts or planning to go camping, Lake St Clair Tasmania has great options. We have you covered with the best place to stay in Lake St Clair for you.
Here is our list of the best hotels near Lake St Clair as well as some information about the best area to have a great Lake St Clair Tasmania camping experience.
Comparison Of The Best Lake St Clair Tasmania Accommodation
Note that part of the appeal of visiting this part of the world is that it is remote and little touched by humans. This means that there are very few accommodation options here which is why this list is very short. Camping is also an option (more below).
| | | | | |
| --- | --- | --- | --- | --- |
| Name | Stars | Price | Top Features | Book |
| Pumphouse Point | ★★★☆ | $$$ | Adults-only hotel, top class service, only hotel located directly on Lake St Clair | Click |
| Lake St Clair Lodge | ★★★☆ | $$$ | Lots of accommodation options, one of only two hotels in Lake St Clair National Park, highly-rated beds | Click |
| Derwent Bridge Chalets And Studios | ★★★☆ | $$ | Self-catering facilities, 6 chalets with fully equipped kitchens and fireplaces, nearby restaurants and cafes | Click |
Top 3 Best Lake St Clair Accommodation Tasmania
Address: 1 Lake St Clair Road, Lake St Clair, Cradle Mountain
Near: Very little! Which is the beauty of this remote location. However there are a few cafes 3km into the nearest town (Derwent Bridge) should you want to venture out from the Pumphouse Point for a meal. It's right on the lake.
Room Types: 18 rooms in total across 2 unique buildings (Pumphouse & Shorehouse), organised by floor level, view and with or without a tub.
Top Features:
Adults-only hotel with no under 16s allowed. 
The only hotel located directly on the beautiful Lake St Clair
Top class service and one of the top accommodation options in the state
Pumphouse Point is the only hotel on Lake St Clair with views and tranquility that are second-to-none. A true wilderness retreat with all of the high-end luxuries expected for the price tag. Rooms feature minimalist yet cozy interiors and well appointed amenities.
As there are no children allowed, Pumphouse Point on Lake St Clair is the perfect choice for romantic (and blissfully quiet!) getaways.
Price includes meals and use of many facilities including boats, e-bikes and game rooms. There are many hikes you can take in the surrounding area and picnic supplies you can take with you. Conversely, there are many places in this hotel to relax and take in your surroundings or you can have a massage. You can be as active or inactive as you wish.
A few points of note include dinner, which is included in your nightly cost, is at a set time each night with guests expected to arrive no later than 18:30 sharp. The inflexible time and communal dining aspect may not be appreciated by all guests. However, the food is consistently rated delicious and well worth it.
Click here for more information.
Best Parts?
Incredible views directly on the lake and a quiet respite with no children allowed. This is one of the best accommodation options in all of Tasmania, perfect for a romantic break.
Worst Parts?
The set dinner time each night can be inconvenient for some guests.
Summary
The Pumphouse Lake St Clair accommodation along with the second heritage building, Shorehouse, is overall a beautiful and luxurious stay in the heart of this stunning wilderness. Guests will enjoy the quiet of the location and the lack of children, the delicious wholesome food, and the proximity to the innumerable outdoor activities available in this  luxury accommodation on Lake St Clair Tasmania. It's our favourite place to stay in Tasmania.
Click here for more information and the latest prices or click here for our full review.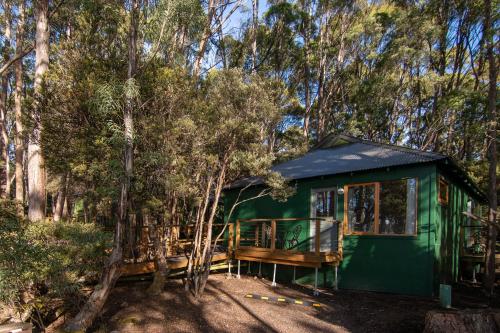 Address: 1 Lake St Clair Road, Lake St Clair, Cradle Mountain
Near: Only a few minutes drive from Derwent Bridge and a quick walk to the Lake St Clair Visitors Centre.
Room Types: Guests can choose from studio cabins, one-bedroom suites, two-bedroom bungalows or lofts or a private house for larger groups wanting a self-catered stay. 
Top Features:
Variety of accommodation options for different sized groups and needs.
One of only two hotels in Lake St Clair National Park.
The beds are very highly-rated and loved by guests.
Lake St Clair Lodge is a cozy and welcoming establishment right by the lake and the Lake St Clair Visitors Centre. Surrounded by hiking trails and next to a boat ramp, this is a great place to enjoy the surrounding wilderness area.
With a variety of eco-friendly accommodation options, some offering fireplaces, spas and kitchen facilities, most travelers will find a cabin to suit their needs. While some find the on-site restaurant to be a bit pricey, the bar menu is well-loved for its quality of food at a good price. There's also a cafe and bar.
You can hire bikes and kayaks or go on a boat cruise on the lake.
The property is a bit older and guests should be aware that not all mod-cons will be available, nor will the decor be magazine-ready! This does, however, add to the charm of a mountain lodge situated within a national park.
Click here for more information.
Best Parts?
Great location right in the Lake St Clair National Park with several accommodations options available.
Worst Parts?
Limited restaurant and bar menus, so travelers may need to drive into Derwent Bridge to find more variety.
Summary
While the cabins and amenities may not be five star, the location within this special wilderness area in Tasmania is. Hiking trails and the lake are just outside your door for an unforgettable visit to Lake St Clair.
Click here for more information and the latest prices.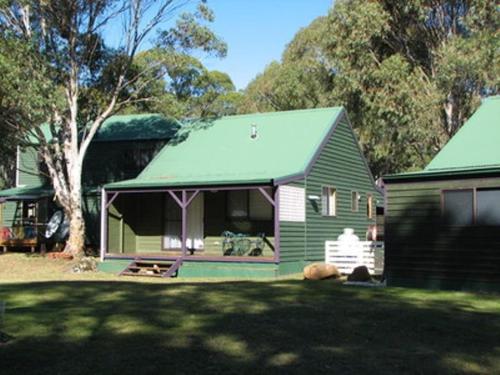 Address: 15478 Lyell Highway, Derwent Bridge
Near: Walking distance to restaurants in the Derwent Bridge settlement.
Room Types: Ten self-catering units in a variety of sizes are available for guests, including two spa chalets for couples wanting extra privacy.
Top Features:
All units provide self-catering facilities,with the 6 chalets offering fully equipped kitchens and fireplaces.
Close to a few restaurants and cafes in town for meals and coffees out. 
For accommodation near Lake St Clair Tasmania, consider the Derwent Bridge Chalets and Studios. While not at Lake St Clair itself, this option is right in the center of the nearby small town of Derwent Bridge. With a cafe right next door and other eating options nearby as well as self-catering facilities, this Lake St Clair accommodation is a great choice for park visitors wanting a mix of dining options in easy reach of the lake.
This accommodation is rated 3.5 stars with ten units available. Chalets provide full kitchens and fireplaces, while studios provide electric heating and small kitchenettes. 
There are not a ton of facilities here, but there is a nice BBQ area that guests can enjoy as well as the surrounding snow gum forest. There;s also on-site laundry facilities and parking. Wifi is available but is not the best quality.
Click here for more information.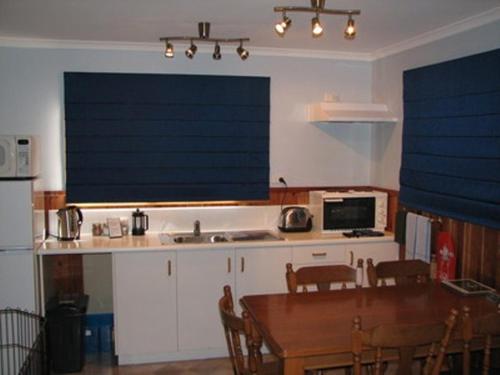 Best Parts?
The chalets and studio are well-appointed with everything you need for a warm and welcoming stay. 
Worst Parts?
Expect to be without signal or great wifi for the duration of your stay.
Summary
A nice choice for visitors wanting Lake St Clair National Park accommodation that is in town near cafes and restaurants. These 3.5 star chalets and studios are warm, self-catering and just a few minutes drive to Lake St Clair.
Click here for more information and the latest prices.
Lake St Clair Camping Tasmania
Camping near Lake St Clair is available with several options for visitors wanting to immerse themselves in the wilderness. Both powered and unpowered sites that sit right on the lakeside can be hired, and are suitable for tents, caravans and smaller motorhomes. 
Lake St Clair free camping isn't an option, but the small fee charged for your stay helps the Tasmania Parks and Wildlife Service keep this World Heritage Site open and available for visitors to enjoy year round. 
At the Lake St Clair camping area, guests will find a basic kitchen and flush toilets, along with hot showers ($1 for every 6 minutes) and even laundry facilities. On site there is a cafe, bar, and convenience store. 
Small huts and bunkhouses are available for hire and include basic self-catering facilities. 
Map Of The Best Luxury Accommodation Lake St Clair Tasmania
I hope you found this guide to the top Lake St Clair accommodation Cradle Mountain useful. You can find all our travel guides to the Central Highlands here.