I've driven past the exit to Evandale many times in my life. Located just outside Launceston near the main highway to Hobart, it's easy to overlook little Evandale. However, you really shouldn't!
That's because Evandale is picturesque and a worthwhile stop for tourists. In fact, the National Trust has listed the entire town thanks to its historic streetscapes.
While there aren't tons of things to do in Evandale Tas, it is a pretty spot to have a wander, looking in shops or eating at the great pub or bakery. If you visit on a Sunday, look out for the famous Evandale Market. It's also a great location for a romantic weekend away or to escape city life. It's worth the effort of visiting here – trust me!
Below, you will find lots of information about Evandale Tasmania including a map, the weather, Evandale accommodation and the top things to do in Evandale while you are here!
An Introduction To Evandale Tas
Sitting on the banks of the South Esk River, Evandale is a historic northern Tasmania town. Famous for its late-Georgian and early-Victorian buildings, along with the rather obscure fact that it hosts the annual World Penny Farthing Bicycle Championships, this quaint village should be on your list of places to visit in Tasmania.
Originally inhabited by Palawa (Tasmanian Aborigines), with archeological remains of campsites and artifacts found near to the current site of Evandale, the area was thought to have been a good hunting ground and a meeting point for local clans.
The modern town of Evandale was originally founded as Honeysuckle Banks by Governor Lachlan Macquarie, in 1811. The first true European settler was a Scottish mariner, Captain Andrew Barclay, who in 1816 was granted land and built a 4-roomed brick cottage that is today the oldest surviving building in the region.
Renamed Evandale in 1836, many of the original buildings are still standing today. The first recorded inn opened in 1832 and is now Blenheim House, the Evandale Post Office still operates from the original 1835 building, another old tavern – The Ingleside – operates as the Ingleside Bakery, and the oldest public house from 1836 still trades as the Prince of Wales Hotel. Make sure you visit St Andrew's Uniting Church, also dating back to 1840's, with its classic bell tower and Doric columns.
Altogether, this is one of the best preserved historic towns in all of Australia, offering a unique glimpse into the country's past.
Time your visit well to catch the ever popular Sunday Markets, with a great selection of stalls selling local products and a myriad of other items. And The Glover Prize – one of Australia's most significant awards for landscape painting – is awarded and exhibited in Evandale, with around 40 works annually selected for exhibition at the Falls Park Pavilion.
A picturesque heritage town, with a local village atmosphere and friendly locals… Add Evandale to your list of places to visit in Tasmania.
Evandale Accommodation Tasmania
Evandale is a small town so there isn't a huge range of accommodation Evandale Tasmania. However, what is there is comfortable and atmospheric. Find some more information about your Evandale Tasmania accommodation options below.
A charming 2-bedroom Georgian cottage, Arendon is a standout boutique option for accommodation in Evandale, Tasmania. Only recently renovated – focused on returning the cottage to its original 1830's design – Arendon offers a quiet escape from the hustle-and-bustle of nearby Launceston.
Offering a self-contained living experience, with fully equipped kitchen and laundry facilities, one double and one twin-bedroom, the cottage is ideal for a small group or family.
Click here for more information.
A breakfast pack is included within your rate, along with free WiFi, air-conditioning and in-room heater, hair-dryer, ironing board, TV and the bathroom comes with shower.
Walking distance to coffee shops, the bakery, pubs and village stores, you won't be disappointed with your choice of accommodation!
Click here for the latest prices.
A highly rated AirBnB, Evandale, Tasmania option, Peg Cottage is a small country house that is quaintly presented and surrounded by pretty garden views.
This 1-bedroom property comes with a living room, flat-screen TV, equipped kitchenette with microwave and fridge, and a bathroom with shower.
Click here for more information.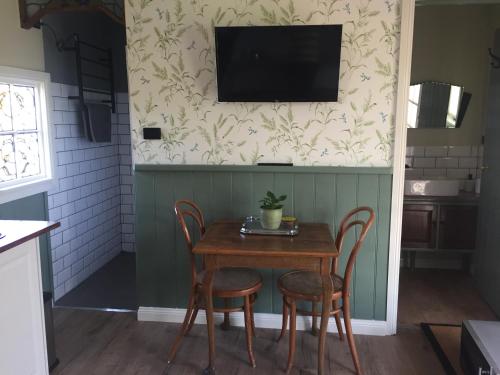 Ideal for couples looking for a quiet, relaxing place to stay, Peg Cottage has a sweet balcony that's perfect for enjoying a sundowner whilst admiring views of the nearby spectacular weeping willow tree and flower gardens.
Breakfast supplies are provided – bread, milk, cereals, eggs, bacon, etc – and the house is only a stroll away from the main street of Evandale.
Click here for the latest prices.
Things To Do In Evandale Tasmania
You can find the following Evandale Tasmania attractions around town. Launceston is also close by and you may want to read our list of things to do there here and the attractions in Longford here.
Evandale Market Tasmania
Famed across northern Tasmania, the regular Evandale Sunday Market commences around 8am through until 1.30pm. Located in Falls Park, on Logan Road, you'll find a terrific variety of stalls.
Said to have items in many price brackets, you'll discover homemade food and Tassie products that include jams, honey, sauces and relish. Search for collectables, clothes, antiques, secondhand-books, vintage treats, plants, jewellery …truly there's some form of treasure for everyone!
For families, children are kept entertained too with pony or horse-and-cart rides. There's also lots of interesting and unusual food – Afghani pancakes and Lebanese cuisine, for example – and plenty of places to sit, both inside and out.
Presented in a relaxed, village atmosphere, with ample street parking at the far end of the market from the town, you'll have a fun morning browsing for bargains at more than 100 stalls. Remember to take plenty of cash and pick up some nice gifts to take home.
Whether you're staying in the village or just visiting, Evandale Markets, Launceston are the best in the region!
Evandale Penny Farthing Races – Evandale Village Fair
A unique visual treat, the Evandale Village Fair – held annually in February – features the National Penny Farthing Championship!
Started in 1983, the races now attract enthusiasts from across Australia and from around the world, turning quiet Evandale into a riot of colour and spectators. Penny farthing races continue throughout the day, and this Victorian-styled event pulls in history buffs and classic car fans from all corners of the globe, enamored by the period-themed festival and country fair.
In what has become a time-honoured Tasmanian tradition, visitors cheer on the competitors from the sidelines, enjoy delicious treats at the accompanying Food Festival, and – if daring enough – register for novice or veteran races!
A Grand Parade is the highlight for classic car enthusiasts, featuring a display of vintage cars alongside a brass band, clowns, fairies and of course… penny farthings.
Children have a blast too, with face-painting, pony rides and usually a puppet show to keep them smiling. Music and dancing shows complete the fun, and altogether make this a spectacular extravaganza of an event.
Keep an eye out for the 40th year anniversary event in 2022, bound to be special! Full details here.
Clarendon Estate
Perhaps Australia's grandest rural colonial estate, Clarendon House Evandale, Tasmania, is set in 7 hectares of parklands on the banks of the South Esk River.
A magnificent three-storey Georgian house, with servants' quarters, a wonderful walled heritage garden and an avenue of elms, the house was built in 1838. At the time it was an amazing display of wealth by wool grower and merchant James Cox, who went on to play a major role in the abolition of transportation and convict labour in Australia.
This National Trust property is only open on weekends, 10am-4pm, and entry includes the spectacular gardens, the Clarendon Fashion Collection (with gowns from the 1830's to 1960's) and the Norfolk Plains Heritage Centre with photo collections and family historical records. The Elm Avenue, parklands and a unique shearing shed that's housing an exhibit of restored coaches and carriages, the stables and a blacksmith's shop are also all included.
Another recent addition to the grounds includes the Australian Fly Fishing Museum. Holding a vast collection of fly fishing paraphernalia, the museum is surprisingly novel and well worth a visit.
Guided tours of the house are available, with full details here, and it's worth phoning ahead to ensure access due to the grounds occasionally being offered for private hire. Children under 2 years have free entry.
Address: 234 Clarendon Station Rd, Nile TAS 7212
Water Tower
If you're entering town from the north it's impossible to miss the castle-like red-brick water tower, which dates back to 1896.  One of the standout heritage buildings of this National Trust classified Georgian village, the water tower is noted for its battlements.
The tower encloses a convict-dug tunnel that was designed to supply water to the town, part of a proposed water supply scheme from the South Esk at Evandale – via tunnel, viaduct and aqueduct – to Launceston.  At 40ft high and able to hold up to 40,000 gallons, the scheme never reached fruition as the engineering proved too difficult.  However, as of today there's still reputedly water inside, maintaining pressure on the walls so they don't collapse!
Address: 30 High St, Evandale TAS 7212
Map Of Evandale Tasmania
Here is an Evandale Tasmania map showing everything listed in this article.
Where Is Evandale Tasmania?
Evandale is located just 20 kilometres south of Launceston by the Midlands Highway (route 1).
From Launceston, take route 1 and then turn off on the B41 and go past the airport. It takes about 20 minutes.
From Hobart, take the B41 off route 1 before Perth. This is just a 6 minute detour.
Be careful following GPS/Google maps to get into town on C roads or back roads especially if you want to avoid unsealed roads. My last visit, I followed what Google Maps told me which was the C416 to Clarendon House and Evansale. It was partly unsealed and it would have been quicker via the B41.
Worse was when it told me to take the most direct road between Clarendon House and Evandale – this turned out to be one lane and very rocky – just don't do it!
Evandale Weather
The climate is temperate in Evandale with a lot of rainfall year round. Temperatures range from about 16-23 degrees in summer and 7-11 degrees in winter.
If you are looking for the Evandale weather forecast, look here.
We hope you make it to Evandale and have a great time just like we did! You can read more about travelling around the Midlands part of Tasmania and things to do in the region here or nearby Longford here or Ross here.