Heading to Derwent Bridge? Lucky you! It's a beautiful part of the world. The next step after deciding to go is to find the best Derwent Bridge accommodation Tasmania has to offer. And that's what we will help you with here!
Derwent Bridge is a small town near the entrance to the Lake St Clair part of the Cradle Mountain – Lake St Clair National Park. On the main highway between Hobart and Strahan, this is a convenient base to explore Lake St Clair and the surrounding wilderness.
However, before you can relax and enjoy this part of the world, you need to have somewhere to stay. In this article, I help you find the best Derwent Bridge hotel no matter what your budget or what exactly you are looking for.
So whether you are looking for Derwent Bridge accommodation cabins, some Derwent Bridge chalets or staying in one of the best Derwent Bridge, Australia hotels to access Lake St Clair, we have you covered.
Here is our list of the best accommodation at Derwent Bridge, Tasmania!
Comparison Of The Best Accommodation Derwent Bridge, Tasmania Options
Top 4 Best Derwent Bridge Accommodation Tasmania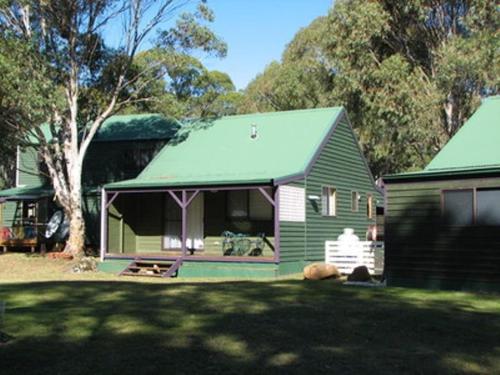 Address: 15478 Lyell Highway, Derwent Bridge, Tasmania
Near: The Wall in the Wilderness is a 2 minute drive away
Room Types: Self-catering chalets and studios
Top Features:
Lovely snow gum forest surrounding
Outdoor BBQ area and garden
Café positioned next door
Free parking and (limited) WiFi
In a central spot in Derwent Bridge, these chalets are a quick drive to Lake St Clair, the Wall in the Wilderness and other surrounding attractions. They are surrounded by a snow gum forest.
All chalets and studios are set up to be self-catering and include a kitchen or kitchenette and a spacious living area with TV and DVD player. Every chalet or studio is also equipped with an ensuite bath and shower. Towels, ironing facilities, heating, and electric blankets are provided as well. They are all well presented.
There is a choice of studios and chalets depending on how much space you want as well as what facilities with two being superb spa chalets especially for couples.
For the amenities, guests can dine outdoors at the BBQ area or relax in the gardens. There's also the Hungry Wombat Café next door. Laundry facilities are also available, and there's also free onsite parking for guests. Wifi is very limited.
Click here for more information.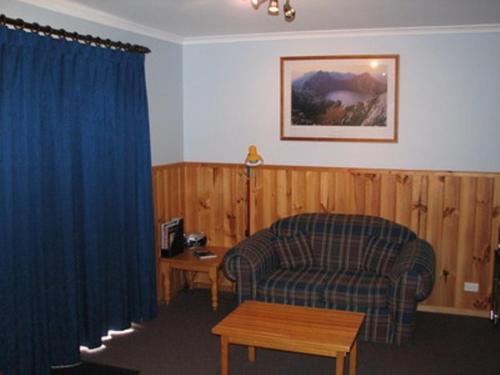 Best Parts?
The studios and chalets are clean, spacious, and tidy. There's also a cafe next door that serves excellent lunch and breakfast.
Worst Parts?
Wifi is very limited.
Summary
Overall, a quaint, and cosy accommodation with good facilities. The location is also excellent, since it's easily accessible to notable attractions in the area and everything you might need.
Click here for more information and the latest prices.
Address: Derwent Bridge, Lyell Highway, Tasmania
Near: A 5 minute drive to Lake St Clair
Room Types: Double rooms with either an ensuite or shared bathroom
Top Features:
Offers some of the most affordable accommodation in the area
Rustic bar and restaurant on-site (breakfast is included)
Free parking
Located by the Lyell Highway and surrounded by 2 parks, Derwent Bridge Wilderness Hotel is laid back accommodation that is a quick drive to notable attractions such as The Wall sculpture, Donaghys Lookout and Lake St. Clair.
There are two room types – basically double room with ensuite or shared bathroom. The rooms are simple and expensive for what they are but this is still the cheapest option in the area. Full continental breakfast buffet is included.
Facilities include a rustic bar and restaurant which has great meals. The Sri Lankan curries are especially recommended.
Moreover, this Derwent Bridge accommodation Caravan Park offers free parking for caravans and motorhomes.
Click here for more information.
Best Parts?
The restaurant is excellent, serving guests a variety of delectable dishes.
Worst Parts?
It's overpriced for what it is but it is the cheapest option in the area. There isn't any wifi.
Summary
Staff are friendly and there are clean and comfy rooms. There is great food at the restaurant.
Click here for more information and the latest prices.
Pumphouse Point Review
Address: 1 Lake St Clair Rd, Lake St Clair, Tasmania
Near: A short drive from Lake St Clair Visitor Centre
Room Types: A range of luxury rooms on different levels with different facilities
Top Features:
Stunning adults only accommodation with excellent facilities
All inclusive meals at delectable on-site restaurant
Self service bars, library and lounges with fireplaces
Free boat and bike hire
The absolute best place to stay in the Derwent Bridge area is the amazing Pumphouse Point.
Located literally on Lake St. Clair, this stunning accommodation features two industrial buildings that were impressively transformed into an intimate retreat. This is an adults only boutique hotel, and a couple of kilometers away from Lake St Clair Visitor Centre.
The accommodation itself features 18 heritage rooms within its buildings. The Shorehouse is the building located right next to the lake, while The Pumphouse is over the water of the lake itself. There's also The Retreat, a private suite with stunning views, offering guests more privacy.
Hip, modern rooms feature flat screen TVs, microwaves and mini-fridges and huge in-room bars and snack options. Meanwhile, upgraded units add in stunning lake views and soaking baths.
There's also a restaurant that serves delectable (and included) three-course dinners and full breakfast buffets. There are also multiple self service bars and cosy lounges with fireplaces.
Bikes and boats are included and can be used by guests.
Best Parts?
The place is peaceful and relaxing. There are gorgeous views everywhere. Food and rooms are top rate and there is excellent service from the staff.
Worst Parts?
The hotel's restaurant isn't flexible with dinner time. Lunch options are limited. You have to eat dinner and breakfast at shared tables with other guests.
Summary
Overall, stunning scenery, and the rooms/meals/everything is exemplary. This is our absolute favourite place to stay in the whole of Tasmania, and it is definitely a fantastic accommodation near Derwent Bridge Tasmania.
Address: Lake St Clair Road, Lake St Clair, Tasmania
Near: Just next to the Lake St Clair Visitor Centre
Room Types: Cabins (studio, one/two bedroom) and a fully equipped two bedroom home
Top Features:
Peaceful and comfortable accommodation
On-site café and relaxed bar and restaurant
Bikes, kayaks and lake cruises available
Free parking
Situated by Lake St Clair in the national park surrounded by bush, Lake St Clair Lodge offers guests with a variety of accommodation choices. These unassuming holiday cabins are perfectly located for nature lovers.
Each studio, cottage and cabin features a TV, tea and coffee making facilities, heating, gowns, toiletries and private bathroom. They also feature balconies with either lake or bush views. Meanwhile, upgraded cabins add in spa baths and fireplaces. Suites, meanwhile, feature living areas and kitchenettes. Moreover, there's a two-level cabin that can sleep up to six people.
For the amenities, there's a spa, a casual cafe along with a laid back bar and restaurant. Bikes, kayaks and lake cruises are offered here as well. This lodge is located right by the Lake St Clair visitor centre with many hikes departing from here.
Click here for more information.
Best Parts?
The location is excellent since it's right along Lake St. Clair. It also has easy access to everything the Cradle Mountain – Lake St Clair National Park offers. The ambience here is cosy and peaceful as well.
Worst Parts?
Limited food choices at the cafe and restaurant.
Summary
Lovely location set among the trees and overlooking the lake, with clean and well-equipped units. The staff are also friendly, making guests feel welcome. This is perfect for people who want to get away from it all and be surrounded by nature.
Click here for more information and the latest prices.
Map Of The Best Derwent Bridge, Tasmania Accommodation
I hope you found this guide to the top Derwent Bridge hotel Tasmania useful. You can find all our travel guides to the Central Highlands here.