Heading to Deloraine, Tasmania? Lucky you! It's a beautiful part of the world. The next step after deciding to go is to find the best Deloraine Tasmania accommodation. And that's what we will help you with here!
At the base of the Great Western Tiers, Deloraine is the major town between Launceston and Devonport. Not only is this a pretty place with enough services and facilities to make a stay here very comfortable, but it's also in a great location to explore the region.
Deloraine is a great base to explore such attractions as the Mole Creek Caves, Sheffield murals, Tasmazia, Westbury Maze, Woolmer House and much more. We find Deloraine a great place to be when exploring this fun part of the state.
But the only way this works is if you have some great holiday accommodation Deloraine Tasmania to retire to at the end of the day. In this article, I help you with this so you can find only the best Deloraine hotel Tasmania offers no matter what your budget or what exactly you are looking for.
So whether you are looking for the best Deloraine hotels, one of the Deloraine accommodation cabins or a self contained accommodation Deloraine, Tasmania option, we have you covered with the best accommodation Deloraine surrounds has for you.
Here is our list of the best accommodation in Deloraine, Tasmania!
Comparison Of The Best Accommodation Deloraine, Tasmania, Au
Deloraine Tasmania Accommodation: All The Best Places To Stay
The Mountain View Country Inn is found in a central area in Deloraine near a main highway.
It features well-appointed rooms that include TV, toaster, fridge, tea/coffee making facilities, small tables with chairs and ensuite bathrooms. Air conditioning and heating are also available in some rooms.
There are a variety of room types which include double, twin, and queen rooms as well as family rooms and a two bedroom apartment.
The inn features an onsite bar and restaurant, and breakfast can be delivered to the rooms of guests. There's also a coin-operated laundry, free WiFi, complimentary DVD hire, safety deposit box and parking right at your room door.
Click here for more information.
Best Parts?
The rooms are comfortable and well equipped. We especially loved our two bedroom apartment which had some great views.
Worst Parts?
The restaurant had great food but service was very slow.
Summary
This hotel has very comfortable rooms that are better than the usual Tasmanian motel standard and delicious food is served at the restaurant. Overall, it's great value for money. This is our personal pick of where we like to stay when we are in town.
Click here to see the latest prices or here for our full review.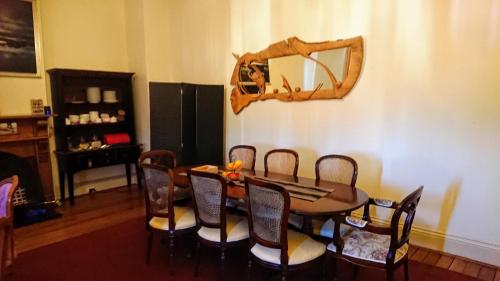 Empire Hotel Deloraine was originally built in the circa 1900 as a tourist hotel, at the heart of the historic town of Deloraine. The interior of the property features stunning Tasmanian timber decor, and a quaint Victorian charm.
It's right in the centre of Deloraine by the pretty river area.
The hotel features elegant and unique rooms and you can pick from options like a "funky queen" or "japanese" room which include free WiFi, sitting area, toiletries, electric blankets and a rack for clothes. Bathrooms are either shared or en-suite. Meanwhile, upgraded rooms feature a balcony with river views.
Room types include a budget single, double, twin, and queen rooms.
Guests can also enjoy facilities such as the onsite bar and restaurant. Apart from that, there's also a cosy open log fireplace that guests can relax, meeting/conference rooms and free onsite parking.
Additionally, the hotel offers a free guided tour of the river to seek out platypuses and prides itself on being bike friendly with cycling routes right from the hotel.
Click here for more information.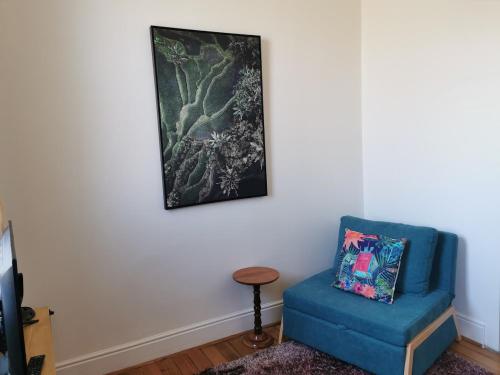 Best Parts?
The hotel has an excellent vibe as well as a great restaurant. The place is welcoming and homey.
Worst Parts?
Some of the rooms only have a shared bathroom, but you can book the ones with a private bathroom if this is an issue.
Summary
Great location, excellent dining options at the restaurant, clean rooms and friendly owner and staff. Definitely one of the best.
Click here for more information and the latest prices.
Built in 1838, Blake's Manor is a quick drive to anything in Deloraine and close to the river area. It's just a three minute walk to the main street.
This self-contained and boutique heritage accommodation is gorgeous and features traditionally furnished suites which include a sofa, TV and DVD player. Each comes with a private bathroom with shower, free toiletries and hair dryer as well as kitchenettes with a stove.
Guests can either stay at the garden budget family suite, deluxe budget queen suite, luxury queen or family suite or the two-bedroom executive suite. Portacots are available.
There's also free WiFi in the property, BBQ facilities, picnic area and free onsite parking.
A huge plus is the complimentary breakfast hamper and gourmet welcome table on arrival.
Click here for more information.
Best Parts?
It's a beautiful building and the breakfast is excellent. The location is good.
Worst Parts?
Some of the room facilities need an upgrade and it can be hard to reach someone if you have a problem during your stay,
Summary
Atmospheric accommodation, walking distance to town and the rooms nice and cosy. If you're looking for a quaint place to stay in Deloraine then this should definitely be on the top of your list.
Click here for more information and the latest prices.
Set in a beautiful and laid back setting close to Deloraine town, this bed and breakfast offers well-equipped and comfortable accommodation.
Featuring either garden or mountain views, every cabin comes with a flat screen TV and DVD player, kitchen, wardrobe, washing machine as well as private bathroom with shower. All cabins feature seating and dining areas as well as two bedrooms. These cabins have everything you need.
The farmstay also provides guests with delicious breakfast provisions so you can cook your own breakfast. You are also given fresh muffins on arrival. Other amenities include a garden, BBQ facilities and terrace. Free WiFi is available as well.
Click here for more information.
Best Parts?
This place is set in a quiet and tranquil setting and is great for relaxation. Pets are also allowed in the property with no extra charges.
Worst Parts?
The WiFi here can be a little bit spotty at times.
Summary
The location is simply stunning, the cabins are well equipped, clean and cosy and the breakfast is lovely. Great service as well.
Click here for more information and the latest prices.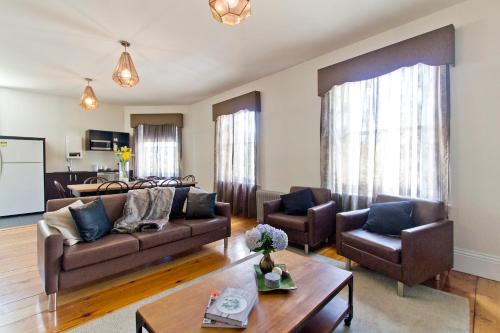 This traditional hotel is located in the heart of Deloraine offering guests quality Tasmanian accommodation, a restaurant, bar function and meeting rooms and a bottle shop. It's firmly aimed at budget travellers and backpackers.
Rooms are clean, comfortable and come with at least linen, towels, shared bathroom and heating. At the cheaper end of the spectrum, this is all you get. At the other end, rooms have ensuites and TV. Room types include single, twin, double, triple and family options.
The facilities include a guest lounge with a television and complimentary tea and coffee making facilities. There's also free Wifi.
Click here for more information.
Best Parts?
Rooms are clean, tastefully decorated, and there are nice facilities as well. The price is good.
Worst Parts?
This is for budget travellers so the room facilities are limited in the cheaper rooms.
Summary
Check in and check out is easy, clean and comfy rooms and a convenient location. Overall, excellent value for money.
Click here for more information and the latest prices.
Map Of The Best Deloraine Accommodation Tasmania Options
I hope you found this guide to the top accommodation Deloraine area options useful. You can also find all our North West coast travel guides here.
Sharon grew up in Tasmania, moved away and then came back with her family twenty years later. She loves re-discovering her home state and sharing it with you here.