Considering a trip to Boat Harbour, Tasmania and want to know all the best things to do around Boat Harbour Beach? We have you covered! Below, you will find our guide to all the best Boat Harbour attractions to plan your ultimate trip.
If you like stunning beaches, the Boat Harbour Tasmania beach won't disappoint. My personal favourite beach in Tasmania, the powdery white sands, aqua blue water and cute surrounding town make for an awesome sight. This is a beautiful area you won't want to leave.
While the town is only small, this is part of the charm. Like other beaches in Tasmania, it's not likely to be overrun and it's easy to enjoy any time you have in Boat Harbour.
Below, you will find our guide to what to do in Boat Harbour Tasmania with everything you need to know about the best things to do around Boat Harbour Beach as well as the best places to stay for your ultimate holiday in Boat Harbour Tas and information about Boat Harbour Tasmania weather. There is also a handy map of everything you need in Boat Harbour to help plan your trip.
Click here to download your free Tasmania Road Trip Planner checklist. We'll help you get ready for your trip!
An Introduction To Boat Harbour, Tasmania
Located just 30 minutes drive west along the north west coast from Burnie by the main A2 highway, Boat Harbour is a small township which is more of a locality then a town with the area stretching from around the highway to the gorgeous Boat Harbour Tasmania Australia beach.
The Boat Harbour beach area feels quite separate with the community located up a hill between two headlands.
It's a small town with only around 400 people. There aren't many businesses and it's best to bring in everything you need for your stay here although you will find a shop with fuel and a couple of eating options (which aren't open daily).
This area has been inhabited for around 8000 years by the Tommeginne Aboriginal language group. It was named Jacobs' Boat Harbour originally after Captain John Jacobs of the Van Dieman's Land Company and was first settled by Europeans in the 1830s. Boat Harbour had become a popular holiday resort by the 1920s.
If you love gorgeous beaches with white sand and clear, crazy blue water then you'll absolutely love visiting here.
Boat Harbour Beach Tasmania
Often part of top 10 lists of the best beaches in Australia, Boat Harbour Beach is stunning. It's the perfect mix of powder-white sand, aqua-blue crystal clear water, and surrounding rocks and nature. The beach is the major attraction here and once you see it, you won't want to leave it.
It's a small slice of paradise. And it's no surprise that locals come from miles around to spend the day hanging out, exploring, or to enjoy the watersports on offer. This 200-metre day-use only beach – with no camping or overnight parking allowed – is what draws people in.
A semi-circular north-facing cove that is presented in all its glory as you turn off the Bass Highway; a gorgeous scenic view whereby you're forgiven for thinking you've somehow found your way to the Caribbean!
Sheltered from the Roaring Forties by cliffs on either side, fertile farmlands tumble down the hill to the shoreline that's dotted with small wooden beach cottages that only add to the picturesque scenery.  And the ocean, almost always calm, is the ever-changing backdrop to your activities.
Choose to be as busy or as lazy as you wish! Try your hand at body surfing, take a paddle board lesson, discover the underwater world by snorkelling or diving. Explore rock pools at low tide, walk the beach early morning to enjoy the quiet start of the day, or just relax on your beach towel keeping an eye out for dolphins and seals at the entrance to the cove.
Quiet and serene, this is a holidaymaker's dream location. Lunchtime picnics, sunset barbies and fruity cocktails can all be enjoyed, plus there's a local cafe – Boat Harbour Beach Cafe – that provides eat-in and takeaway food and is especially noted for their delicious cakes.
For youngsters there's Boat Harbour Playground right on the sand, and there are toilet facilities directly accessible from the beach. There's also Boat Harbour Surf Lifesaving Club whose staff provide regular beach patrols through summer months.
And, if you can tear yourself away from this wonderful beach community, search out the starting point for a stunning 2-hour one way walk from the beach through to the Postman's Track at Sister's Beach.
Other Things To Do In Boat Harbour
While the beach is definitely the main attraction in Boat Harbour, here are some other Boat Harbour things to do while you are here.
Water Activities
The family-friendly Boat Harbour Beach is ideal for aquatic adventures!
Refreshingly crystal clear, the calm gentle sea is safe for swimming, more so as the local surf club staff often patrol the shores. And you'll find a Scuba Centre only 10 minutes away in the town of Wynyard, offering diving trips to many spots along the coast.
Quartzite reefs from Rocky Cape to Boat Harbour provide fairly easy dives and are said to be packed with fish and some of the best invertebrate life found in Tasmania. Or simply grab your snorkel to discover the wonderful underwater life nearer to the shore, such as large colourful clams and barrel sponges.
Rent a kayak or SUP to explore the stunning coastline. And for those interested in surfing or windsurfing, the easterly winds bring much desired waves at both ends of the beach. Just remember to pack your own equipment or perhaps just try body-surfing!
Up the pace by renting jet skis or – if you don't fancy getting wet – splurge on a boat trip to fully appreciate this wonderful coastline and try your hand at deep-sea fishing.
Before you head to the beach, check out the tide times as the beach experiences a very high tide and don't forget the ocean is pretty nippy! Also, if trying a water sport, be alert that children are swimming nearby and keep aware of the ever-changing weather if you're heading out to sea.
And whatever you choose, keep an eye out for seals, dolphins and even whales in this spectacular part of Tasmania!
Rock Pools
Particularly fun for children, Boat Harbour Tasmania has some epic rock pools – some the size of small swimming pools!
At low tide the beach may be over 100-metres wide and is potted with many exposed volcanic black-stone rock pools. These offer children a natural playground to explore, in the hope of finding small sea creatures that have been left behind by the tide.
You'll easily spot the rock pools at the east end of Boat Harbour Beach or in front of the first campsite area.
Walk Along The Point
For an easy and fun walk, head to the left of the main beach area (as you face it) and behind the toilets is a short walk out onto the point. There are lots of great views and it's fun how quickly you can feel removed from the surrounding beach area.
The point is also a popular fishing spot.
Visit Stanley
While staying in Boat Harbour, it's definitely worth making a full or half day trip to the historic town of Stanley just 40 minutes away. One of our favourite towns in Tasmania, Stanley is yet another picturesque destination that's ripe for a full day's exploration. Home to a huge ancient volcanic plug that rises 140 metres above the Bass Strait (known as The Nut), you'll also find colourful heritage cottages and a pretty harbour.
Start your exploration at the top of The Nut which offers amazing views across Bass Strait, Stanley and the surrounding countryside. There's a chairlift from the town up to the top or – if you have the stamina – you can hike up. And at the top there's a leisurely 45-minute walking loop, ideal for all the family.
Next it's time to discover some of the town's historical sites. Start at Stanley Highfield Historic Site, just two kilometres north of town. Built for the Van Diemen's Land Company, it's a great example of architecture from the Regency period.
Move on to visit Joe Lyon's Cottage – the birthplace and childhood home of a former Premier of Tasmania and Prime Minister of Australia in the 1930s. And, finally, in the middle of town you'll discover the small Stanley Discovery Museum, filled with interesting stories and snippets of history of the town and local families.
After lunch – and we recommend trying some of the local seafood – take a 75-minute Stanley Seal Cruise. Departing from Wharf Road, the cruise takes you to a few isolated rocks in Bass Strait where you'll most likely see seal colonies… Though you'll probably smell them way before you spot them!
Through the afternoon, relax at either of Stanley's two beaches – Tatlows or Godfreys, with the latter better for swimming, fishing and surfing. And, as dusk falls in September-March, at Godfreys you can enjoy watching Fairy Penguins arrive on the beach!
Click here to read our full guide to Stanley.
Explore Table Cape
Just 20 minutes from Boat Harbour Beach is Table Cape. This is one spot that you won't have trouble finding as this extinct volcano rises 170 metres above sea level, forming the most dramatic coastline!
Said to be 12-million years old, Table Cape's flat-topped promontory is filled with fertile soil that has helped make this attraction one of the most visited in the region. Renowned for its annual flowering of tulips during Spring, there's the annual Bloomin Tulip Festival and daily farm visits where you can meander the acres of colourful fields!
From the Tulip Farm drive past fields filled with farm animals, before reaching Table Cape Viewing Platform. With Bass Strait meeting the sheer rock face below, take lunch at the picnic tables whilst enjoying the gorgeous sea breeze.
Refreshed, take the cliff-top walking track to the old Table Cape Lighthouse. Dating from 1888, this remote lighthouse has been a beacon for passing ships for more than a decade. You can take a short tour of the building, whilst listening to stories of shipwrecks before heading to the top of the lighthouse and taking in 360-degree panoramic views of the beautiful Table Cape and the Bass Strait.
Try to visit here in October when the tulips are in full bloom!
Click here to read our full guide to Table Cape.
Rocky Cape National Park
Less than 20 minutes drive from Boat Harbour is Rocky Cape National Park. Billed as "ancient Aboriginal heritage on a rocky coastline", this is one of the standout places we visited.
Best discovered on foot, the Park meanders around the small hamlets of Boat Harbour and Sisters Beach. There are a myriad of walks to choose from – easy strolls or full day-long walks into less well-travelled parts of the park.  You'll see scenic hills, pass tranquil bays and thrill at windy, rocky headlands.
If you have the time, stay longer to discover mysterious sea caves, rock pools and even secluded beaches where you can take a refreshing dip or cast your fishing line.
But perhaps the most famous part of this National Park are the rock shelters and caves used by Aboriginal Tasmanians. Dating back thousands of years, you'll learn about the first occupants of these caves and how they've been used across numerous generations.
Together with this indigneous culture, there's rich flora and fauna. Vegetation is windswept and salt-hardy, with coastal heathlands that bloom spectacularly in spring and summer. Plus there's the incredible geology – with the rocks of the Cape some of the oldest in Tasmania – altogether making Rocky Cape a spectacular National Park.
Boat Harbour Map
Best Place To Stay In Boat Harbour, Tasmania
When it comes to where to stay in Boat Harbour, there are a few solid choices. There are no big resorts, however, and if you want to stay by the beach, you'll be looking at a holiday home rental.
While staying at the beach is great, staying in other parts of Boat Harbour can also be great with some peaceful locations just a short drive from the beach.
Below, I've listed a few different places to consider including a budget, mid-range and the best option.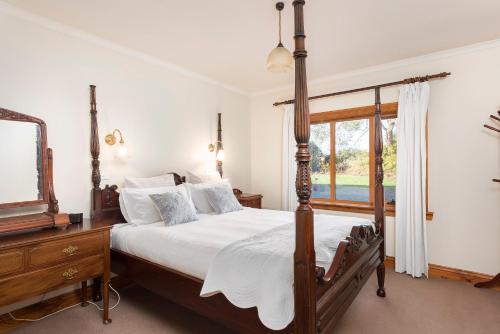 Just a quick 6-minute drive from Boat Harbour Beach, Killynaught Spa Cottages is set in farmlands with distant ocean views.
You may select from one or two-bedroom cottages with garden views that all feature fully equipped kitchens with microwaves, fridge, oven and stove-tops. Cottages come with separate living areas with sofa, TV and a fireplace for those chilly Tassie nights! There's laundry with a washing machine, a private bathroom with shower and tea/coffee making facilities.
The highlight of these cottages is they all come with double spas, antique queen beds and period furnishings. There's memorabilia in-room too, helping to give an overall romantic edge to the feel of the rooms and a great home-from-home ambiance.
And if you're feeling hungry, there's the Illume Restaurant onsite – with both traditional and modern cuisine featuring fresh Tasmanian ingredients. And you'll find books, DVDs and even board games for the young at heart.
Click here for the latest prices.
The Seascape Beach House is perfect for anyone who wants a very central spot near the beach with great views.
With two apartments inside this house, you can pick between a very spacious one bedroom apartment with a huge deck and full kitchen or a studio apartment with a small balcony and kitchenette. Both have views and are well equipped and comfortable.
Click here for the latest prices.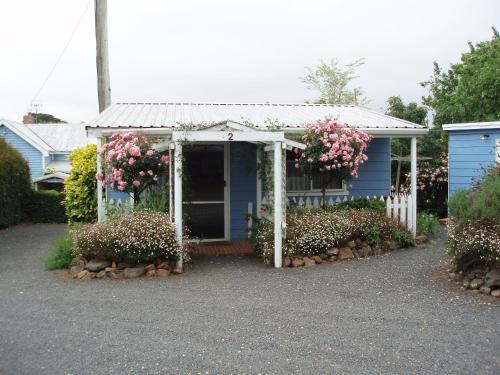 Discover the beauty of Boat Harbour from your self-contained cabins at Boat Harbour Garden Cottages! Complete with all you need for a self-catering stay, you're just 2 minutes drive from world-famous Boat Harbour Beach.
Set in five acres of landscaped gardens and fruit trees, Boat Harbour Garden Cottages is home to four cabins: a holiday home with a double + 2 single beds + sofa bed, 2x 1-bedroom cabins and 1x 2-bedroom cabin.
All cottages come with a kitchen (complete with refrigerator, stovetop and microwave), a lounge room and all bed linens are provided. There's a flat-panel TV and digital TV service, private yard area and balconies.
Chargeable laundry facilities are available and there's wonderful gardens to enjoy, along with bbq and picnic areas. Plus, free onsite parking is offered for all guests.
These are quaint, well maintained cottages with quiet surroundings. An ideal base for those that plan on spending their days touring Boat Harbour.
Click here for the latest prices.
Click here to see all our recommendations for the best Boat Harbour accommodation Tasmania offers.
Boat Harbour Camping
If you want to do some Boat Harbour Tasmania camping, your only option is at the Boat Harbour Beach Holiday Park which has both powered and unpowered sites.
There also used to be free camping Boat Harbour Tasmania but this has closed thanks to misuse.
How To Get To Boat Harbour, Tasmania
You will want your own car to get to Boat Harbour.
To get here by car is easy – Boat Harbour is just a short detour from the main A2 highway (Bass Highway) along the north west coast. It's about an hour from Devonport, 2.25 hours from Launceston or 4.25 hours from Hobart.
You can hire a car to get you there by clicking here.
If you want to get from Wynyard to Boat Harbour, it is possible to catch a bus to the turn off to Boat Harbour on the Bass Highway but not to the beach. It's an easy 16-minute drive from Wynyard.
Boat Harbour With Kids
Boat Harbour is a great place to visit with kids. It's primarily a beach town and my kids perhaps loved staying here even more than me! The water is generally calm and perfect for families.
There's also a great playground right on the sand and another one just across the road from the main car park. Boat Harbour is a great destination for families.
Boat Harbour Weather
The weather Boat Harbour Tasmania ranges from 11-21 degrees in summer on average to 3-12 degrees on average in the middle of winter. Rain can happen at any time of year with most rainfall in winter and the surrounding months.
Final Words
Boat Harbour continues to be our favourite beach destination in Tasmania. It's just so beautiful! It also has the added benefit of being easy to reach and there's some great places to stay nearby. My only complaint is the lack of solid eating options, otherwise I'd want to stay here forever!
I hope you enjoyed our full guide to Boat Harbour. Read more about nearby destinations in our full guide to north west Tasmania here including historic Stanley here and Burnie here.