Heading to Boat Harbour? Lucky you! It's a beautiful part of the world. The next step after deciding to go is to find the best Boat Harbour accommodation Tasmania has to offer. And that's what I will help you with here!
Boat Harbour is a tiny town on Tasmania's north west coast about 30 minutes drive west of Burnie. It's best known for its beach and, in my opinion, it's the prettiest beach town in the state.
Between the white sand and clear blue water, this is definitely a paradise. The sea is usually calm and it's a great place for the swim. The town itself is only small with no big hotels so finding accommodation here can be tricky since there aren't many options – you aren't going to find a Boat Harbour resort Tasmania because they don't exist.
However, there are still some great, low key options, and in this article, I help you find the best Boat Harbour beach accommodation Tasmania has no matter what your budget or what exactly you are looking for.
So whether you are looking for a top Boat Harbour hotel, a Boat Harbour beach Caravan Park or staying in one of the best Boat Harbour beach hotels, I have you covered.
Note that there are two parts to Boat Harbour – the town and the beach. The small town is a few kilometres from the beach and then there is the beach area which is a small cove with houses located on the small hill behind it.
Here is my list of the best accommodation Boat Harbour has in store for you!
Comparison Of The Best Accommodation Boat Harbour, Tasmania Options
Top 7 Best Boat Harbour Accommodation Tasmania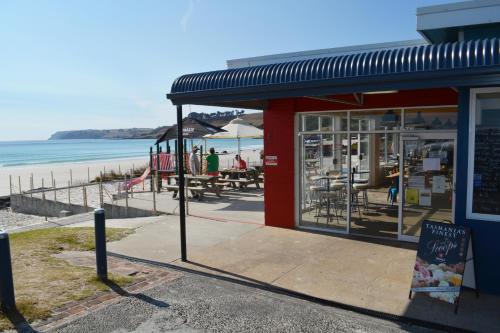 Nestled by Boat Harbor beach, and just a quick 2-minutes walk to the beach, Seascape Beach House offers guests comfortable 4-star accommodation.
This holiday accommodation Boat Harbour consists of a house which has been split into a studio apartment and a one bedroom apartment.
The studio has a large queen bed room complete with a kitchenette and small dining and living areas in the side of the bedroom as well as an ensuite bathroom which also has a washing machine. This accommodation is to the side of a house with its own entrance.
The kitchenette has a microwave, fridge, and toaster and the room also has a TV. There is a small balcony with a small table and two chairs with great views.
The one bedroom apartment is even better with a very spacious open plan kitchen, dining and lounge area with great views down to the bay and beach. It has a full kitchen along with a queen size bed in a separate bedroom and an ensuite bathroom with shower. Note there is no washing machine.
It also has a huge deck with great views, a BBQ and two tables and chairs.
Toast, cereal and tea and coffee are supplied in both room options and they are comfortable, well equipped and a great place to stay. There's free wifi and you can borrow the owner's kayak. It's a beautiful spot.
Click here for more information.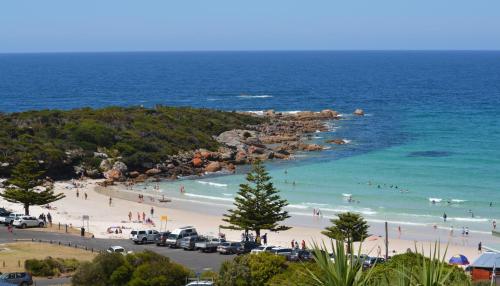 Best Parts?
This property is clean and well-maintained in an awesome spot to enjoy Boat Harbour Beach.
Worst Parts?
There is a lack of restaurants in the area so the lack of a full kitchen can be problematic in the studio option.
Summary
These are well equipped and comfortable apartments in a great location with great views. Overall, this accommodation in Boat Harbour Tasmania offers everything you need for a quick, relaxing, getaway.
Click here for more information and the latest prices.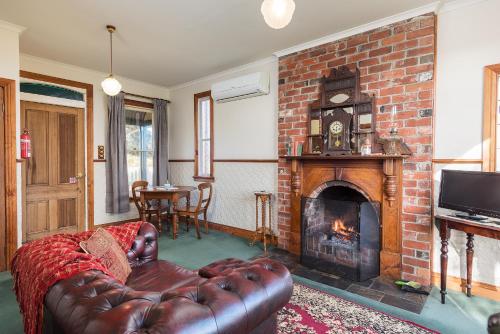 Another accommodation located in Boat Harbor, Killynaught Spa Cottages is a 4-star accommodation about a six-minute drive to Boat Harbor Beach in a farm setting by the Bass Highway.
With a choice of one and two bedroom cottages, each features a fully equipped kitchen with microwave, a separate living area with sofa, TV and fireplace, a laundry with washing machine and a private bathroom and shower. Tea/coffee making facilities, a fridge, oven, and stove top is all provided in the kitchen.
All cottages at this accommodation Boat Harbour beach Tasmania have double spas, antique queen beds and period furnishings and  memorabilia.
Onsite, you will also find a restaurant which focuses on local ingredients and a garden area.
Click here for more information.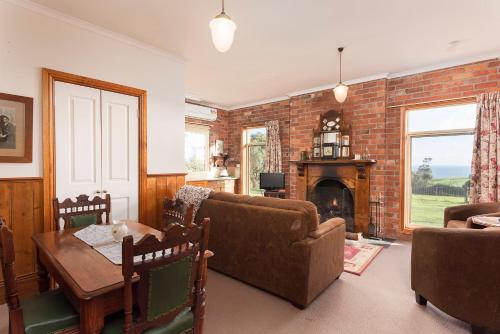 Best Parts?
The romantic, well equipped and comfortable spa cottages are fantastic.
Worst Parts?
They are not walking distance to the beach.
Summary
Well presented, comfortable and great ambiance – these cottages will appeal to everyone. Definitely, a home away from home.
Click here for more information and the latest prices.
Mallavale Farm allows you take in the stunning views of the Bass Strait, Table and Rocky Cape a six-minute drive from the beach area. Guests can enjoy a relaxing stay at this 2-acre garden which features an orchard of walnuts, cherries, plums, apples, apricots, grape vines, hundred year old elm trees and a lot more.
This Boat Harbour holiday accommodation features a two bedroom, self-contained home that can sleep to up to 5 people. It also has a flat screen TV with DVD player, living room with seating and dining area and a bathroom with spa and shower. Breakfast ingredients are supplied including hand-made granola.
A highlight is the outdoor verandah, the perfect place to sit back, relax and enjoy the gardens and views. Free wifi is also included and there are BBQ facilities. Guests can also bring pets on request.
Click here for more information.
Best Parts?
The beautiful (and peaceful) garden setting, the well equipped cottage and the great views.
Worst Parts?
The location itself can be a little out of the way although it is just a short drive from the beach.
Summary
A well appointed holiday home equipped with everything you need in a beautiful setting.
Click here for more information and the latest prices.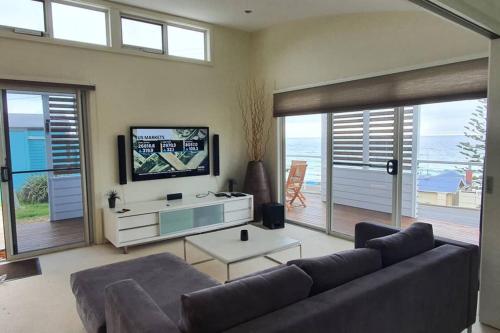 Located just steps away from Boat Harbour beach, this is a great place to stay to enjoy everything this area offers.
This luxury accommodation Boat Harbour Tasmania features a luxuriously appointed 3-bedroom villa which features everything you need including a fully equipped kitchen, living and dining areas, bathrooms, TV and wifi.
The highlight is definitely the two spacious decks where you can sit back and just soak in the breathtaking views of the beach and coastal area.
There are also BBQ facilities and a garden. Free private parking is also available on-site.
Click here for more information.
Best Parts?
Stunning views and you can easily walk to the beach in moments.
Worst Parts?
No shops nearby. You still have to drive to get a couple of essentials. This is the case for any place close to the beach, however.
Summary
Overall, the property is well-equipped, and the views here are lovely. The house is lovely and spacious. Definitely, one of the best Boat Harbour Tasmania accommodation houses.
Click here for more information and the latest prices.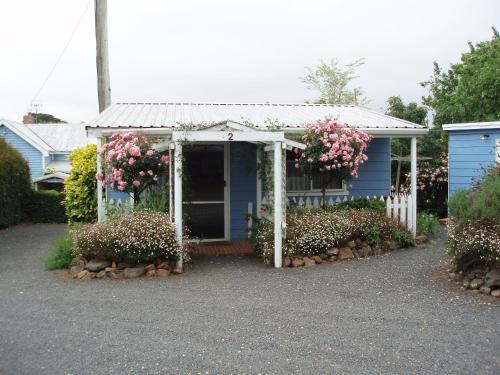 Boat Harbor Cottages is located just a few minutes drive from Boat Harbor Beach close to the Bass Highway. Set in 5 acres of landscaped gardens, this is a peaceful location where guests can try the fresh fruit from the orchard in season.
All the cabins at this holiday accommodation Boat Harbour beach Tasmania feature a living room with sofa, flat screen TV, a fully equipped kitchen and a private bathroom. They also have their own outdoor sitting areas.
Guests can stay in either one or two bedroom cabin options with queen beds and singles in the second bedrooms.
Other amenities include a patio, BBQ facilities and an extensive garden.
Click here for more information.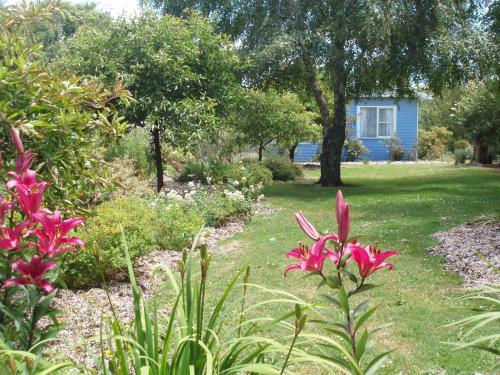 Best Parts?
The place features clean and comfy rooms, lovely surroundings and garden setting.
Worst Parts?
Parking spots are small.
Summary
The cabins at this Boat Harbour boutique accommodation are clean and well equipped in a peaceful location. Overall, great value for money.
Click here for more information and the latest prices.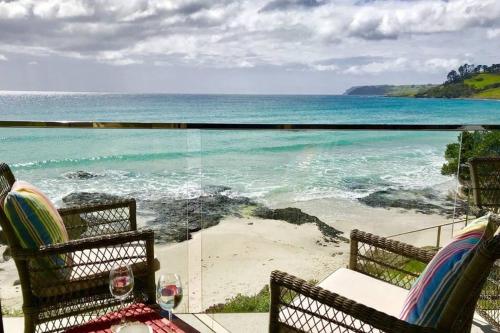 This three bedroom apartment is located right on Boat Harbour Beach with this gorgeous beach right outside your door.
Magic Beach apartment is fully self contained and well equipped. It has a spacious living area with an adjacent dining area and full kitchen. There is bedding for up to 7 people, and both heating and air conditioning.
The best part is definitely the private balcony looking right on to the beach with nothing in your path. There's a great dining area out here as well as plenty of seating.
The apartment is modern and comfortable and the location really can't be beat.
Click here for more information.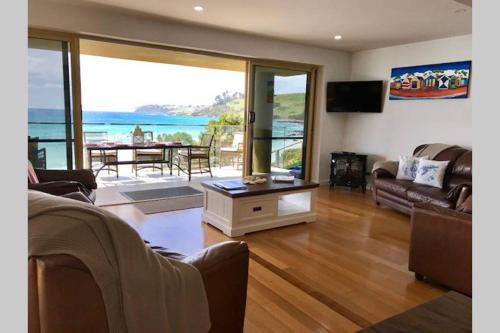 Best Parts?
The waterfront location is absolutely breathtaking. It's right on the beach with spectacular views.
Worst Parts?
Nothing! Apart from lack of shops nearby as per all accommodation choices in the Boat Harbour Beach area.
Summary
This self-catering apartment itself is tastefully decorated, well-equipped and comfortable. Guests can cook their own meals at the apartment. It's absolute beach frontage makes it an unbeatable choice.
Click here for more information and the latest prices.
Boat Harbour Beach Holiday Park offers guests self-contained accommodation just a few minutes walk from the stunning Boat Harbour Beach. It overlooks the stunning bay and Bass Strait.
There are three beach cabins available in the property which comprise two bedrooms that can accommodate up to four people. There's a central living and dining area which includes a fully equipped kitchen, microwave, washing machine, TV, heating and tea/coffee making facilities.
There's also a living area that leads onto a deck, overlooking the bay. Alternatively, this Boat Harbour Caravan Park Tasmania also features a lovely campsite with both powered and unpowered sites.
Click here for more information.

Best Parts?
The cabins are modern, clean and comfortable.
Worst Parts?
There is a lack of facilities at this holiday park.
Summary
Close to the beach with views and lovely and clean accommodation. It's a great price as well – well worth the money. This Boat Harbour Tasmania Caravan Park is definitely something that you want to miss.
Click here for more information and the latest prices.
Map Of The Best Boat Harbour, Tasmania Accommodation
I hope you found this guide to the top Boat Harbour Tas accommodation useful. Find our full guide to Boat Harbour here. Also read more about nearby Wynyard here and our top guides to north west Tasmania here.
Sharon grew up in Tasmania, moved away and then came back with her family twenty years later. She loves re-discovering her home state and sharing it with you here.