Heading to Binalong Bay? Lucky you! It's a beautiful part of the world. The next step after deciding to go is to find the best Binalong Bay accommodation Tasmania offers. And that's what we will help you with here!
Binalong Bay is a rural community located in north-east Tasmania, right on the Tasman Sea. It will take you just over two hours to drive to this small coastal village from Launceston. 
It sits on the southern end of the famous Bay of Fires, and is home to beautiful nature walks and game fishing. When visiting, you can enjoy all the wildlife Binalong Bay has to offer by taking guided tours. And if this place is on your list, you're in luck. There are several great accommodation options for you to choose from.
In this article, I will help you find the best accommodation in Binalong Bay Tasmania no matter what your budget or what exactly you are looking for.
So whether you are looking for the best Binalong Bay caravan park, a Binalong Bay accommodation luxury option or cheap Binalong Bay hotels, we have you covered with the best holiday accommodation Binalong Bay Tasmania has for you.
Here is our list of the best hotels Binalong Bay Tasmania offers!
Note: Binalong Bay is a small town so accommodation is centred around holiday home rentals. If you could prefer a more hotel-like style place or a caravan park, check out our guide here to the best hotels in St Helens which is just down the road.
Comparison Of The Best Accommodation Binalong Bay Tasmania Options
Top 6 Best Binalong Bay Accommodation Tasmania
Address: 1/42 Main Road, Binalong Bay
Near: 200 metres away from Binalong Bay Beach
Room Types:  Three-bedroom house
Top Features:
Full holiday home
Air conditioning
View of Binalong Bay
Free parking
While adventuring in Binalong Bay, why not stay somewhere that is self-contained? Quarterdeck Apartment, one half of a duplex, is a three-bedroom holiday home that sleeps up to six people. It has one bathroom, a full kitchen and a beautiful terrace. 
There are BBQ facilities as well, and a garden on the property. You can see the beautiful Binalong Bay from the accommodation, and it's only a short 200-metre walk to the Binalong Bay Beach. If you want to hit the road, Swimcart Beach and Jeanneret Beach are around 10 minutes north of this location. 
You'll be able to park your car at the property free of charge. Pets are not allowed here. 
Quarterdeck Apartments doesn't have access to the internet, however, so make sure you plan for that. And if you have a clamouring for technology, the house has a TV.
Click here for more information.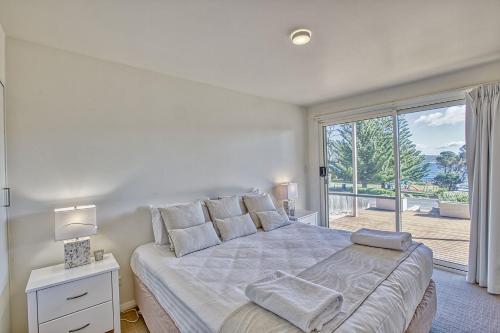 Best Parts?
The view of the bay from the second floor is beautiful. 
Worst Parts?
There is no WiFi available at this accommodation. 
Summary
The Quarterdeck Apartment is prepared to elevate your stay at Binalong Bay by offering you a fantastic place to unwind and soak in the memories.
Click here for more information and the latest prices.
Address: 7 King Street, Binalong Bay
Near: Five-minute walk to a restaurant
Room Types: One-bedroom house
Top Features:
Spa bath
Balcony with garden view
Quick drive to Mount Pearson State Reserve
Cheaper than many other accommodations
If you're looking to save a little bit of money but still stay in a beautiful home, Bush Hideaway Retreat could be the perfect place for you. This one-bedroom private home sleeps two guests and is fully furnished. 
This spot is a great place for a romantic getaway. The bathroom has a spa tub in it and the balcony overlooks a garden. There is also a full living room, kitchen and dining area. 
Like many other spots in Binalong Bay, WiFi is not provided at Bush Hideaway Retreat. You'll also have to keep your furry friend at home as pets aren't allowed here. 
This accommodation is within walking distance of a restaurant option, as well as Binalong Bay. You're only a two-minute drive from Mount Pearson State Reserve and 10 minutes from Dora Point Beach.
Click here for more information.
Best Parts?
It doesn't get much better than this place's location in Binalong Bay.
Worst Parts?
There have been some issues with heating and cooling in the house. 
Summary
Especially if it's just you and one other heading to the village, Bush Hideaway Retreat is a cheaper choice than many others, and it also looks like a luxury accommodation. Binalong Bay, Tasmania, has so many things to do outside, but this location may make you want to spend a little more time inside.
Click here for more information and the latest prices.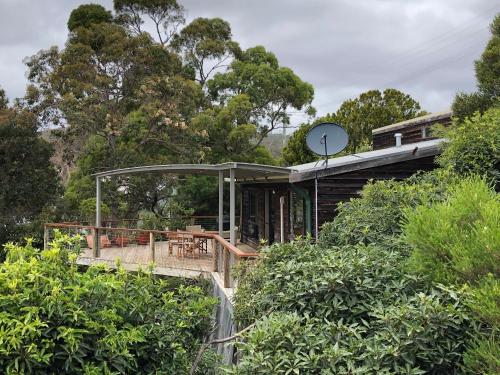 Address: 38 Treloggen Drive, Binalong Bay
Near: Across the street from a 4×4 tourism company
Room Types: Three-bedroom house
Top Features:
View of Skeleton Bay
Newly renovated private home
Large covered deck
Courtyard dining area with pizza oven
If you stay at Hidden Haven in Binalong Bay, you'll feel like you and your party are the only ones in the village. This isolated three-bedroom holiday home is newly renovated and ready to send your trip over the top. You'll end up paying more money to stay here compared to other alternatives, but the amenities are hard to beat. 
This property overlooks Skeleton Bay and the view of it from Hidden Haven's balcony is something special. The property has two outdoor areas for you to sit and enjoy. There is a deck with a shade structure, BBQ and patio furniture, as well as a courtyard with BBQ, dining table and outdoor pizza oven. 
The unit has a kitchen that's loaded with everything you need to cook for your entire stay. The largest bedroom has a king size bed and ensuite as well as a private balcony. The two other bedrooms each have a queen size bed, and they share one bathroom. 
There's free parking at the property for guests as well as complimentary WiFi access.
Click here for more information.
Best Parts?
Just soaking in the view of Skeleton Bay from the deck can keep you at peace for hours. 
Worst Parts?
It's more out of the way than other properties on this list, but that's also part of the appeal. 
Summary
This property has so many great things going for it that it may keep you from actually exploring Binalong Bay! Luxury accommodation and a memorable view, Hidden Haven is truly a gem.
Click here for more information and the latest prices.
Address: 4 Pacific Drive, Binalong Bay
Near: Few minutes walk to Binalong Bay Beach
Room Types: Two-bedroom house
Top Features:
Each bedroom has an ensuite bathroom
Located close to several outdoor activities
Fully furnished
WiFi connectivity 
Located in the heart of Binalong Bay's residential area, Binalong Brae has got what you need for a well-equipped home base. This two-bedroom beach house sleeps up to four people and is around 400 metres away from Binalong Bay Beach. 
For outdoor enthusiasts, Binalong Brae is close to several activities, including hiking and cycling trails as well as great areas for snorkelling. 
One bedroom has a king size bed and the other a queen. They both have an ensuite bathroom, which is a rare find!
The house is furnished and renovated featuring a dining area, full kitchen and patio. The living room comes with a TV and satellite, and a quaint fireplace. 
There is internet access at this accommodation, as well as free parking. And to make Binalong Brae an even better place to stay, pets are allowed at no extra charge. 
Click here for more information.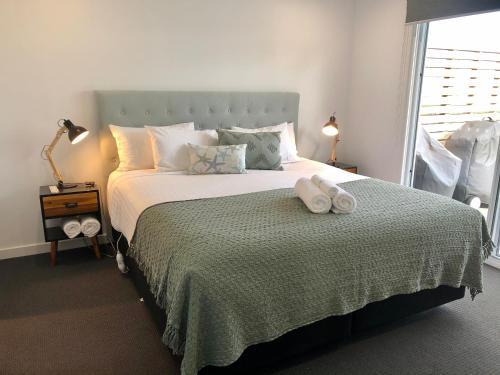 Best Parts?
You'll truly never know how convenient it is to have an ensuite bathroom until you wake up and need to use one. And each bedroom has its own!
Worst Parts?
This Binalong Bay accommodation is situated in a populated residential area, so it's not as private as other places on this list. 
Summary
All of your needs are covered here at Binalong Brae. From WiFi to a fully equipped kitchen, and from allowing pets on the property to free parking, you'll be very satisfied with your stay.
Click here for more information and the latest prices.
Address: 21 Coffey Drive, Binalong Bay
Near: 10-minute drive to several food and shopping options
Room Types: Three-bedroom house
Top Features:
Cheaper accommodation
Close to main attractions
Air conditioning
Full kitchen
This holiday home has three bedrooms and will sleep up to seven guests. Seahouse is a short drive to several Binalong Bay attractions, including Dora Point Beach, Jeanneret Beach and Mount Pearson State Reserve. 
The property's single bathroom comes with free toiletries, so you're likely covered if you forget an essential item. 
Seahouse is fully furnished with a kitchen, living room and dining area. Free private parking is a part of your reservation. There's also a balcony with patio furniture, and from there you can see Binalong Bay in the distance. 
Unfortunately, there is no WiFi at this accommodation, and pets will have to stay home. 
Click here for more information.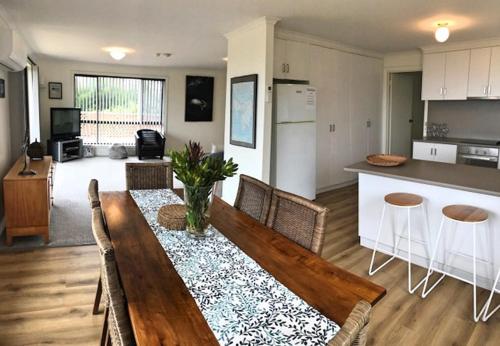 Best Parts?
This accommodation is cheaper than a lot of other places on this Binalong Bay list. 
Worst Parts?
There's only one bathroom and if there is a party of seven staying here that could be a bit of an annoyance. 
Summary
This holiday home is one to consider when searching for Binalong Bay accommodation. It's rated nearly five stars, so you can count on getting good bang for your buck. 
Click here for more information and the latest prices.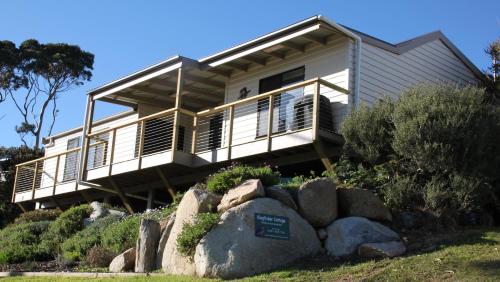 Address: 74 Main Road, Binalong Bay
Near: Opposite Binalong Bay Beach
Room Types: Two-bedroom home
Top Features:
Right across from Binalong Bay Beach
Short walking distance to a restaurant
View of the beach
Fully furnished
This property could very well take the first-place prize. In true beach house fashion, Kingfisher Cottage is staring directly at the sandy Binalong Bay Beach. There are very limited food options in Binalong Bay, but Kingfisher Cottage is steps away from Meresta Eatery.
Not only is this property close to a beach and restaurant, but there are also cycling and hiking trails nearby.
The home has two bedrooms and one bathroom and will sleep up to six people. It's fully furnished, featuring a kitchen, living room with TV and dining area. The property also has a garden and BBQ facilities, as well as a washing machine and tumble dryer. 
Pets are allowed, but there may be an extra charge to bring them. WiFi is available, and so is free parking. 
Click here for more information.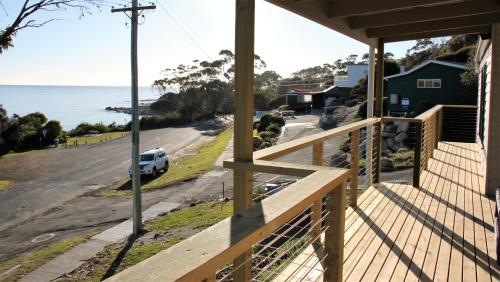 Best Parts?
Enjoying your morning cup of coffee on the balcony while watching the beautiful ocean water may keep you coming back to Kingfisher Cottage.
Worst Parts?
When comparing prices for accommodations, this property is on the higher end. 
Summary
Depending on the traveller, a convenient location could be the most important thing to consider when booking a place. And if that's the case, Kingfisher Cottage is a no-brainer.
Click here for more information and the latest prices.
Map Of The Best Binalong Bay Tasmania Accommodation
I hope you found this guide to the top Binalong Bay holiday accommodation useful. Read our complete travel guide to nearby St Helens here or the best Bay of Fires accommodation here. You can also find our full guide to the North East Tasmania region here.